Rainy and windy weather may stay
Twin cyclonic circulations & high-pressure belt at work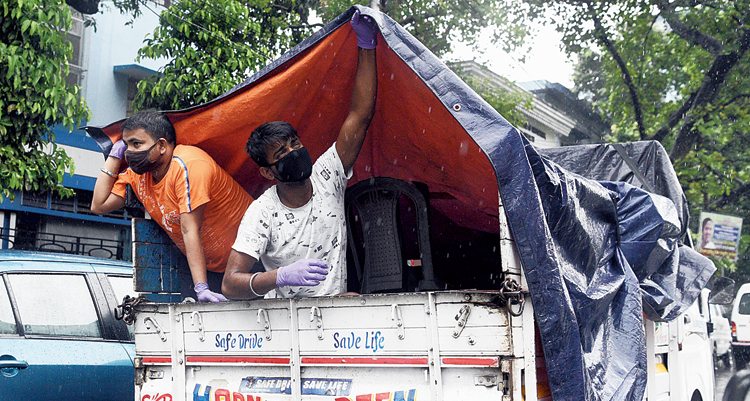 ---
|
Calcutta
|
Published 27.04.20, 09:52 PM
---
Calcuttans woke up to a dark sky and gusts of wind on Monday, followed by intermittent showers through the first half of the day.
The sun came out briefly in the late afternoon before giving way to clouds again in the evening.
Similar conditions are likely to prevail over the next 48 hours, said G.K. Das, director of the India Meteorological Department, Calcutta
Two cyclonic circulations on land and a high-pressure area over the Bay of Bengal together led to the overcast conditions, the Met office said.
The prolonged spell of clouds, rain and wind have kept the Celsius under check, bringing relief from the April heat. The maximum and minimum temperatures have remained a few notches below normal for over four days.
"A cyclonic circulation is positioned over Bangladesh. Another cyclonic circulation is over Madhya Pradesh and adjoining areas. The first one is still strong. The second one is gradually losing steam. The high-pressure area over the Bay still persists. All three have combined to bring the overcast conditions," Das said.
The three systems have been triggering significant moisture incursion into Bengal, leading to the formation of rain-bearing clouds. "As the clouds approach coastal Bengal, they become stronger because of more moisture incursion," said Das.
Cossipore had received over 20mm of rain in the past 24 hours, the Calcutta Municipal Corporation's weather tracking website showed around 7.30pm. In comparison, Behala and Dum Dum were drier with less than 8mm.
Social media has been rife with posts about how the mercury slide is likely to help the coronavirus, thrive. Doctors and researchers, however, are yet to conclude how the virus reacts to any change in temperature.
The fresh wet spell, however, has triggered worries about dengue. "The rain will create water pockets that could turn into breeding sites of the Aedes aegypti mosquito," said a medical officer in the civic body.