Heavy rain alert on Saptami, Ashtami in Calcutta
The districts of East Midnapore, North and South 24-Parganas are likely to witness heavy precipitation on Thursday and Friday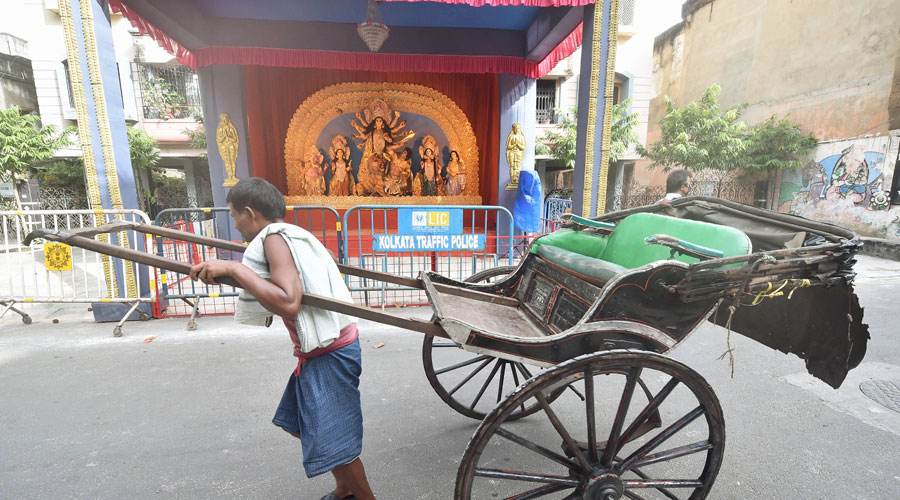 ---
|
Calcutta
|
Published 22.10.20, 02:11 AM
---
A rainy and windy spell is likely in Calcutta over the next three days, the Met office has said.
Heavy rain is forecast in the city between Friday and Saturday (Saptami and Ashtami), which is likely to keep many people home.
"A low-pressure area that formed over the central Bay of Bengal on Tuesday has intensified into a well-marked low-pressure area over the west-central Bay of Bengal. The system is likely to further intensify into a depression over the next 24 hours and a deep depression over the next 48 hours," said Sanjib Bandyopadhyay, deputy director general, India Meteorological Department, Calcutta.
"It will move in a northwest direction and then take a north-northeast turn towards the Bengal-Bangladesh coast."
Under the influence of the system, the districts of East Midnapore, North and South 24-Parganas are likely to get heavy rain on Thursday and very heavy rain on Friday. Calcutta, Howrah, Hooghly and Nadia, are likely to get heavy rain between Friday and Saturday.
The system is likely to cross the coast near the Sunderbans between Friday afternoon and Saturday morning, said a Met official.
Calcutta is expected to see winds blowing at 50kmph, the Met office said.
On Wednesday, the first half in the city was bright and sunny but clouds covered the sky in the evening. The clouds were accompanied by a breezy spell.
"Overcast conditions have set in. Calcutta is likely to get some rain on Thursday as well. The intensity of the showers will go up from Friday. A spell of heavy rain is expected between Friday and Saturday morning," said the Met official.
The Met office has issued an alert for fishermen, asking them no to venture into the sea between Thursday and Saturday. "All tourist activities in the beaches of east Midnapore and South 24 Parganas should be suspended. The ferry services in the Sunderbans should also be suspended," said Bandyopadhyay.
The system on Bay of Bengal was initially tipped to head towards the Odisha-Andhra Pradesh coast, said a weather scientist.
"It will turn into a deep depression but lose some steam before landfall," he added.