Calcutta weather forecast: Rain alert after hot and humid days
A low-pressure area is expected to form over the north Bay of Bengal on Tuesday, Met office has said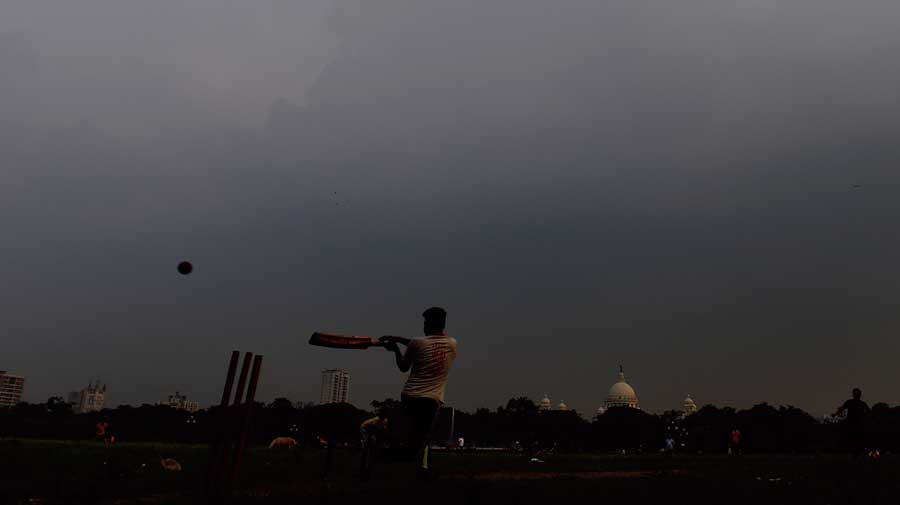 A man wields the willow on a deserted stretch of the Maidan on Monday, as dark clouds gather in the horizon.
Sanat Kr Sinha
---
Calcutta
|
Published 04.08.20, 01:00 AM
|
---
After a lingering spell of heat and humidity, the city is tipped to get heavy rain on Tuesday.
A low-pressure area is expected to form over the north Bay of Bengal on Tuesday, the Met office has said. The system is likely to trigger widespread rain across south Bengal over the next two days.
"The system is still a cyclonic circulation over the northwest Bay. It is tipped to intensify into a low pressure tomorrow," an official said.
"On August 4, heavy to very heavy rain is likely in some pockets of Nadia, Birbhum, East and West Midnapore, North and South 24-Parganas, Howrah and Hooghly. Heavy rain is expected in some pockets of all other south Bengal districts," said Sanjib Bandyopadhyay, deputy director general, India Meteorological Department, Calcutta.
"The showers will continue on Wednesday but the western districts of Bengal, like Purulia, Jhargram and Bankura, are likely to get more rain."
Calcutta is also tipped to see one or two spells of heavy rain on Tuesday, said a Met official. The intensity of the showers will go up in the second half of the day.
If the forecast comes true, the city will see heavy rain after a while. Most of July was rainy but it was not "classical monsoon rain". The rains in the city were caused by local thunderclouds and not because of any system over the Bay.
"Since there was no system on the Bay, the monsoon trough remained stationed on the foothills of the Himalayas. Now, the trough has come down," the Met official said.
The weather in Calcutta has been hot and humid during the day for the past several days. The sweaty conditions will not go away but a spell or two of heavy rain could offer some temporary relief, a weather scientist said.
Monday was sweaty in Calcutta. The maximum temperature was 37.1 degrees, five notches above normal. The minimum relative humidity was 55 per cent.
July, usually the rainiest month with a quota of around 400mm of rain, saw around 350mm this year, according to figures with the India Meteorological Department, Calcutta.
The deficit is around 10 per cent but the predictions come with a margin of around 20 per cent, the Met official said. July 2019 was among the driest in recent memory, with only 160mm of rain in the city.