Calcutta residents, NGOs rescue birds
Nylon nets spread over ponds in the city and on the fringes to keep birds away are maiming and killing them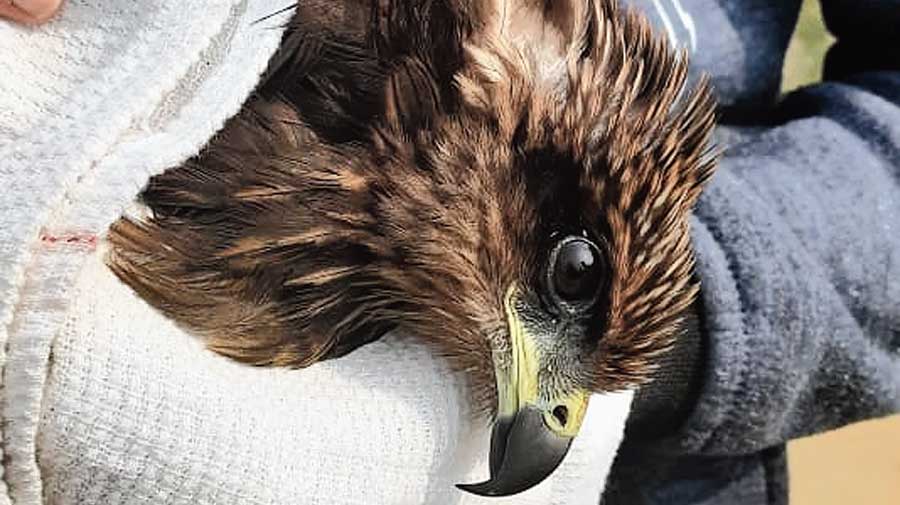 A rescued black kite
Telegraph picture
---
Calcutta
|
Published 29.12.20, 02:54 AM
|
---
Over a dozen birds, including kingfishers, black cormorants and owls, that got injured after flying into nylon nets spread over water bodies to prevent them from catching fish have been rescued by residents from the city, Howrah, and North and South 24-Parganas in December.
The Wildlife Rescue and Rehabilitation Centre in Salt Lake has been receiving a steady stream of calls from all over the city to rescue the birds for a few months.
Most of the birds being brought to the rescue centre in Salt Lake have sliced-off wing feathers or leg injuries.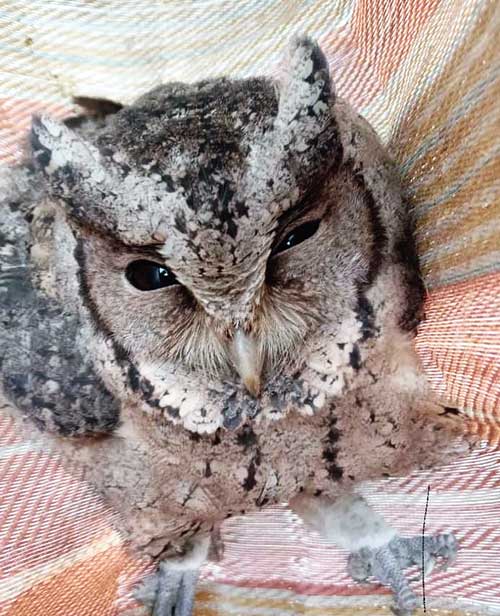 Nylon nets spread over ponds in the city and on the fringes to keep birds away are maiming and killing them, foresters, NGOs and residents who rescue them said.
Metro had reported in November how a water body in North 24-Parganas had turned into a killing ground for birds. People had been setting up nets to trap fish-eating birds and then selling the bird meat.
In mid-December, a medical representative who stays in Behala spotted a cormorant dangling from a net over a waterbody in Silpara. "The bird was struggling… I got some boys to help me cut the net and rescue the bird," said Partha Sarathi Layak.
He used scissors to get the bird out of the net. "The bird could not move its wing."
Layak and his daughter Tushani, a Class I student, tried to feed the bird small fish before calling the forest department who sent a team.
The same week, a resident of Sarsuna, Behala, spotted a bird struggling in a net over a pond. The residents called Bonyo, an NGO that works for the welfare of birds and animals, who sent a rescue team.
"We saw the Asian openbill stork trapped in the net. We got into the pond and rescued it. It had injured its wings and couldn't fly," said Soumyodip Mukherjee, one of the rescuers.
The wildlife rescue teams of the forest department have also rescued many birds.
Most birds cannot spot the nets because they are almost invisible, an official of the Salt Lake rescue centre said. So, while diving to chase their prey, they fly straight into the nets that are often made of very fine nylon string and are quite sharp.
"Once a bird gets caught in these nets that are spread like a web over ponds, they struggle to fly away and get more entangled in them. Birds often die because of this," the official said.
These nets can be spotted on water bodies used for commercial pisciculture. They are common on waterbodies behind Sector V and at East Kolkata Wetlands, said Mukherjee, who has rescued many trapped birds. 
Those who rear fish said they didn't have a choice. "We are forced to use such nets because we need to protect the fish and the fingerlings from birds," said Sukhen Pal, a fisherman part of a cooperative that practises pisciculture in a water body behind Sector V.
"Those who run commercial fishing projects must refrain from this practice. Birds don't kill fishes on a mass scale. It is natural for some birds to hunt for fish and this is an inhuman practice," said Subhankar Patra of SundayWatch, a nature lovers' forum whose members go on bird watching trips every weekend.