Move prompted by wastage fears
Calcutta private hospitals to receive only Covaxin
Those who got Covishield as their first jab will get the same in the second dose, too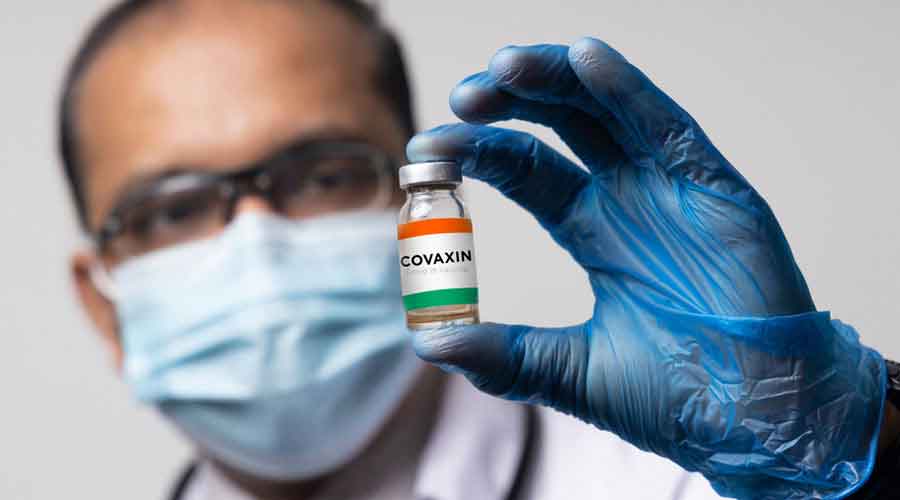 ---
Calcutta
|
Published 23.03.21, 02:15 AM
|
---
Some private hospitals who were till Monday administering only Covishield to elderly people and those who are between 45 and 59 with comorbidities will administer only Covaxin to those turning up for their first dose, sources said.
This will continue for some time from Tuesday, the sources said.
Those who got Covishield as their first jab will get the same in the second dose, too, officials in the health department said.
Officials of the department called up the private hospitals saying they would receive only Covaxin vials for a few days.
Hospitals and public health experts fear that the health department's decision might result in many people refusing to get vaccinated. An official of a private hospital said they would ask doctors to explain to reluctant recipients that Covaxin was as effective as any other Covid vaccine.
Unlike Covishield, Covaxin was still undergoing trial when it was granted emergency use approval. The manufacturers have since announced that the vaccine is 81 per cent effective.
Health department officials said there were two reasons why hospitals had been asked to administer only Covaxin to those who would turn up for their first dose from Tuesday.
Many Covaxin vials are nearing their use-by dates as a large number of hospitals and government-run clinics are administering only Covishield.
Secondly, sources said, the Centre has reduced the supply of Covishield compared with Covaxin.
"Many Covaxin vials are lying unused and are nearing their use-by dates. So we are trying to use these vials as much as possible," a health department official said on Monday.
"From Tuesday, we will be administering only Covaxin for the first dose. Those who will agree to be given Covaxin will be vaccinated," said Sudipta Mitra, the chief executive of Peerless Hospital.
Those who will be given the Covaxin shot will no longer be required to sign a consent form, as they were to do earlier, said an official of a private hospital.
Metro has reported that many elderly people and those above 45 with comorbidities were making it clear that they would not like to be vaccinated with Covaxin.
"This could be because initially the efficacy data of the vaccine was not available. The manufacturers have now announced that the vaccine has 81 per cent efficacy," said a public health expert.
"However, there is this negative perception about the efficacy of the vaccine because of the initial lack of data. Also, the requirement that recipients had to sign a consent form had increased doubt and reluctance. It is now going away but still there is a large percentage of people who have doubts," said a public health expert in Calcutta.
At AMRI Hospitals Dhakuria, where both Covaxin and Covishield are being administered, officials said most people were opting for Covishield.
"Initially, only 10 per cent of the recipients were opting for Covaxin. Now, 40 per cent are opting for it," said Rupak Barua, group CEO, AMRI.
At a meeting with private hospitals on Monday, health department officials said the vaccination drive should be accelerated. Those administering the vaccine to 300 people should increase it to 500 through campaigns.
However, an official of one hospital said administering only Covaxin could prevent them from increasing the number of recipients immediately.