Calcutta police starts drive to sensitise cyclists
Officers said cycling was not allowed on 62 thoroughfares in the city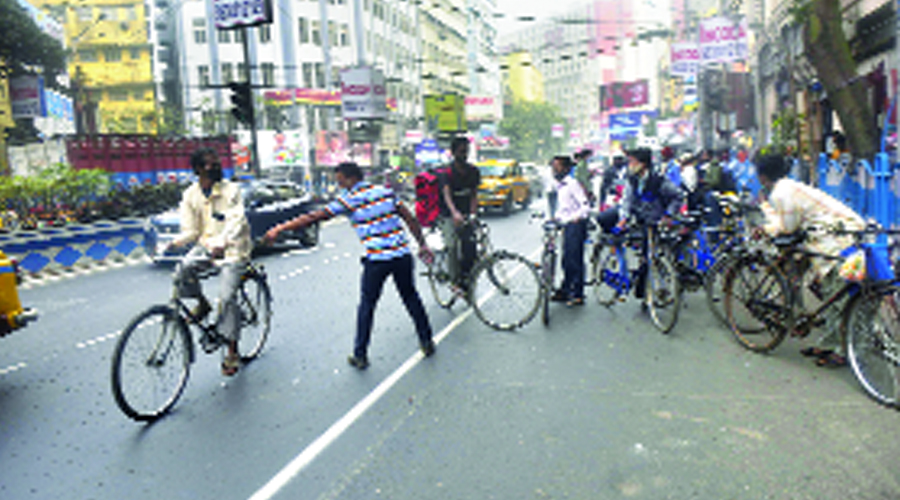 ---
Calcutta
|
Published 10.12.20, 03:47 AM
|
---
Police have begun stopping bicyclists moving on thoroughfares, and asking them to stick to lanes and bylanes, after a long lull. An increasing number of people have been cycling to work since the lockdown was imposed in March.
Calcutta police have started a drive to sensitise cyclists that will continue for a few weeks. During the period, cyclists will be counselled to stay off main roads. "After that, they will be prosecuted and booked for petty cases that attract a penalty of a few hundred rupees, if found moving on thoroughfares," said an officer.
Despite a notification restricting bicycles to lanes and bylanes, the police had been allowing them even on thoroughfares on "humanitarian grounds" during the pandemic as a large number of people had no option but to cycle to work in the absence of adequate public transport.
However, the resumption of suburban trains and a rise in the number of accidents involving bicycles have prompted the police to launch an awareness drive urging cyclists to stay away from main roads.
"We are stopping every cyclist on main roads and asking them to stick to lanes and bylanes. Many of them are surprised as it has become their habit over the past few months to cycle down thoroughfares. We are asking them to stop the practice immediately," said an officer in the traffic department in central Calcutta.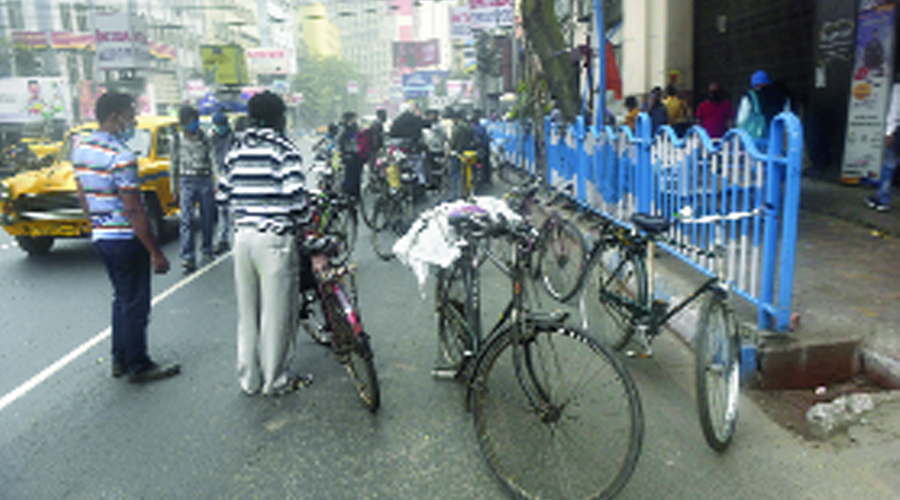 Officers said cycling was not allowed on 62 thoroughfares in the city. In June 2020, following a nod from the state cabinet, the city police had issued a notification allowing cycling on small and medium roads in Calcutta to ease the hardship people were facing in the absence of suburban and Metro trains.
"Suburban train services have since resumed. Also, there is adequate public transport," said an officer in the traffic department, explaining why the police have become strict on cyclists.
Another officer said the presence of cycles, and other slow moving vehicles, on thoroughfares not only reduce the average speed of the vehicles, but also make cyclists vulnerable to road accidents.
On Wednesday morning, officers of the headquarter traffic guard were seen suggesting alternative routes to cyclists who were caught playing along Central Avenue and Ganesh Chandra Avenue.