Calcutta offers virtual Ashtami anjali to keep Covid at bay
Distance rules flouted in some pandals but senior citizens go the online way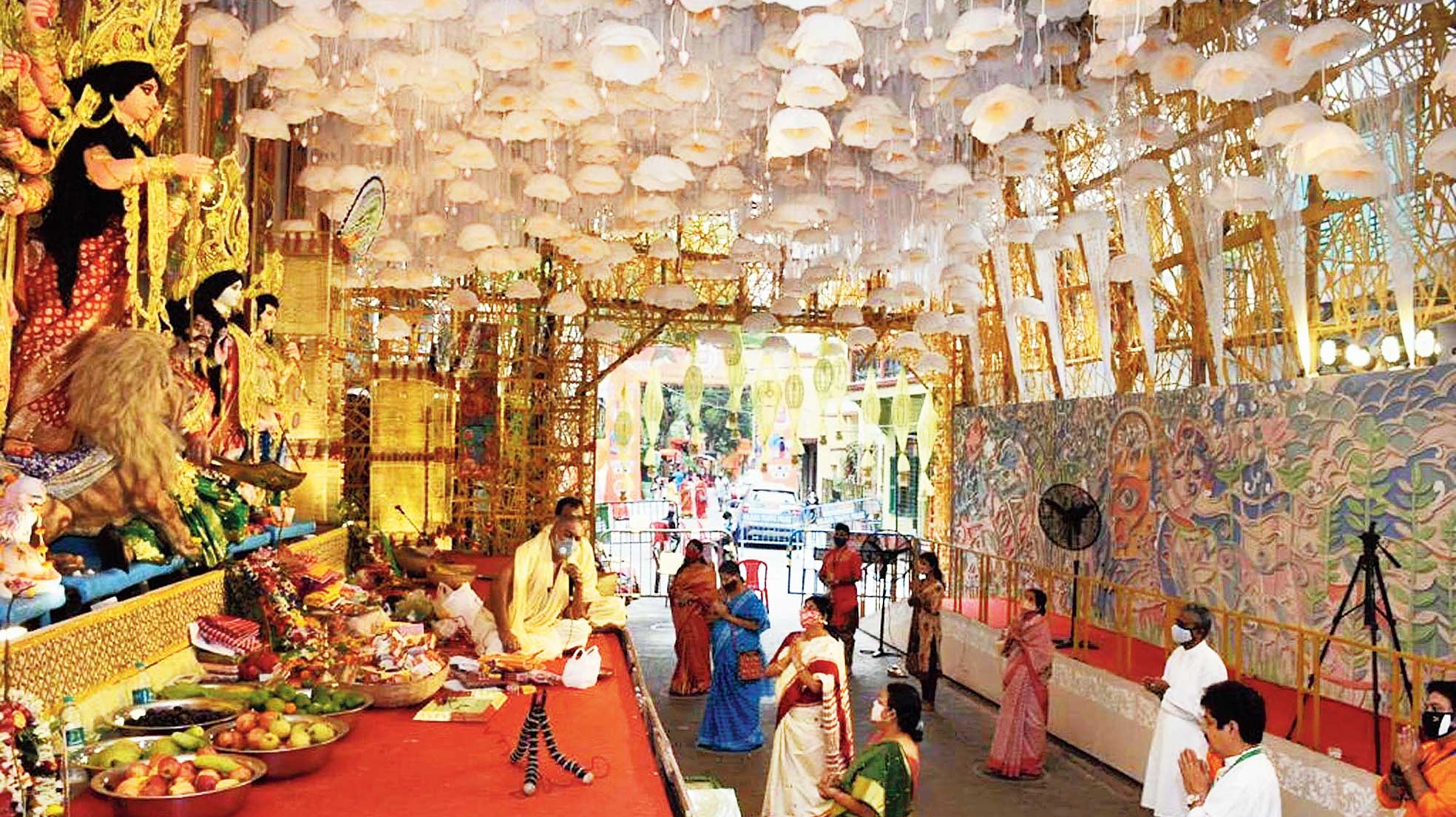 ---
|
Calcutta
|
Published 24.10.20, 11:46 PM
---
It was virtual anjali for most people in Calcutta on Ashtami, Saturday, barring some neighbourhoods where people stood close to each other to offer anjali.
In some places people stayed confined to circles at a gap of 6ft to maintain distancing rules while at some police had to intervene to ensure people followed distancing rules.
Senior citizens in most parts of Calcutta stayed away from pandals.
Several puja committees had arranged to live-stream the anjali on various platforms. They had shared links and passwords with residents so that they could watch the proceedings from their homes.
"We had told residents to collect their flowers and give it to us. We placed these offerings to the goddess later," Sandip Chakrabarty of Badamtala Asharh Sangha said. "Some senior citizens, though, turned up at the pandal as they did not want to use the virtual platform to offer anjali on Ashtami."
But in most places, residents, including senior citizens, chose the virtual platform to offer anjali.
Several puja organisers said this was the first time in decades when the Ashtami anjali witnessed such a "scant turnout" at pandals.
A small puja in Kasba saw people standing close to each other and even fighting to be the first to offer anjali. Reminders by the organisers had no effect as visitors tried to grab flowers and be part of a batch every time the priest chanted the mantras.
A police team reached the venue and reminded the visitors of the high court order and the distancing rules they are expected to follow during the pandemic.
But as soon as the cops left the people were back to what they had been doing.
But the picture was different in big-ticket puja pandals in the north and south. People followed the rules and organisers ensured there was no crowding as every batch offered anjali.
"Our turnout was small… around seven to eight per cent of what it has been in previous years… senior citizens were not around," Amalendu Sarkar of Ballygunge Durga Puja Samity, the organisers of the puja at Maddox Square, said.
In some pandals, people turned up in large numbers but followed distancing rules and stood in demarcated circles.
"We had split the total number into small groups. They stood far from the barricade and offered anjali. But the turnout of residents was nearly 100 per cent," Rahul Shaw of Ajeyo Sanhati in Haridevpur said.
The distancing rules, along with the high court order, left many senior citizens ruing how they could not turn up at pandals to offer the Ashtami anjali.
"This is no anjali," Apurbo Ghosh, a resident of Kumartuli, said. "I didn't step out; I chose to repeat the mantras sitting in front of my home idols… but that is something I do every day."