Metro commuters complain of recharge glitch
Updated balance was not being reflected on the card-reading machines at the stations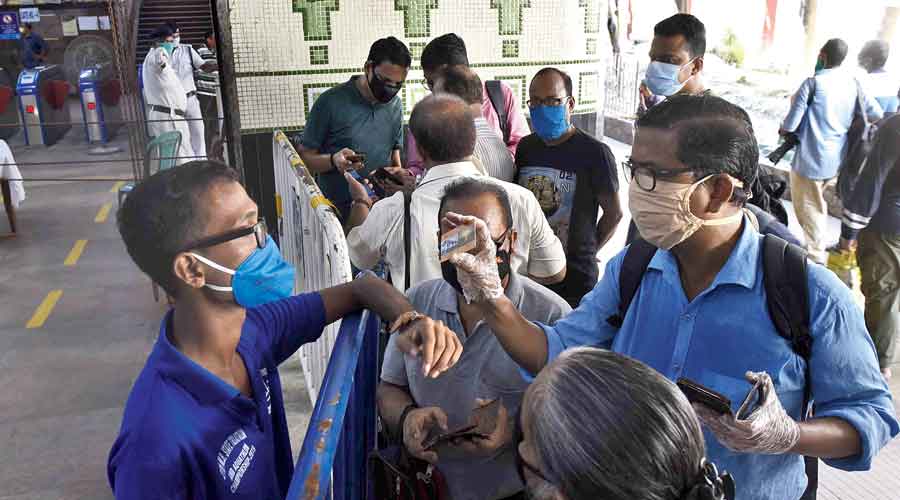 ---
|
Calcutta
|
Published 15.09.20, 01:41 AM
---
Several Metro passengers alleged glitches in the online smart card recharge system on Monday, the day the carrier resumed services for all after 174 days.
The commuters said they had recharged their cards online recently but on Monday, the updated balance was not being reflected on the card-reading machines at the stations.
Station officials took down details of such complainants at almost every station. Around 10.05am at Tollygunge station, the register had around 10 names, said a passenger who faced a similar issue. Around 10.40am, a similar register at Chandni Chowk station had over 15 names, said a passenger.
"On Friday, I had done an online recharge of Rs 1,000 through the Metro app (Metro Railway Kolkata). I got a message from my bank, confirming that my account had been debited. But on Monday, the card-reading machine at the station did not reflect the balance," said a man who was headed to Rabindra Sadan from Tollygunge.
A Behala resident entered Tollygunge station around 10.05am but could not board a train before 10.35am because of the alleged glitch.
"I had opted for a Rs 100-recharge online on September 4 through the Metro app. The transaction history confirmed a top-up of Rs 100. But on Monday, the card-reading machine did not reflect anything, not even the previous balance," said the passenger.
From the ticket counter, he was redirected to the station superintendent's room where officials told him that there was "a technical problem with the payment gateway".
"Kano je ei sob online koren (why do you do these things online)?" a station employee is said to have told the passenger.
He was issued another card and asked to visit the station after a week. The problem will be sorted out by then and he will be given a refund against the updated balance of his previous card, officials said.
Around 12.10pm, he received a message saying the September 4 online recharge "was successful". He was asked to visit any Metro station to update his card balance.
A Metro official said the money debited from a passenger's account went to a bank's pool before being transferred to the railways' account.
"I cannot comment on individual cases without studying them but similar issues happen when the system does not allow one payment unless the previous one is complete. A system which allows concurrent or parallel payments does not usually suffer from such problems," said an official of a firm that handles IT solutions for government agencies.
Metro general manager Manoj Joshi said he was aware of the problem. "Some passengers have faced the issue. It is a technical problem. Our officials are working on it and the problem will be addressed shortly," he said.