Calcutta kids demotivated in online class: Teachers
The 'mischievous' students who would always be up to something in classrooms have become 'quiet and subdued'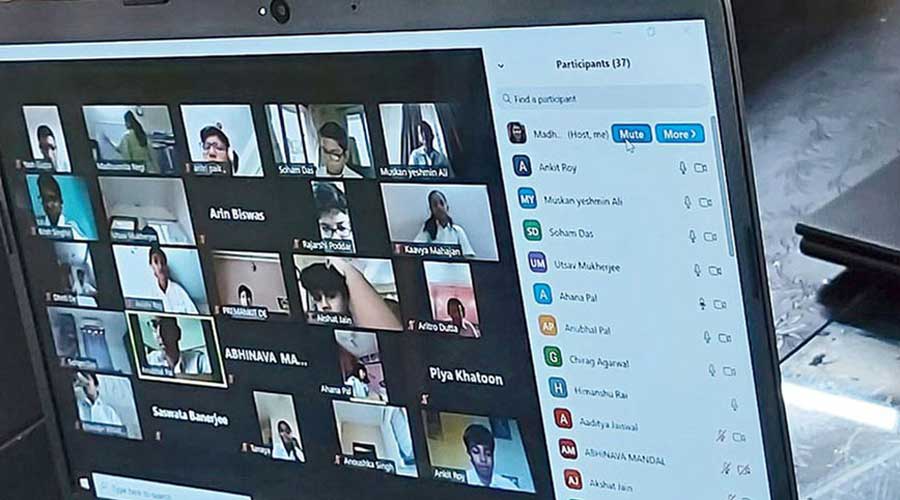 Even students who are academically strong have not been responding like they used to, teachers of senior classes said.
File picture
---
Calcutta
|
Published 30.08.20, 02:25 AM
|
---
Teachers of several schools have reported that students have become "more subdued" in class and the energy level is much less than before.
Months of being on the screen has made students "fatigued" and "demotivated", psychiatrists and teachers said.
Even students who are academically strong have not been responding like they used to, teachers of senior classes said. The "mischievous" ones who would always be up to something in classrooms have become "quiet and subdued", a teacher said.
"There are very few questions in classes now. It cannot be that all of them are following the lecture and have no doubts at all. Even when the devices are not on mute, there is hardly any conversation or noise. The students are quiet," Joseph Chacko, who teaches English in the senior section at St James' School, said. "It is a robotic experience for teachers and on many occasions, a faceless interaction."
Earlier, students would talk to a friendly teacher about their weekend plans or a web series they were watching; now, they respond to such questions with a yes or no, a teacher said.
Students are attending online classes because they have to and not because they want to. "Online class for my daughter is more like a task. The excitement or interest is not there," the father of a Class XII student said.
Schools give breaks in between classes but because of connectivity issues, students have started logging in earlier, eating into the breaks, a parent said.
"In the first month, things were fine but with time students are losing interest and a kind of boredom is setting in even for the bright kids," Anil Jha, who teaches accounts in The Heritage School, said. "For students in senior classes or those who will appear for board exams there is pressure from teachers and parents.... which is taxing."
After attending classes online, often children are sitting for online tuition classes.
"Teachers are trying but online classes are not the same as what school was for children. No wonder they are feeling demotivated and fatigued," psychiatrist Jai Ranjan Ram said. "They have to attend continuous classes on the screen, at times not on laptops but on phones. All this while there is monotony of the same environment. It's difficult to maintain a sense of well-being."
In an online class the "nuances of non-verbal communication is completely lost", Ram said.
This is something that has been disturbing teachers.
"The connection in an online class is lost. In a classroom, there was unification; now, the student and the teacher are in two worlds," Joeeta Basu, economics teacher at St Xavier's Collegiate School, said.
In several classes, most children answer in monosyllables. "In a physical classroom, I would discuss things not related to academics and they would eagerly share their experiences; now, they hardly respond. Maybe they don't have anything to share because they are not going out, or they are not interested," Chacko said.
Mischievous students, too, have grown quiet. "Mischief is a group activity and it would happen because they could interact with one another," Basu said.
There should be a "more creative" solution, Ram said. "There should be more light-hearted activities at home and physical exercise to break the monotony of the cycle."