Calcutta cyclists plead with top cop for space
Given the annual phenomenon of poor air quality in Calcutta during winter, reducing tailpipe emission can be achieved by switching to green transport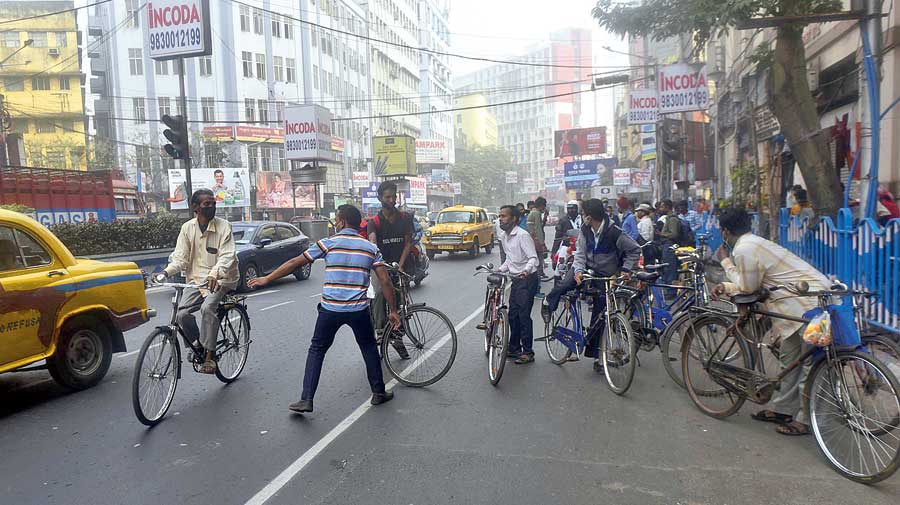 Traffic cops on Central Avenue stop cyclists and tell them not to use thoroughfares.
File picture
---
Calcutta
|
Published 16.12.20, 03:17 AM
|
---
Organisations of cyclists and cycling enthusiasts have written to Calcutta's police commissioner on Tuesday with an appeal to allow bicycles to ply on all roads in the city.
The organisations have said a growing number of people, many of them poor, are cycling to work to avoid crowded public transport amid the Covid-19 pandemic.
The letter also said the city's transport system should gradually start giving more space to cycles as they do not pollute the air. Given the annual phenomenon of poor air quality in Calcutta during winter, reducing tailpipe emission is necessary and that can be achieved by switching to green transport like cycle.
Metro had on December 10 reported that the Calcutta police had launched a drive to prevent cyclists from moving on thoroughfares. Cyclists spotted on arteries are being asked to stick to lanes.
Despite a notification restricting bicycles to lanes and bylanes, the police had been allowing them even on thoroughfares on "humanitarian grounds" during the pandemic as a large number of people had no option but to cycle to work in the absence of adequate public transport.
But the resumption of suburban trains and a rise in the number of accidents involving bicycles have prompted the police to launch an awareness drive urging cyclists to stay away from main roads.
"We write to appeal to you to continue the plying of cycles and other forms of non-motorised transport across Kolkata roads and integrate a cycle safe infrastructure into the current transport system of the city," the letter read.
Satanjib Gupta, one of the signatories of the letter, said there was an unfair bias against cyclists in the city. "Every time there is a talk of snarls on the road, the reaction is to keep cyclists away from roads. Has the administration ever thought about restricting private cars? Cars, used by far fewer people, take up more space. Cycles occupy very little road space but they are used by a large number of people, especially the poor," said Gupta, the "bicycle mayor" of Calcutta, an honourary position given by the Amsterdam-based BYCS, an organisation that promotes cycling across the globe.
"We are only appealing to the police commissioner to not restrict cycles from roads. Mumbai has very heavy traffic on its roads, but cycles are not restricted from the city's roads. Same for Bangalore, which has also started making lanes for cycles in various places of the city," said Gupta.
"A lot of people, especially the poor who cannot afford to ride taxis, are riding bicycles to go to work nowadays to avoid crowded spaces like buses. The move to restrict cycles will put them in trouble."
The signatories of the letter also argued that a car-centric view would only add to the congestion and worsen Calcutta's air quality. Every year, the city's air quality drops to poor, very poor and severe levels during winter, according to the National Air Quality Index prepared by the Central Pollution Control Board.
"Emissions from diesel-powered transport is an important contributor to the city's air pollution. We have to think about greener and cleaner transport modes that do not pollute the air and cycles are one of them," said Vinay Jaju, the founder of Bengal Clean Air Network, a citizens' group fighting for better air quality in the state.
Urban transport specialists have told Metro that in India the focus has been on moving cars over moving people, which is why cars have always been accorded priority on roads. But they have argued that transport policies should be built around moving people.
A Calcutta police officer with experience in managing traffic for over three decades said narrow roads, encroached footpaths that force pedestrians to walk on roads and scant regard for traffic rules among many cyclists were some of the hurdles to allowing cyclists on all roads.
"Most cyclists think traffic signals are not meant for them. They will move ahead despite seeing a red light.
We are not against cyclists, but the fear is there will be many road accidents involving cyclists if cycles are allowed on all roads," said the officer.