Calcutta boy on New York frontline, 2 days after recovery
Abhishek Chakraborti, a postgraduate trainee in internal medicine, said he did nothing extraordinary by returning to work so soon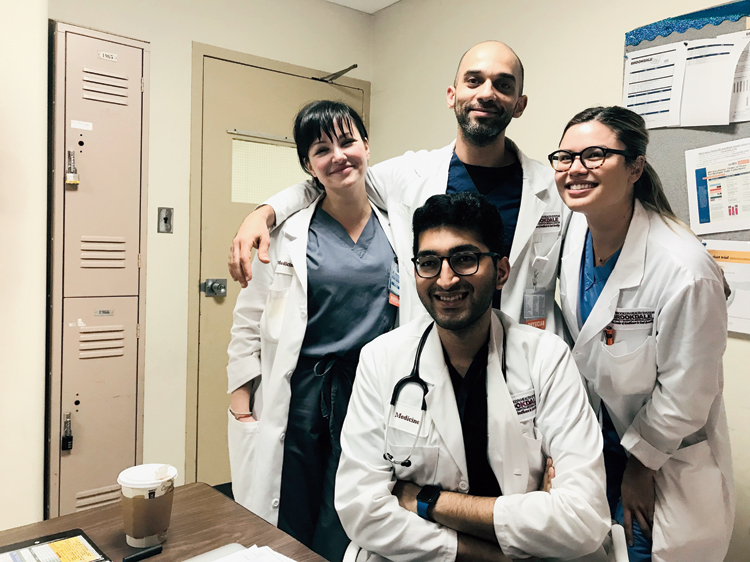 Calcutta boy Abhishek Chakraborti (in front), with his colleagues at Brookdale Hospital Medical Center in Brooklyn, New York City, before the outbreak of the coronavirus
Telegraph picture
---
Calcutta
|
Published 07.05.20, 12:14 AM
|
---
A Calcutta boy who is now a doctor at a hospital in New York, the current global epicentre of the Covid-19 outbreak, was himself infected with the coronavirus about two weeks back but resumed duty two days after he recovered.
Abhishek Chakraborti, 28, a postgraduate trainee in internal medicine at Brookdale Hospital Medical Center in Brooklyn, New York City, said he did nothing extraordinary by returning to work so soon after recovery.
Most of his colleagues and senior doctors who were infected with the new coronavirus returned to work within days of being cured of the infection, he said. One of the seniors Chakraborti was referring to had been in the critical care unit for several days.
"We have never seen anything like this ever. This is not the time to complain but to work and save as many lives as possible," Chakraborti, who grew up in Calcutta's Golpark area, told Metro from the Brooklyn hospital by phone on Wednesday.
He is thankful to the New York City community. "Restaurants which have shut down their businesses are opening their kitchens for us and supplying food because our hospital cafeteria is closed," he said.
"Engineers and local welding units are manufacturing face shields and donating them to us. The community is donating ski goggles and hazmat suits because there is an acute shortage of personal protective equipment, or PPE, in the US," said Chakraborti, a former student of St James School who did his MBBS from Kasturba Medical College in Manipal in 2017.
In Calcutta and other parts of India, there have been instances of doctors and nurses involved in treating Covid-19 patients facing hostility from their landlords and neighbours. Many were asked to leave their rented accommodations, forcing police to intervene.
"In New York City, the community stood by us, donating food, N95 masks and 3D printing face shields. Every day at 7pm, the city gathers on its balconies to celebrate healthcare workers with music and applause," Chakraborti said.
Are doctors and other healthcare workers complaining about the shortage of protective gear, which is one reason for so many of them getting infected?
It's always a concern, said Abhishek. "There are discussions with the hospital authorities about whom to approach for PPE and how to procure them. But there are no angry demands or threats from senior or junior doctors," he said.
At Brookdale Hospital, Abhishek said, doctors from all fields are treating Covid-19 patients. Gastroenterologists, cardiologists and general surgeons have been trained in coronavirus treatment protocol and are standing in for their infected colleagues who have to isolate themselves.
When did Chakraborti get infected? "Two weeks ago I had fever and cough and tested positive for the SARS-Cov-2 virus. Thankfully, I made a speedy recovery but the time I spent at home allowed me to process some of what I had seen, experienced and been a part of," he said.
Some of his colleagues, including a senior doctor, are in the critical care unit.
No one there had imagined that the Covid-19 crisis would be what it is now.
"In February, we were excited about a new virus. But reality started hitting us from March 18, when patients started getting admitted," he said.
The 300-bed hospital now has 100-odd Covid-19 positive patients. The remaining 200 are awaiting test results.
"BHMC (Brookdale Hospital Medical Center) got its first Covid-19 patient on March 18. The initial excitement of treating a novel disease was quickly replaced by fear, fatigue and a sense of hopelessness as New York became the new epicenter of the coronavirus crisis in the subsequent weeks," said Chakraborti.
"By the second week of the pandemic in New York, the face shields and N95 masks began to run short, plastic gowns were precious commodities and ventilators had to be wheeled in from nearby nursing homes to the frontlines. When you hear a 'CODE 99' blaring over the announcement system, you drop everything you're doing and run. It's the signal that someone in the hospital has suffered a cardiac arrest. On an average week, this happens two to three times. Now, there are days when this death knell sounds 9 to 10 times," he said.
The ICUs were full to the brim within the first two weeks and as cases continued to rise exponentially, the medical floors had to be converted to mini-ICUs. The morgue was filled to capacity and three refrigerated trucks were lined up behind the hospital to deal with the overflow of bodies.
"Oxygen supplies depleted. We were running short of infusion pumps to keep sedation drips running for our intubated patients and the spectre of sickness and death was hanging over each and every one of us…. We fought a poorly understood enemy with weapons that were shooting blank. As the weeks passed, I saw my colleagues, our consultants, nurses, patient-care technicians and transporters getting sick. Some were admitted to hospital but most recovered at home and came back to the frontlines as soon as they could crawl out of bed. Some remained critical, some succumbed," said the Calcutta boy.
To his colleagues, teachers, friends and family back home, who have started to deal with what he has gone through, Chakraborti wants to say: "The battle you will fight will be long and hard and the enemy is still poorly understood. Protect yourself the best you can, advocate for your patients and keep your families safe. You will get through this as we did, you may get sick, you will see people you know getting sick. Some will die but the tools you have as a physician are the only weapons that can be used to fight this war, where guns mean nothing. I hope the community stands by you and appreciates the sacrifices being made. I hope people stay home, wash their hands and wear masks in public. I hope the fight is short and the victory sweet. Know that all of us who call India home, no matter where they chose to live, work or train, are rooting for you and ready to help in any way they can."