Airport clocks first 100 domestic flights, post-lockdown
Several airlines said many flights for Delhi, Chennai, Mumbai and Bangalore were overbooked and some were full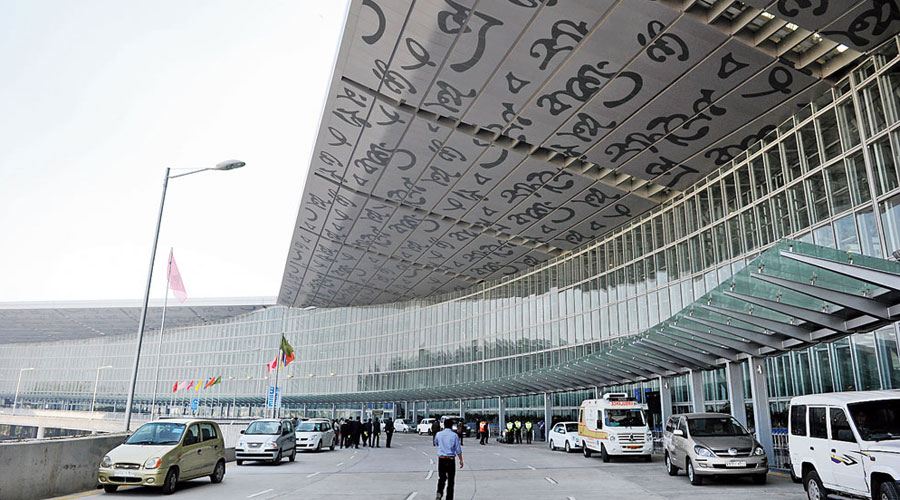 On Sunday, 16,350 passengers took flights out of Calcutta and 11,727 passengers arrived.
File picture
---
Calcutta
|
Published 08.09.20, 03:49 AM
|
---
The city airport clocked 100 flights on Sunday, a record since services resumed after the Covid-induced closure in March.
"One hundred domestic flights took off from the city and an equal number landed on Sunday. In all, around 28,000 passengers travelled," an official at the airport said. On May 28, the day services resumed after the lockdown, 11 flights had taken off and a similar number arrived. About 3,000 passengers had travelled through the airport that day.
On Sunday, 16,350 passengers took flights out of Calcutta and 11,727 passengers arrived.
As the number of passengers has started increasing, lounges, bars, food courts and retail stores at the terminal are opening up and their business has started picking up, officials said.
Several airlines said many flights for Delhi, Chennai, Mumbai and Bangalore were overbooked and some were full.
Officials of several airlines said about 85 passengers on Sunday were first-time fliers, many of whom were returning to the cities where they were working. There were businessmen, too, among the fliers.
Many patients who were waiting to get treated at hospitals in Chennai, Hyderabad and Mumbai have started travelling following the Centre's announcement of Unlock 4 and the Bengal government's decision to allow resumption flights to Calcutta from Delhi, Mumbai, Chennai, Ahmedabad, Pune and Nagpur three days a week. Flights from the six cities to Calcutta were suspended on July 6, following a request from the state government, because of high Covid prevalence there.
Even in August, the number of passengers taking flights out of Calcutta daily was below 10,000.  
Airport officials said that on Sunday, Vistara operated a Boeing B787 Dreamliner aircraft on the Calcutta-Delhi-Calcutta route. In all, 293 passengers flew out of the city and 272 flew in on the aircraft, which can seat around 300 passengers.
AirAsia sources said the airline had been operating three flights every day since operations resumed. On Sunday, the airline operated six.
IndiGo officials said the airline was operating around 35 flights daily last month. The number went up to 52 on Sunday and most had cent percent occupancy.
The increase in the number of flights and passengers is helping food and beverage, and retail stores to come back to business. "Most retail and F&B stores have opened and they are having a decent number of passengers," airport director Kaushik Bhattacharya said.
After the state government gave permission, bars at the airport have started opening up, too. Ultra Bar, operated by Travel and Food Services, opened last week. TFS, which operates the lounges at the airport, said it's domestic section lounge has started serving passengers again and the number is picking up.
"Over 130 days post-lockdown and airports reopening, we have seen a very positive growth in passenger traffic and spending sentiment. Transaction Averages are back to pre-Covid levels and I am confident as new flights get added, we will improve the penetration further and get back sales. From less than 30 passengers a day to 180 passengers, we have seen the lounge penetration grow over the last few weeks, thereby indicating the growing passenger confidence," said Gaurav Dewan, COO & Business Head, TFS.
Metro reported on Sunday that the state government was allowing air transport bubble flights from international destinations to Calcutta provided only those who test negative for Covid-19 within 96 hours before departure are allowed to board the aircraft.