City air 'poor', 'very poor' and 'severe' on Friday
The volume of tiny particles, which can be particularly worrying amid the Covid-19 pandemic, was nearly three times the permissible limit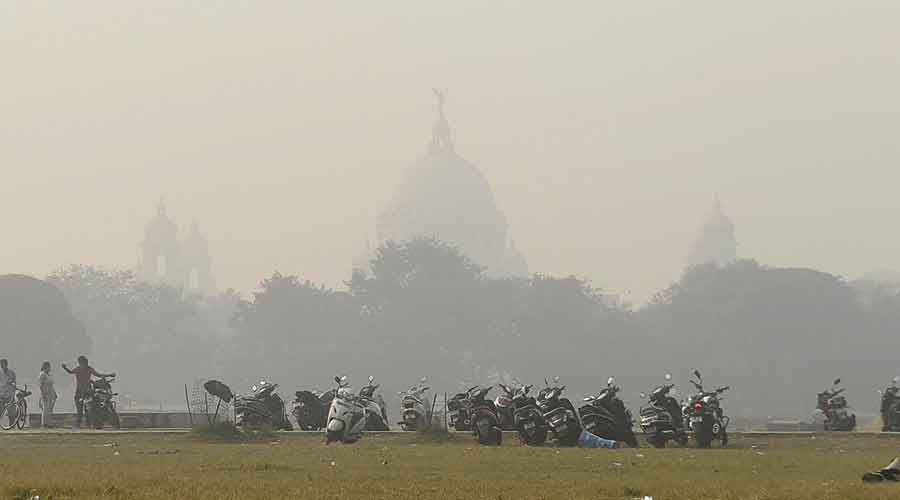 A blanket of fog on the Maidan at 9am on Friday
Bishwarup Dutta
---
Calcutta
|
Published 05.12.20, 01:35 AM
|
---
The air quality measured by one of the seven monitoring stations in Calcutta was "severe" on Friday. It was "very poor" at five other stations and "poor" at one.
The station on the BT Road campus of Rabindra Bharati University showed the air quality was "severe". The readings, at 4pm on Friday, were a measure of the average air quality over the past 24 hours.
According to the National Air Quality Index, prepared by the Central Pollution Control Board (CPCB), "severe" air quality "affects healthy people and seriously impacts those with existing diseases". "Very poor" category can lead to "respiratory illness on prolonged exposure" and "poor" air quality can cause "breathing discomfort to most people on prolonged exposure".
The volume of tiny particles, which can cause a host of respiratory ailments and can be particularly worrying amid the Covid-19 pandemic, was nearly three times the permissible limit.
A summary report published by the state pollution control board for Friday showed 163.25 micrograms of PM2.5 was present per cubic metre of air in the city (average of the seven stations). The permissible standard set by the CPCB is 60 for a 24-hour average.
The presence of PM10, bigger particles, was measured at 273.99 micrograms per cubic metre of air. The permissible limit is 100.
The readings were taken around 4pm.
Air quality management specialists said the more the presence of tiny particles in the air, the more is the threat of diseases. "A rise in the inhalation of tiny particles increases health risks during winter," said Anumita Roy Chowdhury, the executive director of the Delhi-based Centre for Science and Environment (CSE).
"The worry with tiny particles like PM2.5 is that they can penetrate the blood barriers and reach our blood. Once in our blood stream, they hit the organs. Other toxic substances in the air stick to these particles. Which means the particles are also carrying other toxic elements to our blood and organs," said Roy Chowdhury.
Scientists have said that every year the air quality starts worsening in November and reaches its lowest in December and January. This happens because the colder winter air does not rise up quickly and the pollutants remain trapped close to the surface.
Low wind velocity is another reason why the polluted air hangs around for a longer duration.
Doctors have said poor air quality compromises the lungs and aggravates diseases like asthma and chronic obstructive pulmonary disease. Also, people with compromised lungs can develop severe complications if they contract Covid-19.
"If a person who has Covid-19 is exposed to polluted air, there are more chances of the person developing severe symptoms," said a respiratory diseases consultant at a city hospital.
Air quality
At 11am on Friday
Severe: Rabindra Bharati University (BT Road campus)
Very poor: Ballygunge, Bidhannagar, Fort William, Victoria Memorial, Jadavpur
Poor: Rabindra Sarobar
At 4pm on Friday
Severe: Rabindra Bharati University (BT Road campus)
Very poor: Ballygunge, Bidhannagar, Fort William, Victoria Memorial
Poor: Rabindra Sarobar, Jadavpur