Keep satellite units open: Govt
Appeal to hospitals ahead of Puja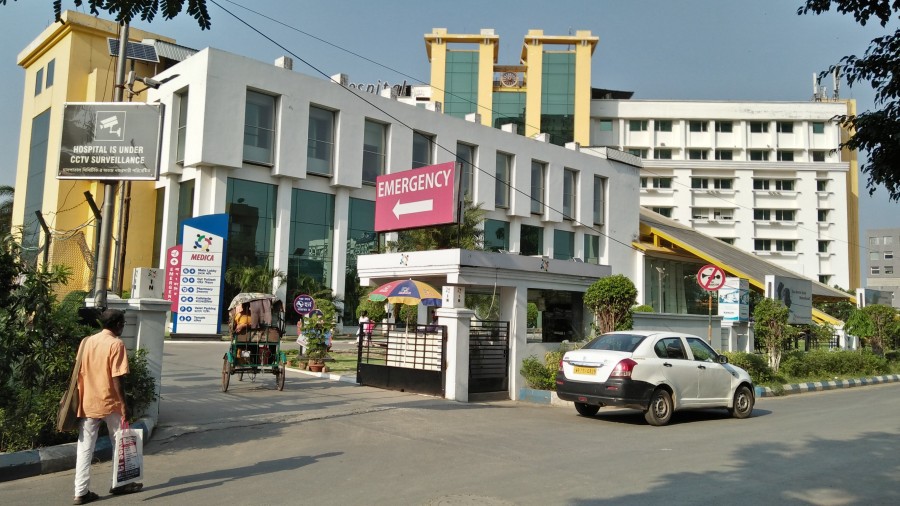 Medica Superspecialty Hospital has a 52-bed satellite unit at a hotel but most of the rooms are vacant.
Wikimedia Commons
---
Calcutta
|
Published 09.10.20, 01:24 AM
|
---
The state government has requested private hospitals not to shut their satellite facilities for Covid patients ahead of the festive season, which many fear may see a spike in positive cases, even if the units have only a few patients now.
Several private hospitals had tied up with hotels to set up satellite units for Covid patients who are either asymptomatic or have mild symptoms. But most have only a few takers. Some hospitals have already closed their units on grounds of non-viability and a few others could follow suit.
"The vacancies in the hospitals' SHF (satellite health facilities) are declining since last week. Some hospitals are thinking of closing down SHF. Don't do this without increasing the number of beds for Covid in main hospitals," a senior health department official posted a few days ago in a closed WhatsApp group, which includes representatives of many private hospitals.
An official of the state health department said it was not the right time to reduce infrastructure for Covid-19 treatment. Many homes may face a problem keeping a Covid patient isolated if relatives visit them during or immediately after Puja, he said.
Besides, a number of public health specialists have warned that crowding during Puja might lead to a spurt in Covid cases.
The state government had on June 15 said private hospitals could set up the satellite facilities for Covid-19 patients with no or mild symptoms, to free up beds reserved at the hospitals.
"We had taken two floors of a four-star hotel in Salt Lake with 24 rooms. There were nurses deployed and doctors would visit the patients twice a day. The occupancy had started falling from August and so we had to close down the satellite facility," said Debasish Dhar, group vice-president, ILS Hospitals.
Other hospitals, too, said patient occupancies were going down at satellite units. Initially, private hospitals were flooded with asymp-tomatic Covid patients or ones with mild symptoms. There was fear among people, which often led to neighbours putting pressure on Covid patients to get admitted to hospital or shift to a satellite facility.
Also, many people opted for satellite facilities after insurance companies started reimbursing the cost incurred for staying there.
The rate for one day's stay at a satellite facility varied between Rs 3,000 and Rs 9,000, and that included doctor's consultation fee and the cost of food and medicines.
But for the last couple of months, patients with mild symptoms or without any symptoms are staying at home and consulting doctors over phone or video calls.
A private hospital off EM Bypass runs a satellite facility with 52 beds at a hotel nearby. On Thursday, there were only 13 patients at the unit, an official at the hospital said.
Some of the hotels are reluctant to continue with the tie-ups with the hospitals because they are expecting guests during the Puja. "The hotel where we have a satellite unit has told us they want to discontinue the arrangement because they want to resume normal operations. A satellite facility on the premises might affect their business," said Rupak Barua, group CEO, AMRI Hospitals. He said there were talks with a few other hotels to set up the facility.
Medica Superspecialty Hospital has a 52-bed satellite unit at a hotel but most of the rooms are vacant. "We are running it at a loss but we are going to continue with it," said Alok Roy, chairman, the Medica Superspecialty group.