Land of rising sun, ramen and oolong
Aryama Sen of DA Block on her study trip to Japan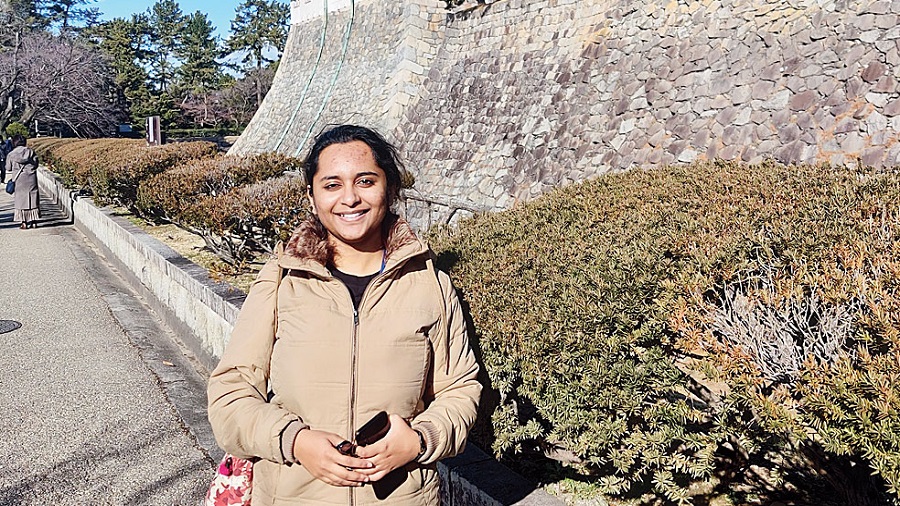 Aryama Sen at the Nagoya Castle
Sourced by the Telegraph
---
Published 07.08.20, 02:56 PM
|
---
It was late evening, and we were walking down the streets of Nagoya. My Anime-fanatic friend stopped a stranger and spared no effort in trying to have a complete conversation in Japanese. I rolled my eyes, took a break from scanning random billboards and shop names with my Google Translator, typed out "Where's the nearest 7-Eleven store?" and held it out to them.
We were a team of 10 students and a professor from the department of instrumentation and electronics engineering in Jadavpur University, visiting Nagoya University for the Sakura Science Exchange Programme that is organised and funded by the Japan Science and Technology Agency. The intent of the programme was to promote a healthy relationship between the students of the two countries, make us aware of the academics and ongoing research work in our host college, and expose us to the unique and vibrant culture of Japan. In late January this year, we spent a week in Nagoya, one of the country's most populated cities, famous as the hub of industry and commerce. Every day, we travelled between our hotel and the college on Japan's immaculately planned subways with colour-coded route lines and unfailing punctuality, and our loud, excited team of 20-somethings soon learnt to blend with a crowd that was soft-spoken and unimaginably disciplined, compared to us Calcuttans.
We interacted with the faculty and scholars at the department of agricultural sciences of the university and learnt hands-on about their research on the application of spectroscopic techniques — something that our department also works on rigorously — one of its most notable examples being the development of a complete setup for the quality assessment of tea leaves.
After college, we would go out for walks along lines of DVD stores and restaurants. Occasionally, we would stop to appreciate homes depicting the unique Japanese architecture, made of wood and with a minimalistic design.
Of course, we tried out the authentic ramen, sushi and other dishes whose names I've forgotten by now, and drank lots of oolong tea. Japanese cuisine is more of an acquired taste and I started loving it only towards the end of the trip (by this time, I had also perfected the skill of using chopsticks)!
Although Covid-19 hadn't become such an important part of our lives by then, people could be seen wearing masks in public places, and so did we.
Japan boasts of high-rise buildings and there is only an extent to which one gets dazzled by the glitz and allure of modernisation.
As part of the itinerary, we visited a plant factory in Mie Prefecture, which is a quiet place away from the bustling city life. For me, it was a breath of fresh air, the most beautiful part of the trip. On our way, looking out of the train window, we could see a number of beautiful cottages and tiny cafes spread out on either side of the track. It rained that day, adding more colour to the trees lined along the roads.
We were also taken to visit the Nagoya Castle, a popular tourist attraction with historical significance. Built by the shogun Tokugawa Ieyasu in 1615, it was Japan's first castle to be declared a national treasure. Large parts of the castle were destroyed during World War II but it has now been beautifully restored, and a replicated version of it is open for visitors. We also visited the Toyota Automobile Museum, which was a magnificent and spectacular experience. The museum features over a hundred cars from all over the world, with the entire region divided according to eras, tracing the evolution of automobiles from as old as 1936 to the modern-day advancements. Lined with models of the first cars with doors opening in opposite directions to the royal El Dorado Biarritz, it is complete with interesting trivia about each. It's a treat for car enthusiasts.
An Indian meal in Japan
There's one incident I must talk about. One night, we hunted down an Indian restaurant near us and visited it eagerly, yearning for some spicy dishes that tasted like home. Being the perpetually broke college-goers that we were, we first checked the price list hung outside.
The restaurant being a well-known and reputed one in the area, its prices were far beyond our budget. Dejected, we stood at the door. As we were about to leave, the owner came out, invited us in and asked us the reason for our hesitation. What followed was the perfect Indian meal and a happy conversation with a Delhi-ite. As we thanked him later, he bid us a warm farewell and said: "Apne logo ko bhukha kaise rakhte?"
Japan feels a little closer home to us Bengalis because our favourite person, Rabindranath Tagore, visited the country years ago, made friends, and was loved by its people. On our last day, my friend sang a Rabindrasangeet and I danced to another (our saris attracted quite a few stares on the subway!) The audience was delighted and curious and a student came up to me and asked: "Does every Indian know how to sing and dance?"
Exploring a new land with friends by our side — Japan has been an unforgettable experience for us. If I had to describe the country in a word, I'd borrow it from their language — shibui — subtle, simple, modest beauty.