Jamai draw on first day of longer hours
Discount for the vaccinated, home deliveries and cuisine no bar, were the key highlights of the celebration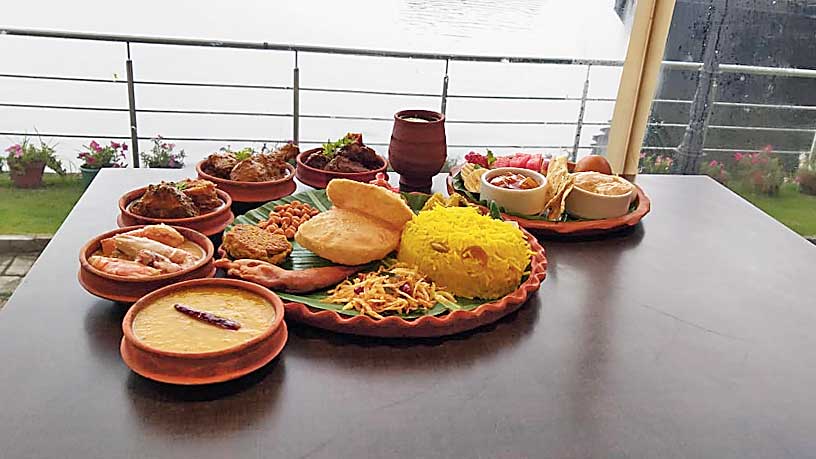 Jamai Sashthi delicacies on offer at Cafe Ekante, Eco Island
Sourced by the correspondent
---
Salt Lake
|
Published 18.06.21, 02:30 AM
|
---
With fear of Covid looming, Jamai Sashthi wasn't celebrated with as much pomp as in other years. Restaurants were allowed to start the dine-in service from the same day — from noon to 8pm — but very few witnessed significant footfall.
"We get quite a few home delivery orders on a regular basis and those remained level on Jamai Sashthi. It was the dine-in numbers that exceeded expectations," said manager at Abcos Food Plaza, Samiran Mitra. "We had started getting enquiries from before and thought the festival would be a good day to open. We got about 50 people coming in — families with kids, grandparents and a large group of doctors."
But 6 Ballygunge Place neither expected nor got much footfall. "We knew this would be the case, just as in last year's 'unlock' phase. People get confidence to come only after about a week. Today we had 25 or 30 diners," said manager Basudev Sarkar. But their home deliveries rose by about 30 per cent and many ordered the elaborate Rs 1,103 Jamai Sashti thali.
Discount for the vaccinated
The Cafe Ekante outlets at Eco Island, Biswa Bangla Gate, Dhaba Ekante (under the Eiffel Tower replica) and Dhamsa (at Banglar Gram in Eco Park) offered 10 per cent discount to a table if the son-in-law was vaccinated. The discount doubled if he had received both his jabs. 
"Eco Island did the best business, with seven tables occupied. The other outlets got one or two," said Snehasish Sinha, additional general manager (tourism), Hidco.
The discount offer will continue for all diners henceforth. 
Home deliveries
With travel being both difficult and risky, most families went for home deliveries.
The kitchen run by the state Comprehensive Area Development Corporation (CADC), at DD Block's Mrittika Bhawan, is hosting a week-long Jamai Sashthi festival and getting more than 100 orders a day. The Rs 500 platters have two variants — one with hilsa and chicken and the other with mutton and golda chingri.
"We are also getting cases of sons-in-law treating their in-laws instead of the other way round," says Soumyajit Das, administrative secretary of the CADC. "In families where parents have passed away, siblings are treating one another. While half our deliveries are in Salt Lake and New Town, we are also getting orders from Garia, Howrah and Behala." 
Other popular restaurants like Bhojohori Manna, Koshe Kosha and Galawat recorded average sales.
Cuisine no bar
The festival may have been Bengali, but the cuisines were from the world over. "We closed down our Bengali section during the pandemic but diners had no complaints," said Mitra of Abcos. "In fact, our most popular dish on Wednesday was Elaichi Raan."
Oudh 1590 got about 50 diners on the day, enjoying biryanis and kebabs. "Cuisine doesn't matter any more. People love biryani and this was an excuse to get out of their houses," says Prodyut Das, a member of staff.
Timing trouble
The restaurants are unhappy about the timings they have been allowed them to operate in. "If we are to wrap up by 8pm, diners have to start eating by 6.30! Who eats that early? Even most of our home deliveries are called in at 10pm," says Indrani Mukherjee of Curry Nation in IB Block . "While no one came to dine on Jamai Sashthi, we are hoping people celebrate the festival belatedly over the weekend."
Then there were sons-in-law like Arnab Kumar Bhattacharya, who preferred to celebrate with home-cooked food. "This was my first Jamai Sashthi and my in-laws were very keen to host me," says the AA Block resident who took three autos to reach his in-law's place in Dum Dum. "Restaurant food can be ordered any day. It's home-cooked recipes that are disappearing."