Jab drive in Calcutta trips on ebbing fear, poor data
Health-care workers who will miss February 20 deadline won't be given priority: Officials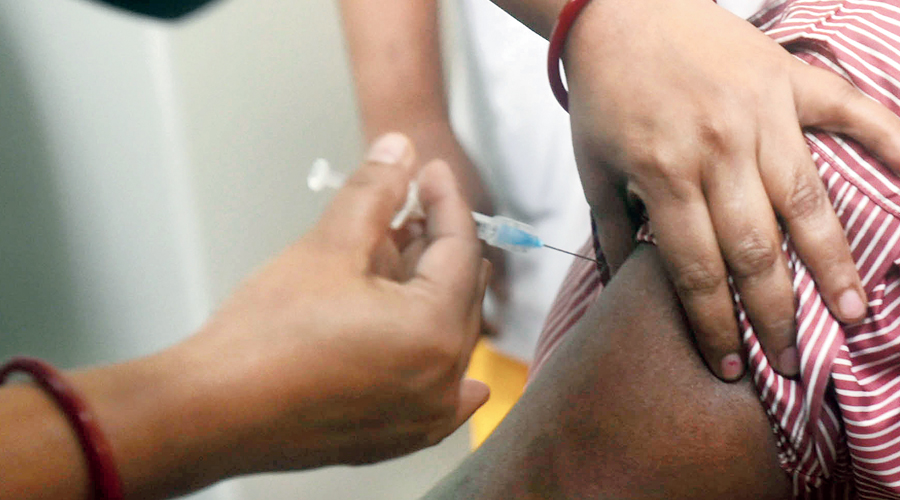 Bengal reported 151 new Covid cases and two deaths on February 16. The corresponding figures were 133 and 1 the day before.
PTI
---
Calcutta
|
Published 17.02.21, 01:45 AM
|
---
The reluctance among a section of people to take Covid-19 vaccine doses is because of abating fear of the coronavirus and lack of adequate data, public health experts and government officials said on Tuesday.
State health department officials said the reluctance was more among healthcare workers than frontline workers, the two categories chosen for the ongoing first round of vaccination against Covid-19.
Those who will refuse to take the first dose of a Covid vaccine by February 20, the deadline set by the Centre, will not be given priority after that, the officials said.
Metro reported on Tuesday that after 24 days of vaccination since January 16, only 42 per cent of the targeted population had taken a shot against Covid till February 15.  
"I think there are two factors responsible for the reluctance. The darkness and fear about Covid-19, which was there in people's minds even a couple of months back, has diminished to a large extent. Second, there is a lot of confusion about the vaccines, particularly Covaxin," public health expert Abhijit Chowdhury said.
"There is not enough data about the efficacy of Covaxin. So, it seems the drive for vaccination is driven by belief and not scientific data in India…. The rule that one has to sign a consent form before taking a Covaxin dose has only heightened the confusion. Many health workers wonder why they should take the trouble when the number of Covid-19 cases is coming down," said Chowdhury.
Covaxin and Covishield are the two vaccines against Covid-19 cleared for emergency use in India.
Chowdhury said more scientific data about Covaxin should be published by the Centre to make the vaccination drive more successful.
Several hospitals in Calcutta said fewer health-care workers were taking the shots compared with frontline workers over the past few days. Vaccination of frontline workers, such as civic staff and police personnel, started a few days ago, while health-care workers have been getting the shots since January 16.
A senior official of the health department said health-care workers had access to the data of daily Covid cases in their hospitals and are seeing the numbers coming down sharply.
Bengal reported 151 new Covid cases and two deaths on February 16. The corresponding figures were 133 and 1 the day before.
In contrast, the state had reported 2,293 new cases and 46 deaths on December 16.
"This has led to complacency among a section of health-care workers. Also, people are still concerned about side-effects. But we have to keep in mind that Covid is far from over and vaccination is important," said Ajoy Kumar Chakraborty, the state's director of health services. Another health official said the efficacy trial sample for Covaxin was so small that it was difficult to convince people based on scientific evidence.
The result: the number of health-care personnel taking vaccines at many sites is much less compared with frontline workers.
At the RN Tagore International Institute of Cardiac Sciences, on February 15, 80 per cent of the recipients of the first dose were frontline workers and 20 per cent were health-care personnel.
At Peerless Hospital, 87 frontline workers took a dose on February 15, compared with 25 health-care personnel.
Hospitals said they were not receiving any fresh list of health-care workers for Covid jabs.
"There were many health-care workers who did not take the vaccine on their scheduled dates. Now, we are convincing some of them to come and take the shots. But we apprehend several will not be vaccinated," said Sudipta Mitra, the chief executive of Peerless Hospital.
"We think 25 per cent of our health-care workers will not take the vaccine. Since this is voluntary, we can't force anyone," said R. Venkatesh, regional director, east, Narayana Health, of which the RN tagore hospital is a flagship unit.
State health service director Chakraborty said he was trying to counsel reluctant health-care workers.
"The health-care workers have to keep in mind that they are most exposed to the coronavirus as they are treating patients. If they don't take the shots, they are leaving themselves as well as the patients and their family members, many of whom are elderly, at risk," Chakraborty said.
"The health-care workers who will not take the first dose by February 20 will no longer be given priority. They will have to wait for months for their turn," he said.