Covid-19: Isolation unit nudge to Calcutta Municipal Corporation
The need to once again build such facilities has become unavoidable following an alarming rise in the number of positive cases over the past few weeks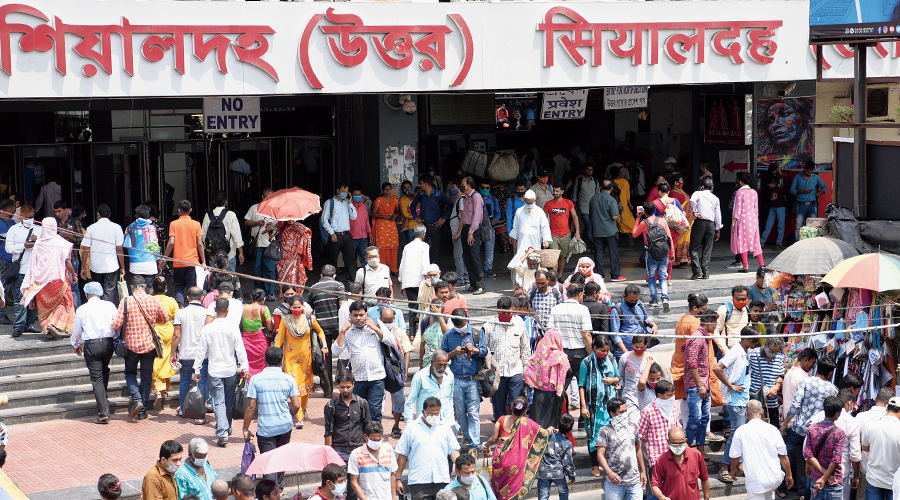 ---
|
Calcutta
|
Published 08.04.21, 02:36 AM
---
The civic authorities in Calcutta should be ready with facilities where Covid-19 patients and their contacts who cannot isolate themselves at home can stay, officials quoted chief secretary Alapan Bandyopadhyay as saying at a meeting with government officials on Wednesday.
The need to once again build such facilities has become unavoidable following an alarming rise in the number of Covid cases over the past few weeks.
The city on Tuesday recorded 722 new Covid-19 cases, up from 582 on Monday. On March 1, the city had recorded only 70 new cases.
Calcutta had the highest number of active Covid cases — 4,793 — in the state on Wednesday. Active cases are people who are yet to recover from Covid or are yet to complete their mandatory isolation period.
"The chief secretary told us to be ready with quarantine and isolation facilities so that people who do not have additional rooms in their homes can be shifted there. His message was that we should build all necessary infrastructure in these facilities so they can be opened any time soon," said an official of the Calcutta Municipal Corporation (CMC).
The CMC official said the chief secretary chairing the meeting in the middle of the election season shows how serious the Covid situation had become.
A CMC doctor said Covid patients with mild or no symptoms and advised home isolation must keep themselves confined in a room and cease all contacts with other family members. Those who have come in close contact with the infected person must also isolate themselves and get themselves tested if they develop any symptoms of Covid.
There are a lot of people, such as those living in slums, who do not have enough rooms at home where they can isolate themselves. If they get infected and are allowed to stay at home, they could end up passing on the virus to other family members.
"We have identified a building, owned by a media company near Science City, to set up an isolation centre. We will also open a facility at Kishore Bharati Stadium in Jadavpur, but the stadium is being currently used for election work. It will be handed over to us on April 12," said a CMC official.
Another CMC official said 722 new cases were reported in a single day at the peak of the first wave of infections last year. "I shudder to think what the case count will be when the second wave reaches its peak," the official said.
"Most people are moving around without masks. They are attending election meetings and roadshows without wearing masks and following the distancing protocol. The numbers will only keep rising if the situation is not controlled immediately," the official said.
The CMC official said the chief secretary had also asked them to step up awareness campaigns on Covid-appropriate behaviour.
The civic body is also trying to expand its vaccination net. The CMC vaccinated nearly 11,500 people from its 80 clinics on Tuesday. It has planned to start vaccination from 20 more clinics from the middle of April.