ISC topper aspires to be pastry chef, chooses to pursue hospitality course
Teen speaks at webinar on hospitality as career choice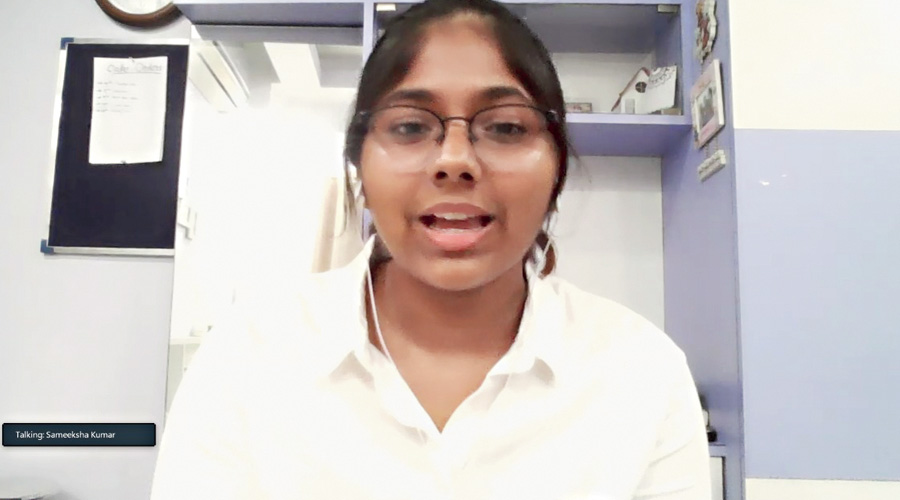 Sameeksha S. Kumar speaks at the webinar on Monday.
Telegraph picture
---
Calcutta
|
Published 03.08.21, 02:57 AM
|
---
An 18-year-old girl who scored 99.5 per cent in ISC (Class XII) wants to be a pastry chef and has chosen to pursue a course in hospitality.
Sameeksha S. Kumar of Delhi Public School New Town said "not marks but aptitude and passion should decide one's career".
Teachers across schools said students were now making unusual choices of courses unlike some years back when engineering, medicine or commerce were the most sought after.
Top performers have decided to pursue textile designing, jewellery designing, film studies, sports management, and hospitality in recent years, they said.
Sameeksha, who has been baking since Class VII, said she felt "at home in the kitchen".
"When I got my result, a lot of people were sceptical about my decision to choose hospitality. My career choice has nothing to do with my marks because this is what I have wanted to do for a long time. No percentage will determine your passion," said the humanities student.
"If you want to provide for others, then hospitality is definitely for you. When I go to a restaurant and a waiter comes to our table with food, I don't see him as serving me but providing for me."
She was speaking at a webinar 'Hospitality. The Passion of Champions!' hosted by IIHM on Monday on hospitality as a career alternative. 
Speaking on the occasion, David Foskett, hospitality professional and author, who joined from London, said a pastry chef should ideally be equally comfortable with the arts and science.
"Of all the crafts and skills there are in the culinary world, pastry and bakery are the most scientific. It is also the biggest art form that we have in the culinary world. To be a pastry chef is to be a skilled practitioner. To have the scientific knowledge of things like fermentation, emulsification and the science of sugar, the science of chocolate...and then the artistic value...If you are a pastry chef you have... all this scientific knowledge, all this skill but you are an artist," he said.
He said pastry chefs can command a lot of money go straight to the top because they are artists and "many pastry chefs throughout the world are earning more than executive chefs".
Suborno Bose, chairman, IIHM, said the hospitality industry has resumed recruiting. "We are very upbeat," he said.
"Food is not just about creating food but using technology, e-commerce... how you can monetise, how you can get the commercial value to your food business. I think that is the big thing happening in the pandemic and that is what we are going to teach our students," he said.
"It is not just about creating.... Our mantra over the last 10 years has been art and commerce of the hospitality industry...where we teach our students the product and the revenue," he said.
Celebrity chefs Ranveer Brar and Shaun Kenworthy shared their insights at the webinar.
Several schools have noted a change in the career paths chosen by some of their top performers.
"This is not exclusive now. Earlier, students would tread the traditional path which is not true anymore. There have been toppers pursuing home science and it has nothing to do with marks," said Devi Kar, director, Modern High School for Girls.
"Students have become more assertive and parents have become more open," said Seema Sapru, principal, The Heritage School.
"Earlier, students would decide to study something but after a few years decide it's not their calling and switch. But that has changed now and they are making unconventional choices," she said.
Teachers said that parents are now no longer very "strict and parochial" and students get both liberty and recognition.
"Students are now more privileged as parents are giving them a lot of freedom... There are students who are studying, getting a stipend and supporting themselves," said Rupkatha Sarkar, principal, La Martiniere for Girls.