In lockdown, a dog's life for all
Shabby has had enough but cops save the day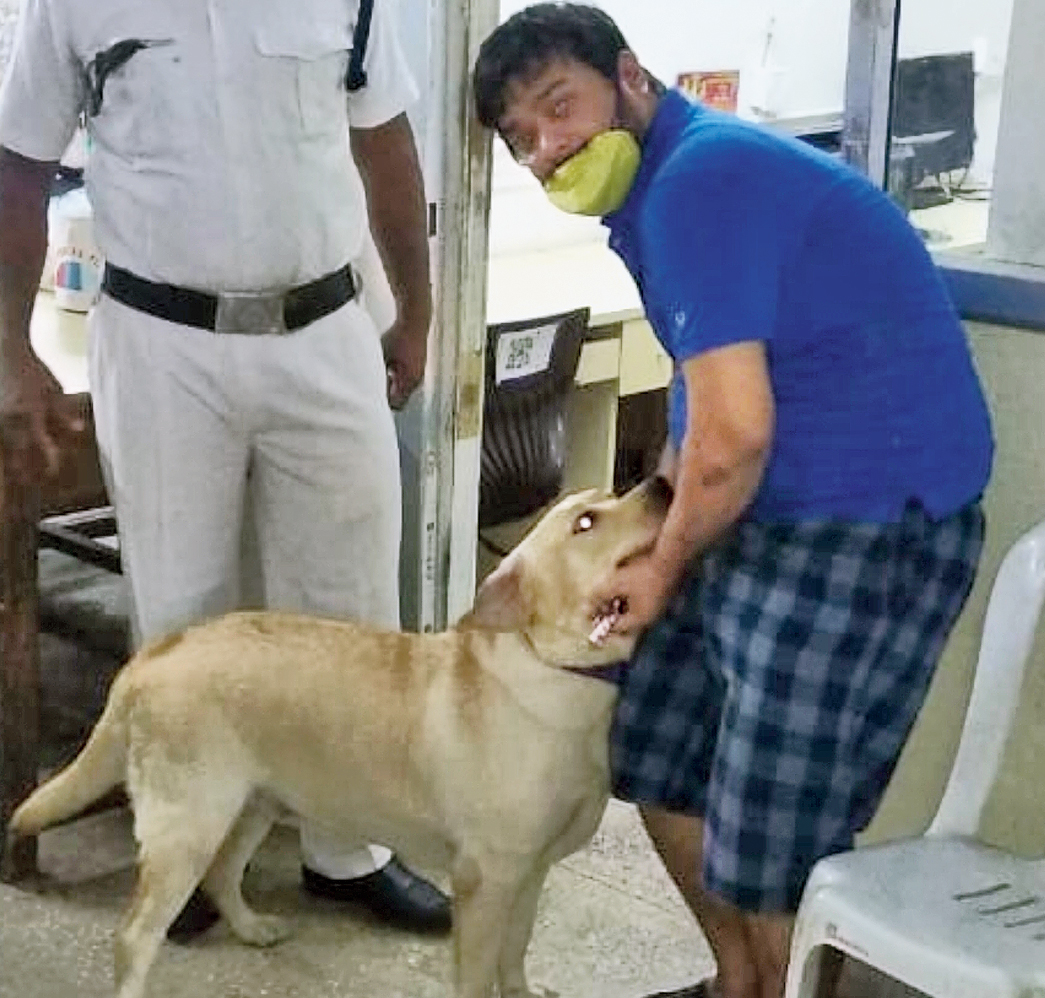 ---
|
Calcutta
|
Published 04.06.20, 10:55 PM
---
When Ankit Gupta returned to his car after removing parts of a fallen roadside tree that were blocking his way, he had a shock waiting for him.
His pet Labrador Shabby, whom he had taken along for a spin after she had been confined at home through the lockdown, had vanished.
The canny canine had taken advantage of a half-rolled-down car window.
Thus began a saga at 2pm on Wednesday — of befuddled dog, anguished family, kindly police and the long arm of social media — culminating in a reunion of pet and loved ones at midnight.
It appears that nine-month-old Shabby could not find her way home even though she had jumped off the car in her own neighbourhood, Phoolbagan. Perhaps because she had not had a sniff of outdoors in the last two months.
Cops found her loitering on the streets, took her to Phoolbagan police station and circulated her pictures on social media.
All this while, Gupta, who runs a garment business, kept returning to the spot in his car. He did so five times between 2pm and 6pm, calling out to Shabby by her name, hoping to hear a familiar bark.
At Gupta's home, the youngest and most despondent member had already declared a hunger strike till Shabby returned.
Shabby seems to have had a better time, quickly making friends with a stray dog, Katappa, who lives on the police station compound.
"She (Shabby) had been confined to our flat, apart from occasional trips to the terrace, through the lockdown. So, while going out to buy essentials yesterday, I took her along in the car," Gupta said on Thursday.
"A part of an uprooted roadside tree had got entangled with my tyres. It took me around 15 minutes to clear the obstruction with my hands and return to my car. By then, Shabby was gone."
Around 7pm, the family spotted a tweet by the police saying a pet dog had been found loitering on the road.
"I immediately went to the police station, which is less than 500 metres from our home. Shabby was comfortably ensconced in an AC chamber," Gupta said.
"The officers had taken good care of her. They had put a nice collar on her too."
The police asked for Shabby's identity documents. Gupta went back home to collect her veterinary doctor's prescriptions and her photographs with the family.
The formalities took several hours to complete before he could take Shabby home – and only after he had correctly mentioned Shabby's "identity mark", a scar from a recent infection on the left side of her head.
"The police checked Shabby's vaccination charts, her last veterinary prescriptions and her pictures with us. I told the police about the scar on her head. Only then they handed her over," Gupta said.
The happiest in the family was Gupta's two-and-a-half-year-old son Yug, who had not eaten a morsel since Shabby went missing.