In Calcutta school and no fans, for a tower of cards
Arnav Daga was in the institution because his house would not be able to accommodate the near-16ft structure that he decided to build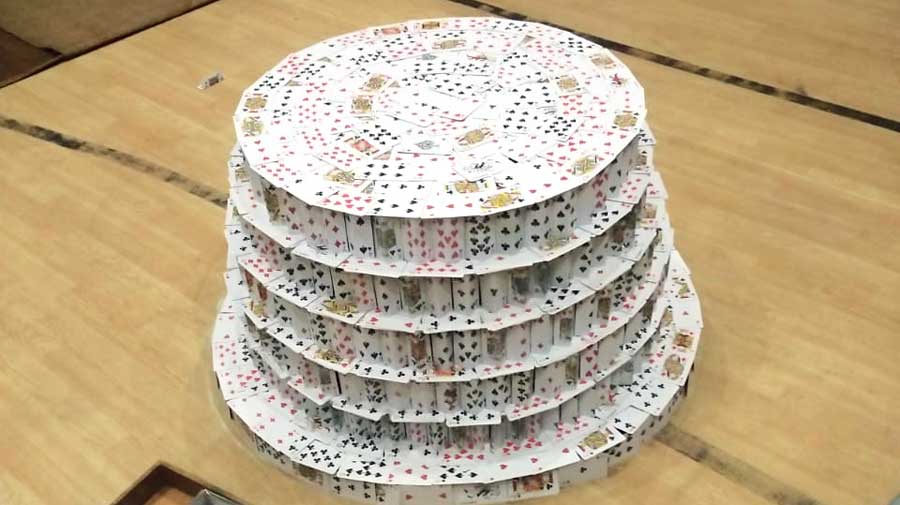 A few layers of cards added to the structure
Telegraph picture
---
Calcutta
|
Published 21.04.21, 02:56 AM
|
---
In a closed school, a Class VIII student had been working alone without a fan for six to seven hours at a stretch for over 10 days.
The fan was switched off because the breeze would blow his hard work away.
Arnav Daga, 13, was making a replica of the Qutab Minar with playing cards. He was in school because his house would not be able to accommodate the near-16ft structure that he decided to build.
Arnav's pursuit of making structures and buildings out of cards started during the early days of the lockdown last year and the Qutab Minar, which he completed on Tuesday, is the highest so far. The student of Sri Sri Academy used 21,000 cards for the tower. The 5ft and 8 inches-tall boy climbed onto desks and stools to reach the higher levels, with his parents or family members holding on to the desks to save him from a fall.
"I started with smaller structures but this time I wanted to make something tall. But height is just one category. I have also made wide structures like the Iowa State Capitol," Arnav said.
"While at work, I have to keep the fans switched off, the air conditioner off and the windows shut. I cannot afford the slightest breeze because that could make my structures collapse," he said. It's not always that he has been able to keep his structures intact while making them. Once, while making the Big Ben at the end of the second day the clock tower collapsed on him. "Its part of the game. You fall then you get up," Arnav said.
On teachers' day, he made the school building as a tribute to his school.
It takes him a few days to a month to complete his structures, depending on what he is making and how much time he gives to it.
"For the Iowa State Capitol, it took me about a month because I was doing it in between my exams," said Arnav.
His interest was sparked while making small houses with cards in March last year and he was "inspired by card stacker Bryan Berg and addicted to trying out new structures".
This was a skill that he acquired during the lockdown and the school kept encouraging him.
His teachers vouch for his art of balancing studies and his passion, one does not interfere with the other, they said.
During the last few days, Arnav attended all his classes before starting the day's work on the Qutab Minar in the school auditorium. "I get a good sleep because I am tired," was his response to the principal when she asked him if he got tired.
"He requested for a space because he was planning a 16ft structure. We provided him with the auditorium which is almost 20ft. What he has displayed is rare determination and fortitude. While making the structure he did not take a single day's break. There were days when he came to school in the morning, attended all his class before going to the auditorium," said Suvina Shunglu, the principal of Sri Sri Academy. Arnav's houses of cards are not permanent structures, he brings them down himself.
"If I do not to break them, how will I make something new?" he said.