Video: IIT Kharagpur official implies forceful hostel eviction
The dean of students' affairs, Somesh Kumar, denied that the authorities were trying to evict students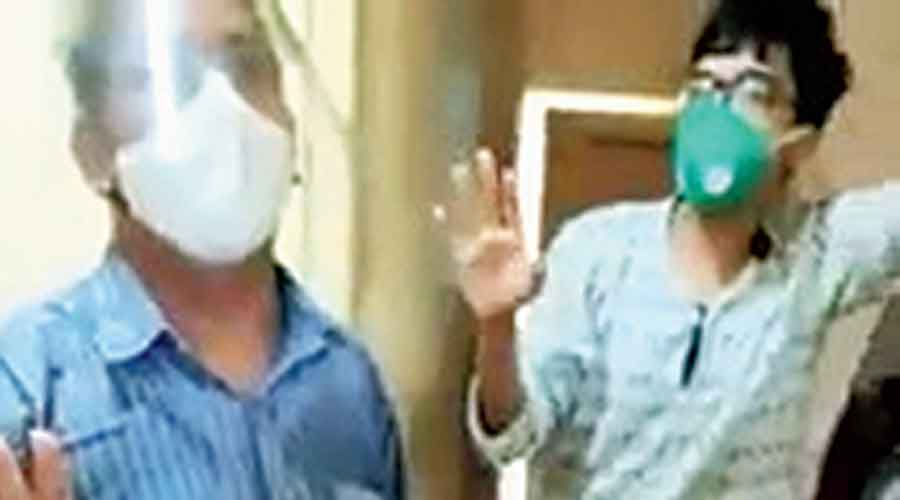 ---
---
A video has emerged that purportedly shows an official of IIT Kharagpur, accompanied by several guards, telling students at a hostel to leave the campus immediately, failing which their belongings would be taken away.
The students at the Madan Mohan Malviya Hall of Residence could be heard pleading for some more time, saying they could not return home because of lack of transport options in the middle of the Covid-19 pandemic.
The dean of students' affairs at the IIT, Somesh Kumar, denied that the authorities were trying to evict students from the hostel. Those in charge of Madan Mohan Malviya Hall, he said, were only trying to persuade the students to return home because three students have tested positive for Covid-19 on the campus since last Wednesday.
The IIT authorities had on August 19 asked the 300-odd students still on the campus to move out by August 23 after a student had tested positive for Covid-19.
In the video clip, students could be heard saying that they could not leave because of lack of transport options. "We cannot leave. You lock us in from outside. We cannot step out," a student was heard telling the official, who was accompanied by a number of guards.
At this point, the official told the students: "Aapko nikalna padega. Dekhiye abhi bahaut aadmi aayega, aap logo ka samaan le jayega (You have to leave. See, a group of men will now come and take away your belongings)."
When the official sought to know when the students would leave the campus, they pleaded helplessness. "We don't know when we will be able to leave…. Trains are not going to our home (states)," one of the students said. "How will we go?" another asked.
The official then asked if 10,000 students of the institute could go home, why couldn't the 300-odd? The students countered him by saying the institute had prevented them from leaving.
The official then told the students: "Go to the dean and tell him that 'the warden has thrown us out'."
Dean Kumar said it was no longer safe for the students to stay on the campus. "We are going to each hall of residence to make them understand. There is no question of forceful eviction. While the warden was speaking to the students, there could be some exchange of words," he told The Telegraph.
How can the students leave in the absence of transport? "There are several travel agencies on the campus. They should speak to them," said Kumar.