IIEST supplementary exams on campus
The institute took the decision after a survey showed many students might not be able to take the test online for want of Net connectivity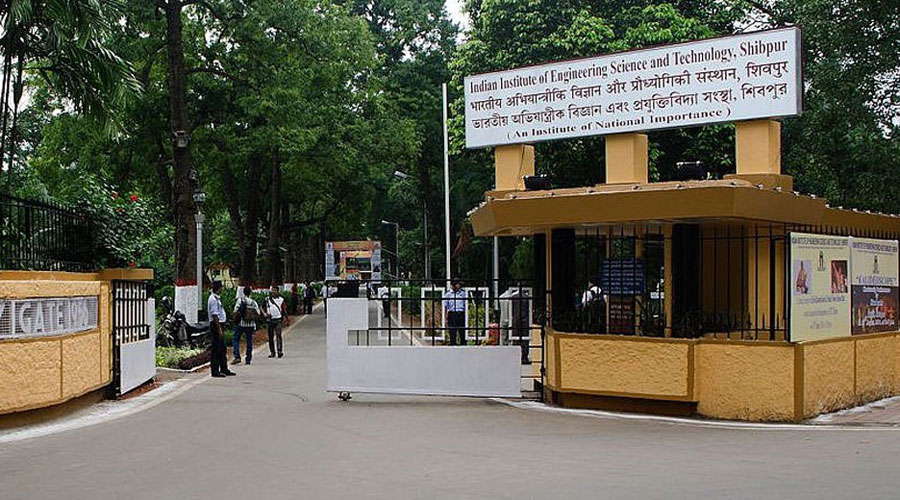 IIEST Shibpur
Source: Institute website
---
Howrah
|
Published 29.10.20, 01:52 AM
|
---
Final-year BTech students of IIEST Shibpur will take the final-semester supplementary exams on the campus.
The institute took the decision after a survey showed many students might not be able to take the test online for want of Net connectivity.
The exams will be held on November 11 and 12 "in physical mode on the Indian Institute of Engineering Science and Technology premises", the institute said in a notice issued on October 22.
Students have to clear the exams to get the degree, an institute official said.
This will be the first such test on the campus since students had vacated it in March.
Parthasarthi Chakrabarti, the IIEST, Shibpur, director, told Metro: "We will hold the tests in physical mode because several students face Net connectivity problems. Students will have to follow all rules while taking the tests."
The problem of Net connectivity came to the fore during a survey the institute had carried out last month.
Of the 1,830 students surveyed, at least 15.5 per cent could not attend online classes in the last semester and 18.3 per cent faced "poor Net connectivity" at home, the institute official said.
As students of the institute hail from across the country and Net connectivity is often not up to the desired level, the institute felt the need to carry out the survey.
"We were convinced after the survey that the supplementary exams could not be held online. They had to be held on the campus," the official said.
Students will have to declare they are not staying in any containment zone, the notice has said. The signed declaration addressed to the deputy registrar (academic) Nirmalya Bhattacharyya will have to be mailed to deanac.communication@iiests.ac.in at least three days before the exam or the day of arrival to the campus.
Students who would need to stay in hostels for the exams have to write to the dean (student welfare) with a copy to the chief warden at least seven days before they reach the campus.
Students who are due to write the test have to give a declaration that they would notify the institute if their locality is declared a containment zone.
"In that case, the institute will decide when they can take the exams, at a later date. Second-semester postgraduate students will take the tests on November 11 and 12," Nirmalya Bhattacharya, the deputy registrar, said.
He said the decision to hold the test in person was taken at a meeting of the senate on October 22.
The institute will try to hold the exams successfully as this could provide a template for holding the final semester exams for second and third-year students.
"The possibility of holding exams online is ruled out because of poor Net connectivity. If the supplementary exams can be held successfully by following all safety guidelines, we can think of holding the final semester exams following this model in a staggered way," an institute official said.