IIEST gets Rs 1 crore from octogenarians
Attempt to keep dreams alive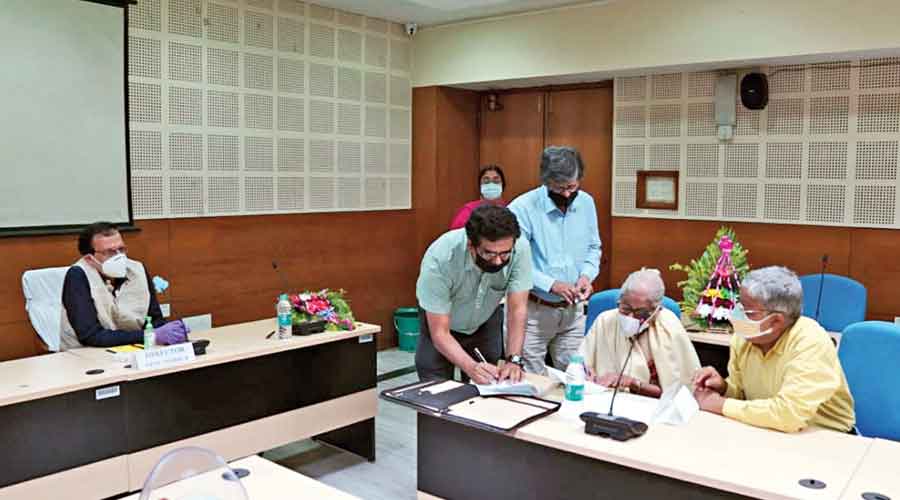 (Seated from right) Sunandan Narayan Basu and Reba Mukherjee at IIEST on Tuesday. Mukherjee signs a memorandum of understanding with the institute while donating Rs 50 lakh to turn the dreams of her late husband into a reality. Basu, too, donated Rs 50 lakh. Also seen in the picture is IIEST director Parthasarathi Chakrabarti
Telegraph picture
---
Howrah
|
Published 25.11.20, 02:43 AM
|
---
Two octogenarians did not think about their health and stepped out of their homes amidst the pandemic to reach IIEST Shibpur on Tuesday evening and hand over cheques of Rs 50 lakh each to the institute.
Reba Mukherjee, 81, was seated next to Sunandan Narayan Basu, 86, on the campus of the Indian Institute of Engineering Science and Technology (IIEST) on the institute's 165th foundation day.
Mukherjee wanted to turn the dream of her late husband Ganesh Chandra Mukherjee into a reality. As a student he could not study engineering because of financial constraints, but he wanted to do something so that an aspiring engineering student need not quit studies for want of money.
Sunandan Narayan Basu, who had graduated from Bengal Engineering College 64 years ago, donated Rs 50 lakh to his alma mater. He had contributed an equal amount in August and he wanted the institute to buy students devices and help bridge the digital divide at a time when online education is the only option.
An endowment fund will be created in the name of Late Ganesh Chandra Mukherjee to help needy and meritorious students to achieve their goal of studying engineering, an institute official said.
"I will be happy if the institute fulfils the dreams of my late husband," Reba Mukherjee, a retired college teacher, said in her speech.
Basu's contribution will be used to buy students who have been facing Net connectivity problems smartphones and laptops so that they can start attending online classes, IIEST director Parthasarathi Chakrabarti said.
"The amount will be spent on strengthening the digital education hub that we have started with his previous contribution," director Chakrabarti said.
Basu, who lives in Jodhpur Park, told The Telegraph that he was glad that someone with no connection to the institute had contributed to add to the institute's coffers.
"I believe the precedent set by her will encourage others to step forward," Basu said.
The institute will give scholarship/assistantship to three first-year undergraduate students with the annual interest earned from Mukherjee's contribution, registrar Biman Banerjee said. Each student will get Rs 30,000 annually.
"At least one of the students has to be a woman according to the condition laid out by Mukherjee," Banerjee said.
The institute will set up a committee to screen prospective recipients and the panel will have a nominee of Reba Mukherjee.