IIEST board concerned over project delay
Chairperson Vasudev K. Aatre has requested HRD ministry to resolve all pending issues at the earliest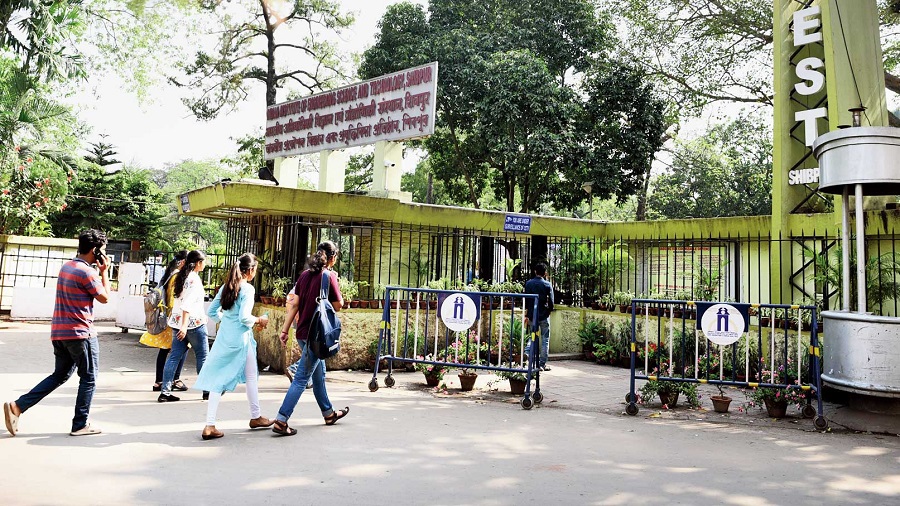 The board of governors at IIEST adopted a resolution at a recent meeting expressing its concern over the delay
File picture
---
Howrah
|
Published 29.09.20, 01:15 AM
|
---
The board of governors at IIEST has expressed concern over the delay in the construction of a hostel and an academic complex six years after the Shibpur tech school was upgraded to its present status, said a member of the board.
The board – the highest decision making body of the Indian Institute of Engineering Science and Technology – adopted a resolution at a recent meeting expressing its concern over the delay.
"The two most important projects, the construction of hostel and academic complex, which were linked with the upgradation of this oldest engineering institute are still pending after the passing of six years of transformation," the resolution reads.
The chairperson of the board, Vasudev K. Aatre, requested the HRD ministry representatives on the panel to resolve all pending issues at the earliest so that the institute could concentrate "more on academics and research and fulfill the purpose for which this institute was converted to IIEST".
The Bengal Engineering and Science University was transformed to IIEST on March 4, 2014.
The board had in a meeting in 2018 resolved that a lecture theatre complex and a hostel that could accommodate 1,000 boys would be constructed on the Shibpur campus at a cost of Rs 283.6 crore. "The proposals were vetted by the institute's finance committee, following which the board had on July 19 last year decided to forward them to the HRD ministry for approval," an IIEST official said.
Prior to this, in June 2019, IIEST director Parthasarathi Chakrabarti had met HRD minister Ramesh Nishank Pokhriyal and asked for funds to build the hostel and the academic complex. "Funds have not yet come," the official said.
Director Chakarabarti told Metro that the chairperson would soon write to the ministry about the pending issues. "Once he writes, we hope the ministry will respond," the director said.