At worst of times, the best in some of us
Ignoring Covid risk, citizens spring to rescue 32-year-old man
Suvamoy Dey, who is a diabetes patient, fell off his bicycle and lay unconscious near the Hazra crossing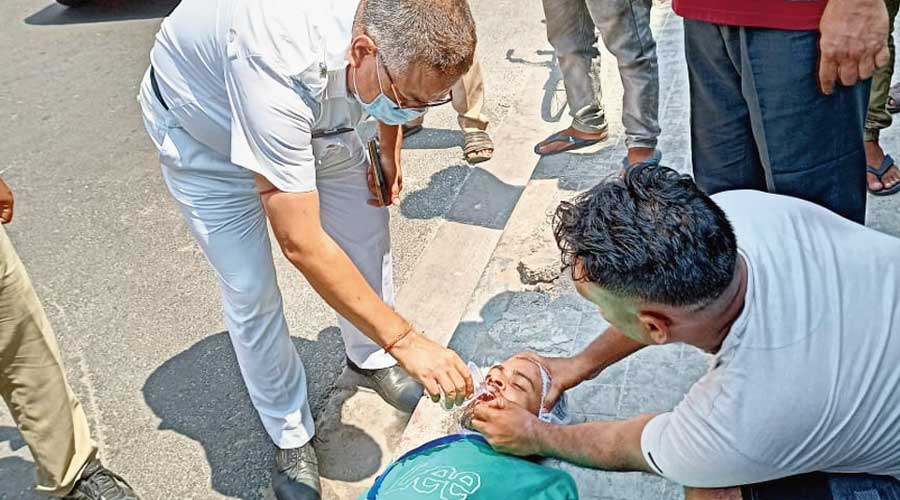 Suvamoy Dey lies unconscious on the road as police inspector Ashis Roy and others try to revive him.
Telegraph picture
---
Calcutta
|
Published 23.05.21, 02:14 AM
|
---
A diabetes patient who has been pedalling around 9km to work every day fell off his bicycle and lay unconscious near the Hazra crossing on a searing hot Saturday morning.
Suvamoy Dey, 32, survived a threat to his life because a handful of Calcuttans — particularly a police officer, a woman doctor and an elderly woman — would not abandon a stranger slumped on a pavement even for fear of catching Covid.
A providential phone call from Dey's home helped — it alerted the officer about his high blood sugar levels and the possibility that he had passed out because he had neither eaten well in the morning nor taken his medicines.
However, it was difficult to feed Dey water because his jaws were tightly clenched. The elderly woman arrived just in time to tell the policeman they should insert a coin between the sick man's teeth so they can pour a glass of sugar water, obtained from a tea stall, into his mouth.
A few hours later, after a bout of hospital tests, a rejuvenated Dey returned home with his younger brother.
The resident of Gobra near Topsia cooks for a community kitchen in Tollygunge for Rs 8,000 a month. He took up the job a fortnight ago, several months after the epidemic closed down his small catering business.
Dey had collapsed to the ground on Townsend Road near its intersection with Hazra Road around 9.30am.
Inspector Ashis Roy, officer in charge of the Regent Park traffic guard, was passing by when he saw a man lying on a pavement with a small crowd around him.
"The man was unconscious. The identity card he wore round his neck showed that he was attached to a community kitchen. He was almost motionless. Someone in the crowd stopped a doctor's car just then.
The doctor got off, checked Dey's pulse and said he was alive. "The doctor left," Roy said.
As Roy wondered what to do next, Dey's phone began ringing inside his bag. Roy asked a man in the crowd to get the phone and ask whether the caller knew the unconscious man's medical history.
"Luckily, it was a call from his family. They told us the man had high blood sugar and had not had a proper breakfast. I realised this (his collapse) may have happened because of a sudden dip in his sugar level," Roy said.
"I asked those present to arrange for a glass of sugar water. With help from another person in the crowd, I tried to force the unconscious man's jaws open to feed him the water. But his jaws were clenched too tight."
Just then an elderly woman, who had her hands full of bags containing vegetables, stopped by. She asked Roy to insert a coin between the unconscious man's teeth.
"The wise woman said, 'Hath diye cheshta korben na, kete jabe (Don't try it with your hands, you'll end up injured)," Roy recalled.
The trick worked. As the sugar water passed down his throat, Dey's tongue began moving. He slowly opened his eyes. But he was still unable to speak.
The crowd had swelled, most of the onlookers eager to help but unsure what to do.
A woman stepped forward to declare she was a doctor. She asked Roy to lift Dey's head and herself lent him a hand. She then patted Dey's cheeks till he regained consciousness.
"She immediately said, 'We need an ambulance'. As luck would have it, an empty ambulance was already headed our way. We sent the man off to SSKM Hospital where Shankhanath Nag, an assistant sub-inspector from Bhowanipore police station, took care of him," Roy said.
A few hours later, Dey was discharged from hospital. By then, his younger brother had arrived to take him home.
"Dada is back home. He fell sick because he had forgotten his medicines today. He would like to report for work after a day's rest," the brother told The Telegraph in the evening.
Dey had been unemployed for several months before being hired as a cook for the community kitchen, which serves Covid patients free of cost.
The younger brother, who works at a cable operators' office, said he didn't earn enough to support the entire family.
This newspaper has written about several others who pedal tens of kilometres to reach their workplace in the absence of public transport because of the Covid curbs, and because of a lack of job prospects in their own neighbourhood.
Dey's bicycle, which had been in Roy's custody through his hospital stay, has been returned to the family.