Id 2021: Few turn up at mosques to offer prayers in Calcutta
The day was marked by feasting but the celebrations were mostly restricted to family members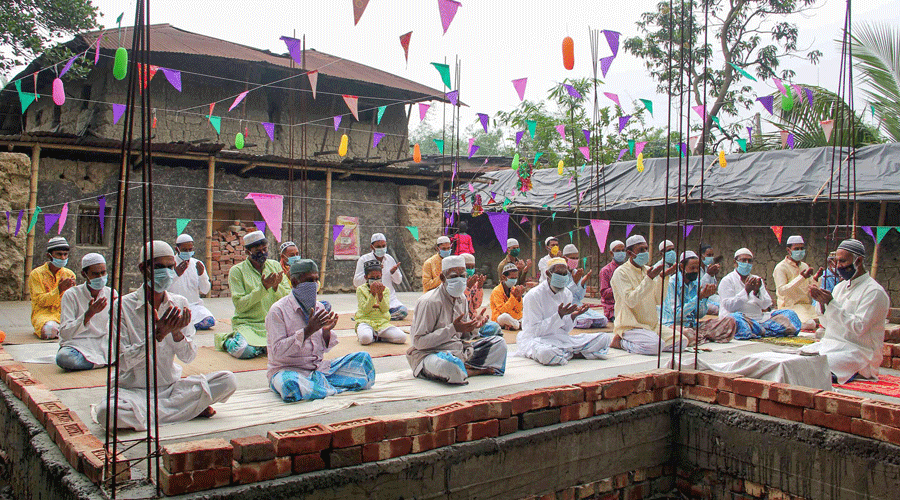 ---
|
Calcutta
|
Published 15.05.21, 02:18 AM
---
The hugs and handshakes were replaced by 'dur se salaam' after the Id prayers on Friday.
Fewer people turned up at mosques across the city as many chose to pray from home.
The day was marked by feasting but the celebrations were mostly restricted to family members.
For Iftekhar Ahsan of Calcutta Walks, the run-up to Id usually means last-minute frantic shopping. The day starts with prayers and leads to one feast after another.
"By the end of the day, I am tired of hugging people and shaking hands with them. There is none of that this year," said Ahsan.
Kabir Azhar, director of Aminia Restaurants, said the bulk orders on Id had substantially dipped this time. "Earlier, one order would mean 20 plates of biryani. This time, there are mostly smaller orders. It suggests people have cut down on large gatherings," said Azhar.
Azhar started his day with a prayer with a set of relatives, maintaining social distancing and wearing masks.
The lunch at his Ballygunge home comprised "Id special" biryani, sewai and sheer korma. But instead of 50 plates of biryani, there were "five to six" because there were no guests.
Social media was replete with Id messages. But almost all of them spared a thought for the human tragedy brought about by Covid-19.
"I know that all of us have our masks on, but believe me, we don't need to take it off for you to know that we are smiling under it…. Dedicating this Id to hope…. Hope, that we will prevail together if we play our cards right. Hoping Allah keeps you and your families safe," read one post with a picture of a family of four, everyone masked up.
At Nakhoda Masjid, the Id prayers were held in two slots — 6.30am and 8.30am. "People did not hug. They did salaam from a distance," said Shafique Quasmi, the imam of the mosque.
Id was also marked by charity. Zeeshan Majeed, a social worker, spent the first half of the day providing oxygen cylinders to Covid patients.
"I went to three places — Beckbagan, Kareya and Gurusaday Road. Id is not only about celebrating with family members, it is also about reaching out to the underprivileged," said Majeed, who runs a campaign called Anti-Hunger Squad Foundation.
Like many other festivals in Calcutta, Id, too, is not bound by religious boundaries.
For Diptanshu Roy, 19, Id means watching a Salman Khan film with friends at a theatre. The Behala boy did watch Salman's Id release, Radhe, but on an OTT platform. On Friday, he had biryani, but had it ordered at home from a restaurant.