Hyena butchered in Purulia
Suspicion: retaliation for preying on livestock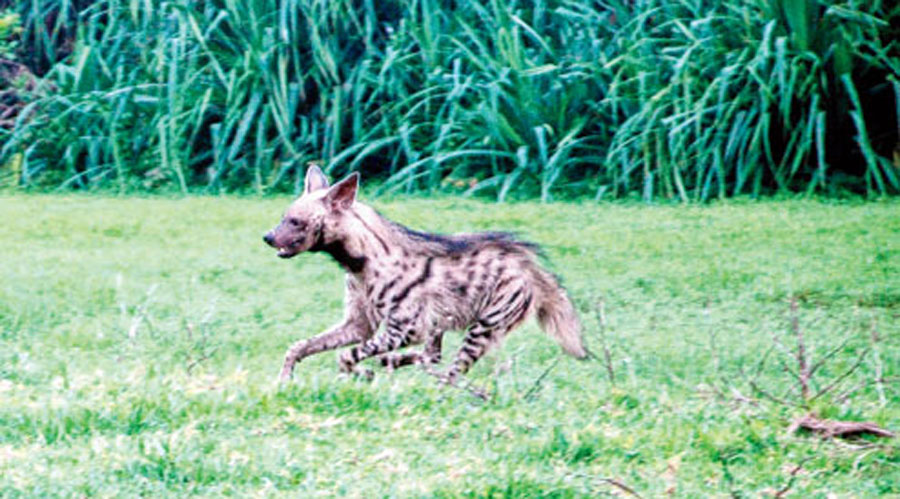 Hyenas are found in the semi-arid and dry fringe forests of Purulia, West Midnapore and Jhargram in Bengal.
Representational file picture
---
Calcutta
|
Published 18.07.20, 03:07 AM
|
---
A hyena was allegedly killed, beheaded and chopped into pieces by some residents of a village in Purulia, forest department officials said.
The carcass was found early on Wednesday at Dhanardih village in Kashipur block of Purulia, a tribal pocket over 250km from Calcutta.
No one has yet been arrested.
A case has been drawn up naming some suspects, who are on the run.
"Prima facie, it seems to be a retaliatory killing. The hyena had strayed into the village and lifted some livestock. The body was beheaded and cut into pieces," said a local forest official.
"A preliminary probe suggested that axes and other sharp weapons were used to hack the animal after it was killed."
Hyenas are found in the semi-arid and dry fringe forests of Purulia, West Midnapore and Jhargram in Bengal. The ones found in the state — and other places in India like Gujarat and Rajasthan — are striped hyenas, smaller and more solitary creatures than spotted hyenas of Africa.
"Spotted hyenas are famed scavengers and often dine on the leftovers of other predators. But these hardy beasts are also skilled hunters that will take down an wildebeest or antelope," says nationalgeographic.com.
But the Indian variants are "much more docile," a researcher said.
Pictures of the dead hyena, gored by a spear, were shared by a nature lovers' group on social media.
The average length from head to tail of a striped hyena (Hyaena hyaena) is one metre. It has fluffy manes and dark lines along their light fur. Longer front legs give them a loping gait.
Animal Diversity Web (ADW), an online database of animal natural history, distribution, classification, and conservation biology at the University of Michigan, describes its geographical range as "Northern and Eastern Africa, the Middle East, India and Asia extending north to the Caucasus and Siberia".
"They have always been here in Bengal but have not been studied enough. Their habitat is known but the extent of their distribution is largely anecdotal. Their population count is also unknown," said a senior forest official in Bengal.
"The striped hyena is a solitary animal. It is a scavenger who hunts — weak and baby animals — rarely. Striped hyenas are much more docile compared with spotted hyenas. They spend the day in burrows and come out at night," said Yadvendradev Jhala, a scientist at the Wildlife Institute of India.