Homemaker turns idol-maker after husband's Covid death
Piu Pal's only motivation — to ensure their children can continue with their studies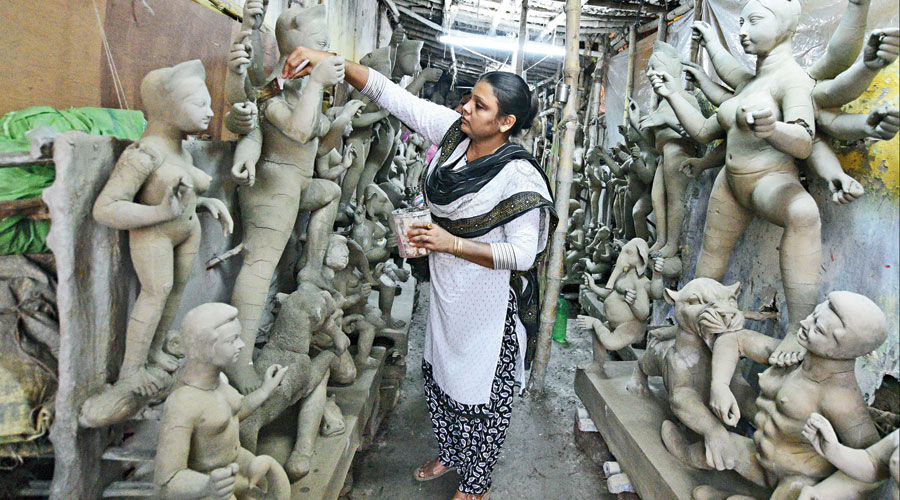 Piu Pal works on a Durga idol at her Kalighat studio on Saturday.
Pictures by Gautam Bose
---
Calcutta
|
Published 06.09.20, 03:23 AM
|
---
A homemaker who had seen her husband make Durga idols from a distance for many years has picked up the paintbrush after decades following his death.
Piu Pal's only motivation — to ensure their children can continue with their studies.
She has even bagged orders from Durga Puja organisers who do not want large idols but want it something different this time. And the mother of two sons knows exactly what she has to deliver.
Some of these organisers have been placing orders with her husband Arun Pal for years. She would watch them turn up at their Kalighat studio, explaining the themes to her husband and the kind of idols they were looking for.
When Pal died of the coronavirus in July, she decided to step in. Their sons are still in school. Avirup is a Class XII student while Antarip is in Class VI. Continuing with their education meant Piu returning to something she had always held close to her heart: being an artist.
"When some Durga Puja organisers came looking for my husband, I wasn't sure what to tell them. I spoke to my sons and realised I had to take the call for them," she said in between her meetings with puja organisers on Saturday afternoon. "It had never occurred to me that one day I would manage a team of 20 workers, giving shape to Durga idols. It was always Arun's job. I used to watch from a distance."
On September 4, the family prayed for Pal, exactly two months after his death. In this period, she has received orders from at least 30 puja committees, including Ballygunge Cultural, Adi Ballygunge, Durgabari, Vivekananda Sporting Club and Behala Friends.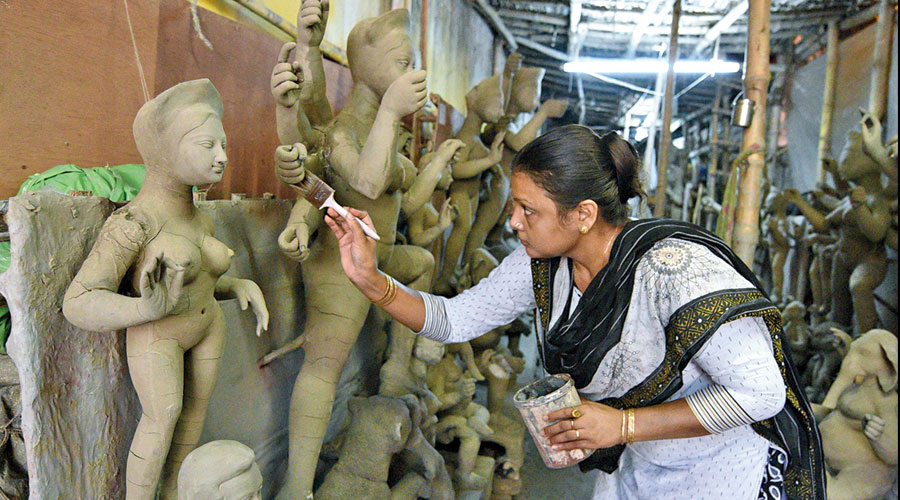 On Saturday, Piu, in her early 40s, had held a few rounds of meetings with her team of workers and Pal's studio had come alive with the familiar sight of Durga idols being made.
Pal hailed from a family of artisans. His father Amar Nath and brothers still work on idols.
A few years after their marriage in 2002, Pal moved out of the joint family and set up his studio in Kalighat's Patuapara. Piu started assisting her husband, shuttling between Behala where they stayed in a rented accommodation and Kalighat.
"Till 2016, I used to accompany him to various puja pandals to understand their themes. "From the pandals I would head home and he would return to the studio," Piu said.
"Now when my sons wait at home I try explaining that it's for them."
This year, as organisers started pouring in, Piu realised the pandemic had forced everyone to cut down on budget. The allocation for idols has been drastically
reduced.
"People are saying they want smaller idols that would be easy on their budgets. Ora bolchhey kuri tey kuri (They said 20 in 20)," Piu said. "The challenge is to make Durga idols within Rs 20,000. It's a near impossible task."
Every day Piu sits down with her team to work on various shapes according to the themes. Everything, from deciding on measurements to building structures using straw, mud and bamboo is discussed in detail before work begins for the day.
Late in the evening, when Piu heads home to Behala for dinner with her sons, she knows what she has delivered for the day.
"Piu has picked up Arunda's style very fast. We have always been a Arun da loyalist and it feels great to see his wife build the idol for us this year," Sandipan Banerjee of Behala Notun Dal puja committee said. "This year, it will be a mother's tribute to the Goddess mother for us."