Holi: Housing complexes stick to rules, not others
Tens of thousands of people, young and old, played with colours without adhering to the safety protocols despite a sharp rise in the number of Covid cases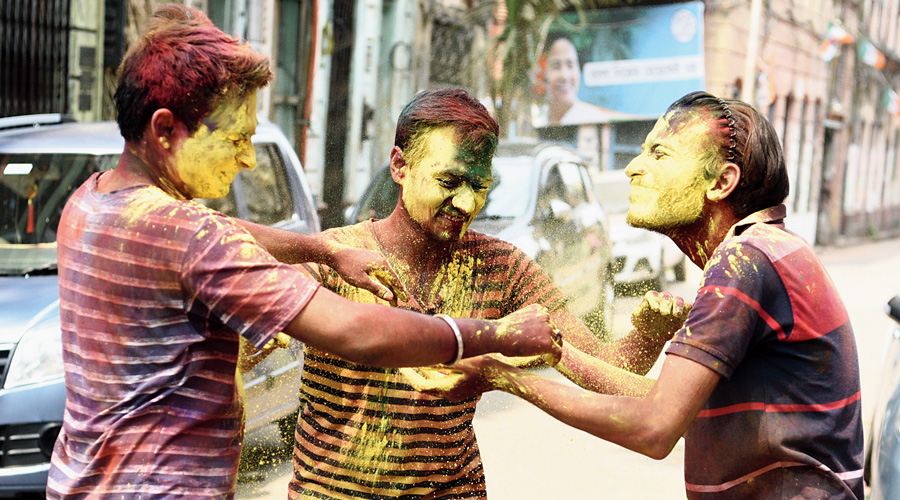 Holi celebrations in the Girish Park area on Monday.
Gautam Bose
---
Calcutta
|
Published 30.03.21, 12:41 AM
|
---
Parts of the city and its adjoining areas exercised caution in celebrating Dol and Holi amid the Covid pandemic, but many others did not.
Tens of thousands of people, young and old, played with colours on Sunday and Monday without adhering to the safety protocols despite a sharp rise in the number of Covid cases in the city and its adjoining districts over the past few weeks.
The social media was flooded with pictures of people celebrating standing cheek by jowl, just as they used to do before Covid had surfaced.
A large part of the city played Holi on Sunday. On Monday, revelers from parts of Posta, Burrabazar, Girish Park, Maniktala, Ultadanga, Alipore and Bhowanipore celebrated the occasion by joining gatherings where most were without masks. Even when not playing with colours, revelers were not wearing masks. Many who are known to express outrage on social media and other platforms at gatherings of people without masks chose not to wear face coverings while celebrating the festival of colours.
The blatant violation of safety norms across the city left doctors and others worried over the impact on the Covid case count in the next few weeks.
In contrast, residents of many housing complexes strictly adhered to the Covid-19 protocols. "We had issued notices warning residents about the rise in Covid cases. We had requested them to wear masks and stay at a safe distance from one another. They did as told," said Ranjit Sarkar, who lives in a housing complex in Kasba.
On Sunday and Monday, police fined over 200 people across 79 police station areas in Calcutta for not wearing masks, a figure that public health experts said was way too little considering the spike in the number of Covid-19 cases. Senior officers said they tried to spread awareness and visited markets and localities with loud hailers, asking residents to abide by the Covid-19 norms. But in most places the words fell on deaf ears.
Till late Monday evening, the police had seized around 37.2 litres of illicit liquor and arrested 275 people for drunken brawl.
"All police stations sent out teams on both days to warn revellers of the Covid-19 situation," said an officer at Lalbazar. "But it is impossible to have police posted in every nook and corner to ensure revellers maintain Covid-appropriate behaviour."
On Friday, the state health department had issued an advisory asking people to celebrate Holi in a restricted manner this year. The advisory said people should consider celebrating Holi with their families and reiterated that the Covid-19 pandemic was still not over.
Most revelers said they did not wear masks because they would have to take them off while playing Holi. Some said it was safe to be without masks in public places. They hugged and smeared each other with colours and stood in gatherings outside eateries — doing everything that experts had warned against.
The health department's advisory on Holi had warned that since the virus had undergone mutations, the number of infections could rapidly rise any time. Some states in India are already reporting a very high number of cases, the advisory stated.
It had also added that people should not come close to one another while playing Holi and advised them to stay away from crowded places.
But not many were ready to listen.
"When you are using only abir on Holi, it gets difficult to breathe with the mask on," said Hari Mohan Kejriwal, a resident of Raja Katra in Burrabazar. "We normally wear masks. But it is not possible to do so on Holi."
Public health experts had warned that the number of cases could see a sharp rise after Holi if people ignored Covid-appropriate behaviour.
"We behaved responsibly during Durga Puja and other festivals last year, which is why there was no sharp jump in cases after the festivals. Let us wait for a week or 10 days. We will get to understand if there is a jump after Holi or not," said an expert.