Hawkers trigger VIP Road snarls in Calcutta
Baguiati bus stop, Kestopur, Kaikhali stretches worst hit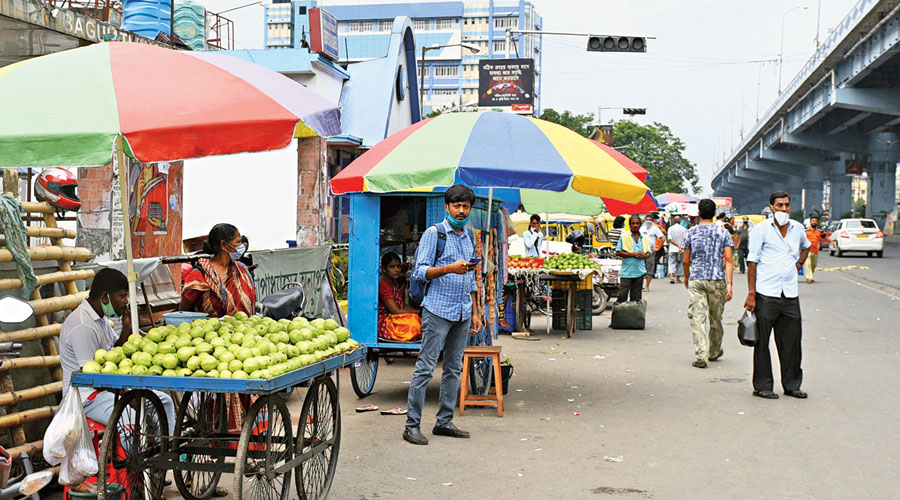 Stalls along VIP Road in the Baguiati area.
Pictures by Sanat Kumar Sinha
---
Calcutta
|
Published 12.08.20, 02:18 AM
|
---
Hawkers selling fish, vegetables and poultry products have taken over multiple stretches of VIP Road resulting in traffic chaos almost every day.
A 100m stretch in front of the Baguiati bus stop on the airport-bound and the Bypass-bound flanks, a 50m stretch in front of Kestopur and a 150m stretch in front of Kaikhali are the worst hit.
Every morning and evening, hawkers set up stalls by laying plastic sheets on the road or park their vans and carts on the road eating into its space. People, too, park their vehicles at random and continue to shop. Also, shoppers headed to Baguiati market park their vehicles along VIP Road. The result: traffic snarls on both flanks of the road.
These stalls and parked vehicles have been creating bottlenecks on an important road that connects the city with the airport, an officer of the Bidhannagar commissionerate said. "We conduct regular drives and ask hawkers to move away. The problem is the moment they see cops or a police vehicle approaching, they pack up and leave only to return the moment cops are gone." Bangshagopal Dolui, who sells fruits on a van, said he had switched to selling fruits after losing his driver's job during the lockdown. "I was asked to leave as Covid-19 kicked in. From earning Rs 12,000 a month I was staring at no earnings… I started selling fruits."
Dolui said he chose VIP Road as many motorists and two-wheeler riders stop to buy fruits from him before continuing on their journey.
On a Monday evening, Metro saw at least 60 cars parked on VIP Road in a haphazard manner. Almost all of them were locked and had no drivers. A few drivers leaned against the vehicles and chatted.
"Babu bazaar-e gechen. Ekhanei gari rakhi (Sir has gone to the market. I usually park here)," the driver of an SUV parked in front a "No Parking" board said.
There was not a single traffic cop in sight.
"No Parking" boards are spread all across the road but absence of cops make it easy for motorists and two-wheeler riders flout signage all over the road motorists and two-wheeler riders to flout the rule.
Vehicles and hawkers occupy the road space daily, several residents Metro spoke to said. Also, many go for parallel parking and it adds to the chaos, some said.
The service lane in front of the PWD office is almost filled with hawkers selling snacks on carts.
There are hardly any cops and snarls are regular with buses, autos, cycles and rickshaws fighting for space on the road, Subhrojyoti Mukherjee, a resident of Baguiati, said.
"Hawkers just set up their stalls on the road. As it is footpaths are with them, now they have started encroaching on roads as well. Mornings and evenings are a nightmare on the road," Mukherjee said.
"Most of the people who park here are residents of the area. They often ask officers to find them alternative parking spots when they cops try to prosecute them or their drivers," an officer of the Bidhannagar commissionerate said.