Haunting image helps New Town go extra mile
Area residents provide relief to vagrant from Tiruppur, who had gone missing 2 years ago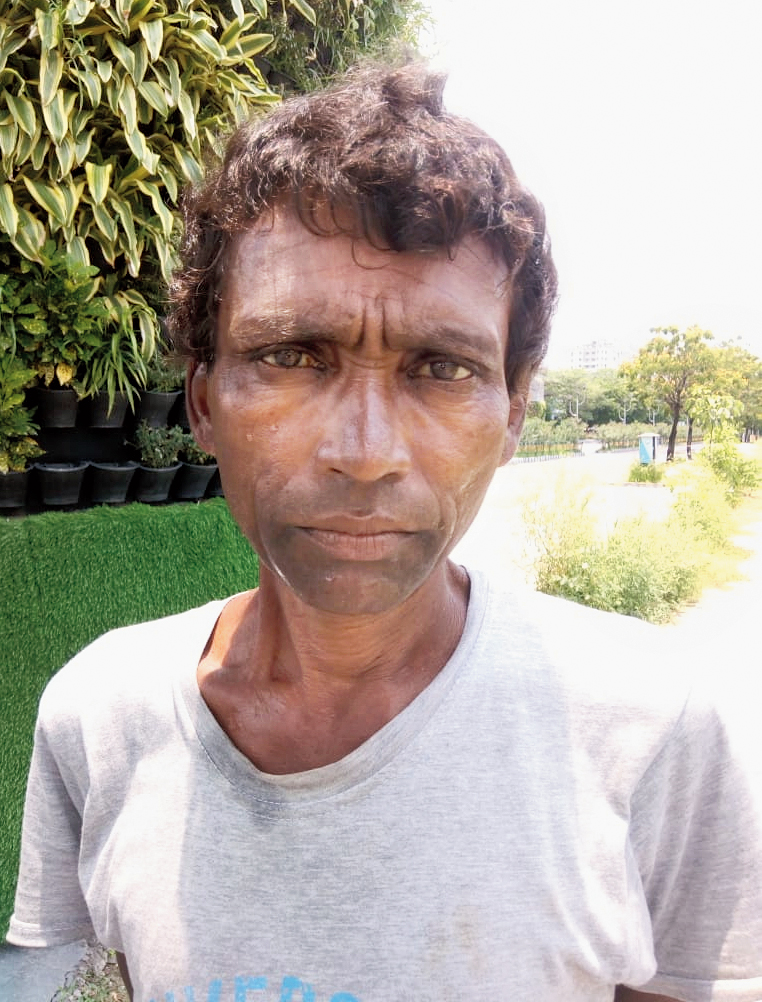 ---
|
Calcutta
|
Published 28.05.20, 11:46 PM
---
A shabbily dressed man walking down Major Arterial Road in New Town thinking it was the route to his home state of Tamil Nadu was spotted by residents when he sank to his feet exhausted, apparently after a seven-day trudge.
It took nearly a week's search to trace the man's family, the quest impeded first by a language problem and then by the man's incoherence, but later boosted by social media.
His latest journey — 2,126km by special bus — ended early on Thursday with the man setting his blistered foot in Tiruppur, from where he had gone missing two years ago.
A vagrant, which he seems to have been, seldom draws attention in city neighbourhoods. But what triggered the massive mobilisation behind his rescue — involving caring citizens, a humane police and social activists — seems to be the image of the migrant labourer walking hundreds of miles home that is by now seared into the brains of most Indians.
It remains unknown where and how he had spent these two years, or from where he had set off for home seven days before being spotted.
A New Town resident had spotted the scrawny man on a pavement under the Kolkata Gate on May 16.
"Sitting with a bucket and a ration bag, he looked so haggard that he caught my eye," said Maitreyee De, a teacher.
"He gestured for food. I gave him a pack of biscuits and later brought him sambar dal and rice for dinner, realising he was speaking Tamil. The next day I alerted volunteers of the New Town Kolkata Development Authority."
Akanksha Pandey, a concerned citizen, responded to De's social media appeal, taking her Tamil-speaking husband along to meet the man, who had stayed put in the neighbourhood.
"His legs were scarred. My husband Ashok Menon learnt that he had been walking for seven days. Someone had told him the New Town road led to Tamil Nadu," Pandey said.
"He said his name was Doraisamy. He was seeking a shelter to rest before resuming his walk."
Pandey also looked up Tiruppur – mentioned by the man as his hometown --- on the Web. She posted tweets seeking information on him, tagging a Tiruppur social activists' group she had found on the Internet.
Alerted by Pandey, another citizen, Samaresh Das, arrived along with the inspector in charge of New Town police station, Atanu Ghosal. The police station became Doraisamy's new home.
"With the cyclone due in a few days, he needed a roof over his head," Das said.
The police station referred the case to J. Mercy, the Tamil-speaking deputy commissioner of police, airport division, Bidhannagar commissionerate.
"He (Doraisamy) was not clear how he had reached Bengal. He was not even aware he was in Calcutta. But he could give his address coherently," Mercy said.
By then, social activists from the Tiruppur Corona Warriors had contacted Pandey. A video recording Mercy had made of her conversation with the man was forwarded to them.
The group posted the video clip on social media. "A neighbour of his contacted us, having recognised him," T.R. Sandeep, a volunteer with the Tiruppur group, told The Telegraph.
"Kumar, a colleague, went to meet his family. A nephew said the man had left home two years ago after a fight with his wife, who had separated from him. But he agreed to look after his uncle."
Mercy asked that a missing person diary be lodged in Tiruppur. The paperwork for Doraisamy's journey was prepared in Calcutta on the basis of the diary.
"I wanted to send him back with Tamil speakers. So I asked the social workers (from Tiruppur) to look for Bengal-bound transport," Mercy said.
"Three days later, they alerted me about a bus travelling to Birbhum carrying migrant labourers (and a Tamil-speaking crew) from Tiruppur."
Mercy persuaded the bus driver to agree to pick up Doraisamy on the way back. On Tuesday, a policeman accompanied Doraisamy to the Dankuni toll plaza, where he boarded the bus.
"A throat swab was collected from him on arrival (in Tiruppur). He has tested negative for Covid-19. Our district collector, K. Vijayakarthikeyan, has offered him quarantine shelter," Sandeep said.