Teachers Day tributes go online
Several schools went online to pay tribute to teachers on September 5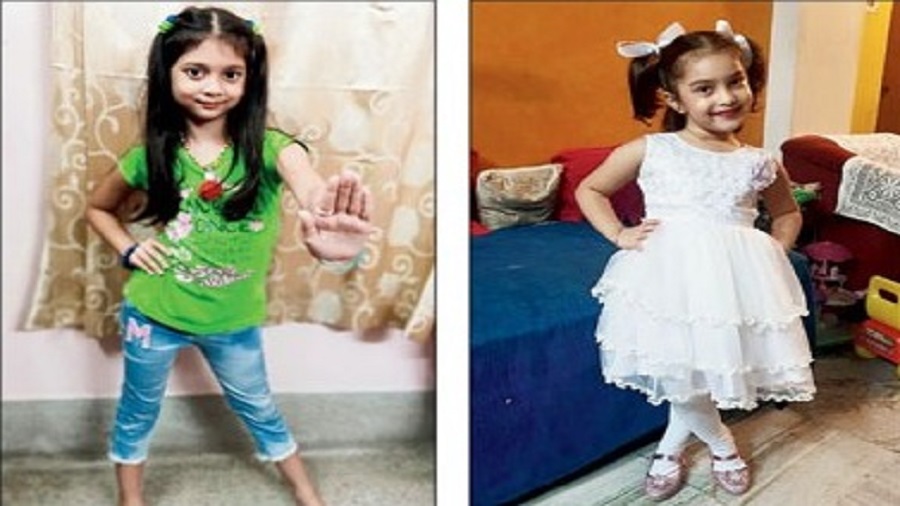 ---
Published 18.09.20, 06:49 PM
|
---
Our way of life has been turned on its head by the pandemic, but that has not stopped schools from celebrating special occasions. Several schools went online to pay tribute to teachers on September 5.

Salt Lake School
Salt Lake School celebrated Teachers Day by posting two videos on their social media sites where the students are seen dancing, reciting and singing to say thank you to the teachers.
The first video is more than 40 minutes long where students from pre-primary 1 till Class IV of the primary section are seen performing. Supreetha Chowdhury of Class III starts the celebration singing guruvandana, followed by Suhana Kar and Prayas Paul of PP1 singing a rhyme to thank their teachers.
Kairavi Chowdhury, Anumegha Saha, Naisha Dey, Aaditri Sen and Tiyasha Saha of PP2 were seen pairing white hair bands with their white dresses as they danced to Lakri ki kathi, the favourite ditty of children from the film Masoom. "I missed my friends but learning from a video clip was also fun. I got to play the video and dance whenever I wanted and I also got a new dress," smiled five year old Aaditri Sen. "Learning from online videos and recording were not new to her as for the last few months she has been taking dance classes online. But managing our office work and making her practice was a bit difficult. Teachers helped a lot. We did not have a white dress so we had to go to a market to buy it. Luckily the shop was not crowded," added Aaditri's mother Sayantani Ghosh.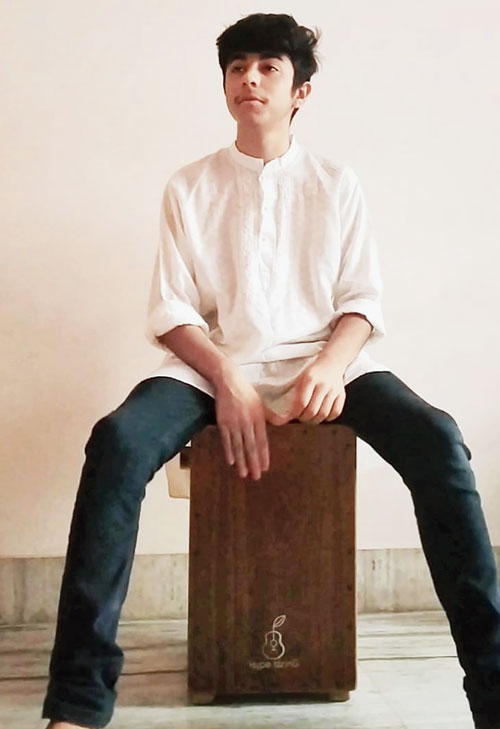 Students of Class I danced to the tune of Bam bam bole from Taare Zameen Par in orange tops and yellow bottoms while Class II students in jeans and top danced to Galti se mistake from the film Jagga Jasoos. Class III came together in The Gummy Bear Song while students of Class IV danced to show their love for their teachers with the song Teacher ko pyar by Swara Oza.
"I enjoy dancing and love this song. This was my first digital performance. My mother helped me with the practice but I really missed my friends and teachers. My video was selected on the first attempt and everyone said they really enjoyed it," said Sannidhyi Paul of Class II.
"After the Independence Day celebration at our school, our principal wanted us to do something for Teachers Day and include the primary section students too. We coordinated with the class teachers and asked students to send small performances. Then we guided them through video calls on what to wear and what background to keep after sending them video clips to practise to. Guiding students digitally is a bit difficult but now they are also getting used to this. We had huge support from the parents they tried their best to organise everything that I asked of them," said Sreemoyee Kaushiki Basak, the dance coordinator.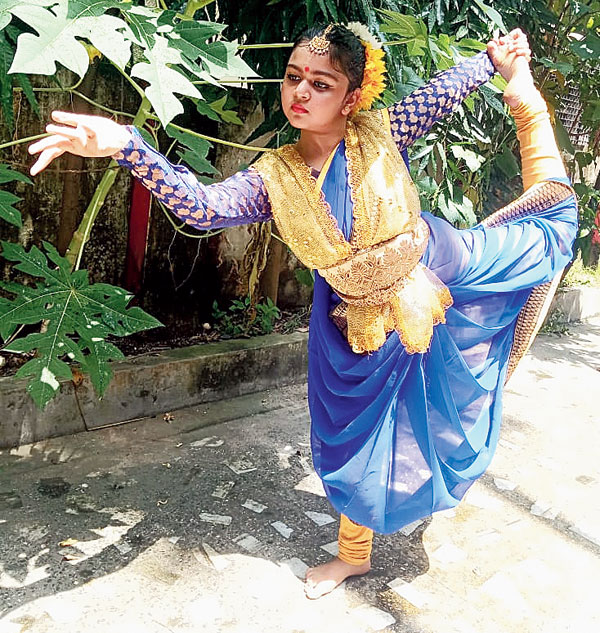 Tushit Bhattacharya of Class III chose to wear the school uniform while reciting a poem in English thanking the teachers while Shrestha
Ghosh, Madhusha Dutta and Reshmi Pahar of Class I chose blue, orange and pink dresses as they performed to the Tagore song Momo chitte.
The primary section video ended with Rohan Das of Class III singing Ruk jana nahin, the evergreen Kishore Kumar number from the film Imtihaan, from the lawn of his house.
The video posted by the secondary section runs for an hour and 15 minutes as they tried to include as many performances possible to wish their teachers.
Swarnadeep Misra, Avik Mondol, Meghdoot Chakrabarti, Jeetu Chowdhury and Sourjavo Chakraborty of Class IX came together to perform Kholo kholo darwaza from Taare Zameen Par. The five students have formed a band named Black Rhythm a few weeks ago and started rehearsing for their performance.
"It was difficult to prepare everything digitally but we tried our best. We only got to meet through video calls and chats. We recorded the tracks separately and I edited the video later. This was our first attempt and I am not an experienced editor. So there is scope for us to improve in future as we plan to perform as a band," said Sourjavo, the band's percussionist.
A tabla player training under Pt. Anindo Chatterjee, Sourjavo loves to try new things. "This time, I tried Cajon, which is a box-shaped Latin
American instrument. I heard about it last year and being a percussionist, I easily picked up the style of playing cajon. I love this instrument because it is a short form of drums and very compact," he smiled.
Recitation was also a popular choice among students. Class IX students Rishabh Bagchi and Aagnik Sengupta chose to recite Bengali poems. Rishab recited Bangla tangla by Apurba Dutta while Aagnik Sengupta performed Bangla ta thik ashe na by Bhabani Prasad Majumdar. "Recitation is my hobby. I have been doing this for the last eight years, and now it has become a habit. Though now I cannot go for classes, every day I try to keep some time to practise recitation. I thought this poem will go with the celebration and I had it ready too," said Aagnik.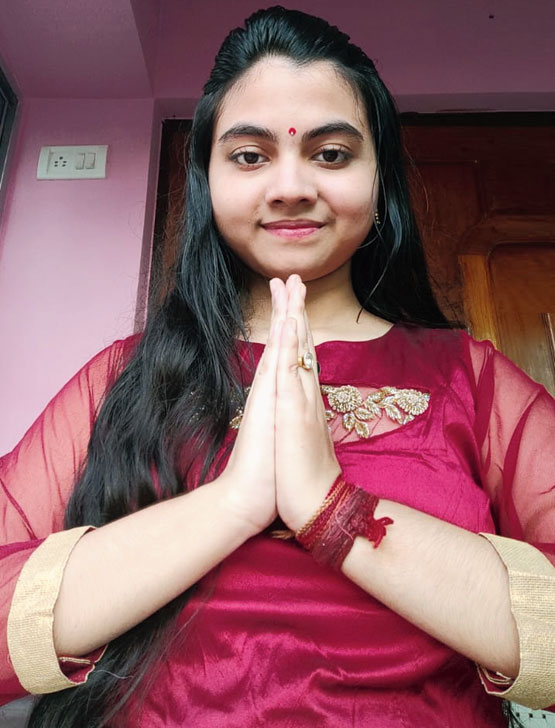 Students gave dance performances to several songs, mainly Rabindrasangeet, like Moharajo which was used in Ek Je Chhilo Raja, Pran bhoriye, Hridhoy amar nache re and Mitwa from Kal Ho Naa Ho. Sanaskriti Saha chose to wear a blue sari with a yellow border as she performed in the passage of her building to the song Monomor megher songi. "I wanted to dance as well as play the violin, but due to shortage of time I chose only to dance. This time, the song choice and choreography were done by me with a little help from my mother.
The shooting was done early in the morning so that the roads were empty and no one got disturbed. My father recorded the video," said the Class VII student.
"We received more than 600 videos from students from which we, along with our principal, made a selection. Later, we guided the chosen students and created the video with their final performances. It was uploaded on the school website and social media page. The principal shared the video links with teachers in the morning on September 5," said Payel Das, cultural coordinator.
Shatadipa Bhattacharya
Hariyana Vidya Mandir
Students of Hariyana Vidya Mandir celebrated Teachers Day by posting a 20-minute-long video where students of the senior section entertained teachers with their singing, dance and recitation performances.
The members of the students council came together to give a special tribute to their teachers. Kunal Verma of Class XII welcomed everyone with the sloka Guru Brahma guru Vishnu. "A teacher is considered Brahma, Vishnu and Shiva together since, like the supreme gods forming the Trinity do with the universe, teachers help us create our personality, protect us from the negativity and destroy any obstacles in our way," explained Verma.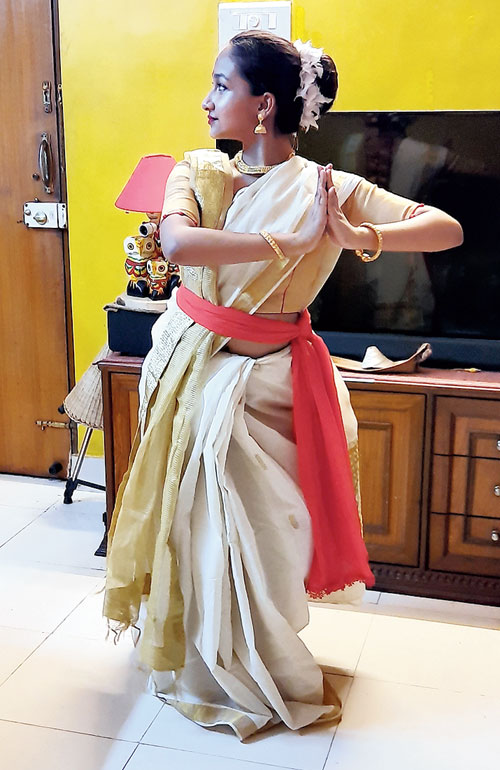 Simran Sarawgi of Class XII also spoke on what teaching means.
Then the cultural performances started. Ayush Chakroborty, Taparup Kundu, Suryarati Saha and Shreya Banik of Class XII presented a group musical performance to the Tagore song Ekla chalo re while Sahil Mishra of Class X recited the poem from the movie Pink Tu chal with a lot of enthusiasm.
Subhangi Das and Soham Biswas of Class XII came together for a duet performance of the Bengali song Esho hey from the film Ek Je Chhilo Raja by recording the songs at their respective homes. "This is a beautiful song so we wanted to perform it for our teachers. Practising digitally is completely different from doing it in school where we get to practise so much.But here we divided the song in portions, and then practised and performed on our own so it could be edited easily," said Subhangi. The audio and the video clips were separately recorded.
Shatadipa Bhattacharya