Hari Vasudevan: A scholar in demand among bureaucrats
The historian, who passed away on May 10, 2020 after being diagnosed with Covid-19, joined Calcutta University in 1978 and taught for four decades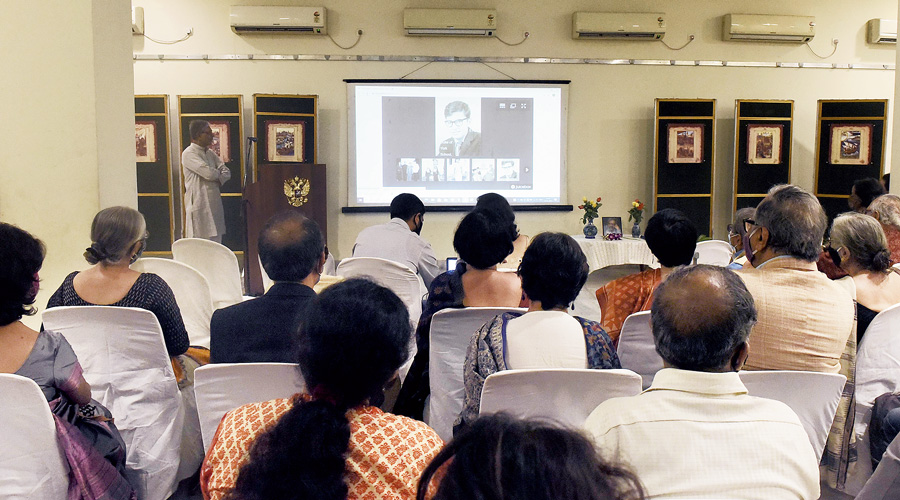 A rare picture of HariVasudevan, from his school days, has the audience glued at Gorky Sadan on Thursday.
Sanat Kr Sinha
---
Calcutta
|
Published 21.02.21, 01:54 AM
|
---
A scholar in demand among bureaucrats. An incredible travel companion. A teacher who gave his students boundless freedom.
An evening to remember historian Hari Vasudevan celebrated many facets of the man. Vasudevan, who was an authority on Russian history and politics, passed away on May 10 last year after being diagnosed with Covid-19. He was 68.
Vasudevan was associated with a host of institutions but his career was built at the department of history, Calcutta University, where he joined in 1978 and taught for four decades.
At Gorky Sadan on Thursday, everyone had his or her own "Hari Vasudevan story" to share. While Vasudevan's erudition, the vast range of his scholarship and his craft as a historian was hailed by every speaker, the evening regaled with delightful personal anecdotes on his warmth, affection and genial nature, qualities that endeared Vasudevan to one and all.
"Historians, teachers, scholars and institution builders will come and go. But what is becoming increasingly rare today is humanism and broad-mindedness, which were towering in Hari's personality, disposition and temperament," history professor Suranjan Das, vice-chancellor of Jadavpur University, said at the outset of his speech.
"Hari was one of those very few people no one spoke ill about. That is a rare quality. Not that he did not lose his temper, not that he would not give it back. He did, but at the end of it you would realise that there was no malice in it," said Jawhar Sircar, former Prasar Bharati chief.
At the start of the programme, Tapati Guha-Thakurta, Vasudevan's wife and a professor of history, launched a new website dedicated to him.
Some excerpts from the session. Teacher to friend
Jayanta Sengupta, secretary and curator at the Victoria Memorial, met Vasudevan at Calcutta University, during his MA course. Vasudevan came across as a "handsome and dapper man with a French-cut beard who looked erudite and classy and spoke with a clipped British accent that became for me a template back then about how the English language should be spoken".
He was "Professor Vasudevan" to Sengupta, a figure of "reverence and admiration". But soon enough, he got to know the other side of his teacher.
"As a research scholar, I dropped by at the Hazra Law College campus fairly often, especially since I was dating my future wife, Aparajita, Hari's student, and present here this evening.
"On one of those afternoons, as I strolled into the college, it was Hari, of all persons, who stopped me in my tracks, with a twinkle in his eyes and a wide, knowing smirk on his face, asking, 'Hey, listen, what brings you here now? Shouldn't you be working in the National Library or something?' I mumbled something and he laughed it off, giving me an encouraging pat on my back," Sengupta recalled. "That was a moment when we seemed to strike up a secret bond, and for the first time, this guy called Professor Hari Vasudevan suddenly transformed into a friend called Hari, who I realised had many things under his watch other than the teetering fortunes of the Soviet Union." Travel buddy
Vasudevan joined Calcutta University in 1978, the same year Suranjan Das completed his master's.
The "incredibly parochial (with hardly any non-Bengali teacher) place" that Calcutta University "was, and still continues to be", Vasudevan's joining the history department in 1978 was news, said Das. The two went on to have a four-decade-long association.
Das called Vasudevan an "excellent editor" who often edited his "academic papers and convocation speeches".
Having made several trips together, Das also remembered Vasudevan as an "incredibly enjoyable, informative and affectionate travel companion".
"He would advise us on what to wear, where to eat, which sites to visit and whom to meet. Whenever we travelled abroad together, I would inevitably fall back on his advice in selecting gifts for my family, especially for my daughter….  The absence of Hari has been an irrevocable personal loss to me, all three members of my family," Das said, his voice choking. Delhi's delight
Sircar, who retired from the civil services in 2016 after a four-decade career in the administration, said Vasudevan was highly rated in Delhi, not only among scholars but bureaucrats as well.
"Even in the bureaucracy of the foreign service, which I can assure you is more of a bureaucracy of bureaucracies, Hari was accepted without sneer. Once people get in there, they start sneering at the rest of the world…. Hari was an acknowledged resource person to the ministry of external affairs. He was rated not because he had once studied east European or Russian history but because he was up to date, analytical and unbiased," said Sircar.
The "most precious memory" that Sircar has of Vasudevan remains "bottled in a bottle". From a trip to China, Vasudevan got a bottle of Maotai (a potent Chinese alcoholic beverage).
"It's half empty, half full, whichever way you look at it. I shall preserve it till I join him upstairs," said Sircar. Trip to remember
A documentary film on an expedition that Vasudevan directed, titled Footsteps of Afanasii Nikitin, was screened at Gorky Sadan on Thursday.
The film is the record of an expedition organised by the New Delhi-based Adventurers and Explorers' Society between November 2006 and March 2007, that was conceived of and led by Vasudevan. It retraces the epic 15th century journey of the first major Russian traveller to India, Afanasii Nikitin.
The expedition led later to his own book, In the Footsteps of Afanasii Nikitin: Travels Across Eurasia and India in the Twenty-First Century.