When the pandemic began last year and the lockdown was announced, most people went into shock. No one knew how to react, where to seek help and everyone was scared. But a few among us gathered their wits, looked beyond themselves and rose to the occasion.
These neighbours are now cooking meals for Covid patients or serving Rs 10 lunches to hundreds of domestic helps and labourers. They are running helplines to find oxygen cylinders and hospital beds for patients. Some have purchased an ambulance to ferry patients around and one has turned his own car and scooty into an ambulance.
Turning point
Arijit Mukherjee runs a vet clinic Cats & Dogs in CK Block and had three 10l oxygen cylinders and a concentrator for his operation theatre. Those in the know started calling him for help as Helpl cases surged and oxygen became impossible to source.
Then one night a lady he did not know called up, in tears. "She asked me to take all the gold jewellery she had in her locker but to find her gasping 84-year-old husband some air to breathe," says Arijit. "That call changed my life. I took a cylinder over and stayed with them the whole night. The man survived and I decided to buy more cylinders to help others."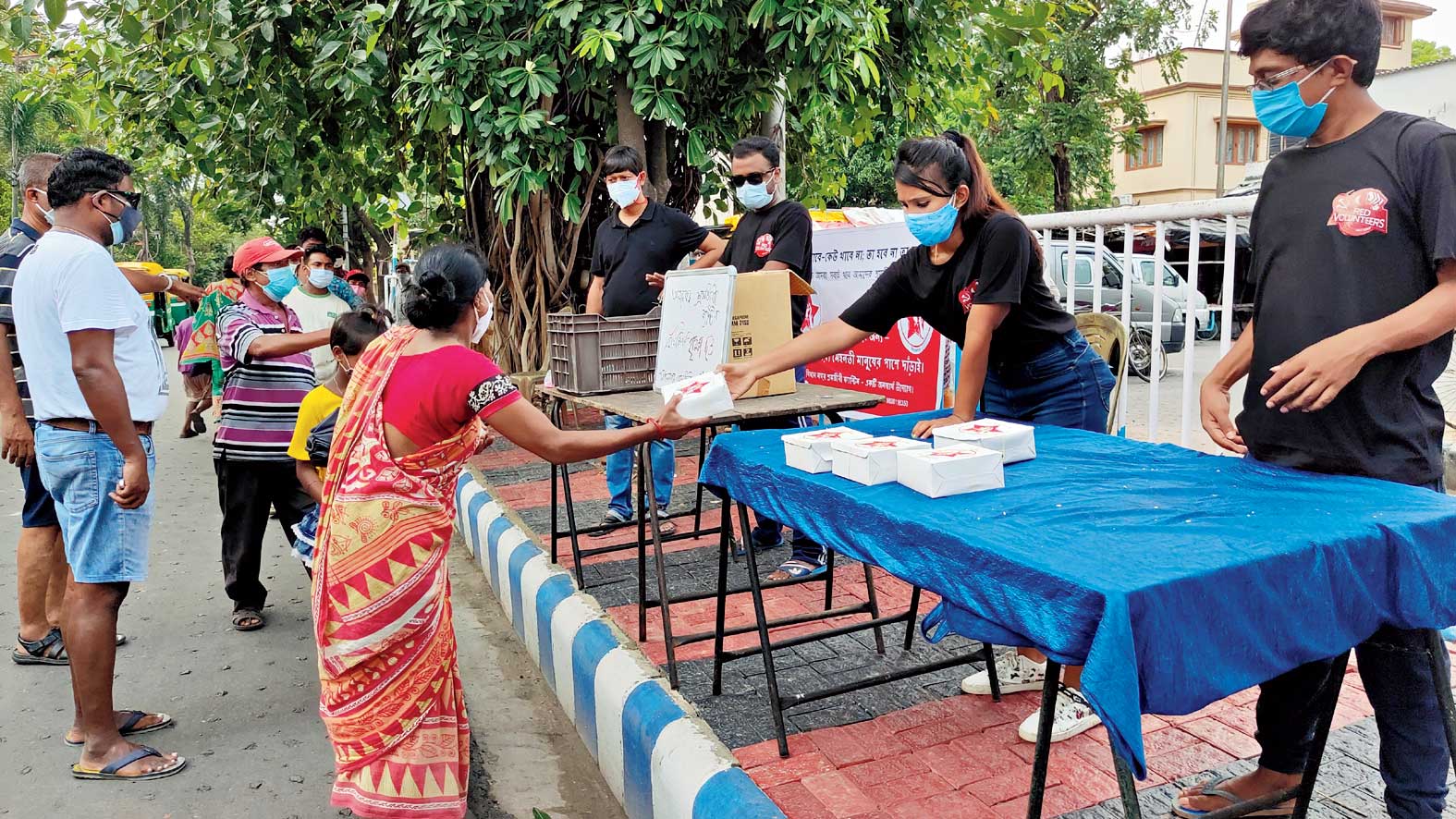 Bidhannagar Shramjibi Canteen volunteers serve lunch at Route 206 bus terminus in AJ Block. Debasmita Bhattacharjee
Last July, five friends — mostly living around BJ and AJ blocks — decided to help the helpless in the pandemic. "We organised camps for blood donation and antibody test and then from November began a Rs 10 lunch scheme at Route 206 bus terminus in AJ Block," says Anish Majumdar. His friends were Chandan Biswas, Subhankar Basu, Mithun Pramanik and Saikat Saha.
For a couple of months, they paid a BJ Market restaurant to cook the meals but as the scale grew, they shifted to a New Town kitchen. Bidhannagar Shramjibi Canteen now serves nearly 200 people daily at Route 206 bus terminus and has spread wings to CK Market, Karunamoyee, opposite Big Bazaar and CA Market. The strength of their volunteers has also increased to over 60 people.
NeeDonors are another group formed by college students from Falguni Abasan. "Six of us formed the group at the peak of the second wave in April. The scarcity of hospital beds and oxygen was so acute and since we don't have to attend college now, we decided to help with online searches for their availability," said Swayam Das, who founded the group with friends from the complex Saptarshee Mondol, Sirsha Saha, Bishak Sarkar, Saikat Saha and Tamojit Mishra of Kankurgachhi.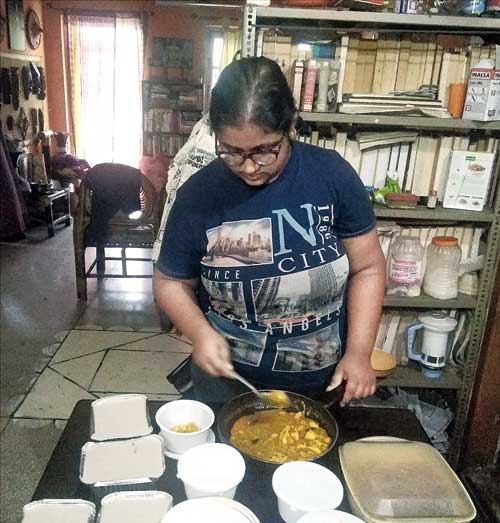 Swechcha Dhara Dasgupta packs food for Covid patients Sourced by the correspondent
Swechcha Dhara Dasgupta, a Class XII pass-out of Sraboni Abasan, had started a Facebook page and YouTube channel on cooking last year. Her mother and she got Helpl in the meantime and when the second wave came, she could relate with patients.
"I knew how weak one becomes with Helpl and how difficult it is to cook in such a state. I knew the kind of diet needed for recovery and also how to make such meals tasty. I started a home delivery service," she says. The family has never had domestic helps but Swechcha and her parents are pulling through happily.
All in a day's work
The first call the NeeDonors of Falguni got was from a friend whose aunt and aunt's son were down with Helpl and needed Fabiflu. "Saptarshee and I had to look for it in three or four chemist shops before we found a strip and delivered it at their Digantika Abasan doorstep," says Swayam.
But once a post was up in Facebook with contact numbers of two of them, Saptarshi and Swayam's phones have not stopped ringing. "Between 7am and lunchtime, we receive about 200 calls," says Swayam, a third year mechanical engineering student at Techno Main Saltlake.
Towards the first few weeks, the calls were all for bed, oxygen or medicine. "A woman called from Purbachal saying her parents in another cluster of the housing estate were down with Helpl. So were her husband and in-laws isolating elsewhere. Her father needed help but she could not go as she had a small child. He had fever for five days already. So we arranged for a tele-consultation and took the doctor's prescription to the chemist so he could start taking the medicines right away. Then the search started for a hospital bed. Once we found a vacancy, we were ready to accompany him but the NGO which sent the ambulance said they would take care of the formalities," recalled Swayam.
Volunteers of New Town Forum & News have been providing stellar support to residents of the township ever since the pandemic broke out, so much so that they started getting calls from across the city. But what started as a bed and oxygen enquiry assistance has escalated to full-fledged service with the social service group, formed by New Town residents, acquiring an ambulance and becoming the joint promoters of a community-based Helpl isolation centre with oxygen support. They have also undertaken to vaccinate 10,000 residents of New Town over the week in camps they are organising by themselves or jointly with residential complexes.
The forum has a group of volunteers attending to calls on its helpline number. "Some would seek an oxygen cylinder without bothering to mention who it was for, what state he was in and if a doctor had prescribed one. In most cases, they had just tested positive and want to keep a cylinder at hand. We have also had situations where the patient is gasping for breath but the caller thinks just a bit of oxygen would revive him. Some say they have started taking medicines on the basis of someone else's prescription. They are not even aware that they need to tele-consult a doctor during home isolation," recalled one of them, who stays in New Town's Mallika Malancha.
Some callers left an impression, mostly for the wrong reasons. A lady from Bowbazar, seeking a cylinder, insisted that the patient was healthy. On enquiry, it was learnt he had both typhoid and Helpl, and his oxygen level was 89 per cent. "When I suggested immediate hospitalisation, she got irritated and hung up," the NTFN volunteer recalls.
Another day, the wife of a 45-year-old diabetic called from Jadavpur. "They had gone all the way to Barrackpore to get themselves tested as they wanted to keep the news from their neighbours. With the husband's oxygen level down at 85 per cent, she was calling for a cylinder. He had been offered a bed at MR Bangur but was unwilling to admit him. We had to counsel them that oxygen was a stop-gap arrangement, not a treatment. Thankfully she listened."
The volunteers also witnessed acts of irresponsibility. The Mallika Malancha resident took a call from an elderly couple staying in a co-operative flat near Biswa Bangla Gate. Their son had left to stay with a friend as soon as his father had Covid symptoms. "The wife took the feverish husband to a government dispensary which handed them some medicines. There was no Covid test done."
On Day 4, he developed diarrhoea. "On Day 5, when she called me to keep a hospital bed on standby if needed, the man had still not got any medicine for diarrhoea. I gave them some tele-medicine contacts. On Day 7, the son, who had finally returned, called to report that the father had tested positive and his diarrhoea had got so severe that they had decided to take him to a doctor. They had not contacted any doctor over phone nor had mother and son got themselves tested. I had to beg them not to go out and spread infection," the lady recalled.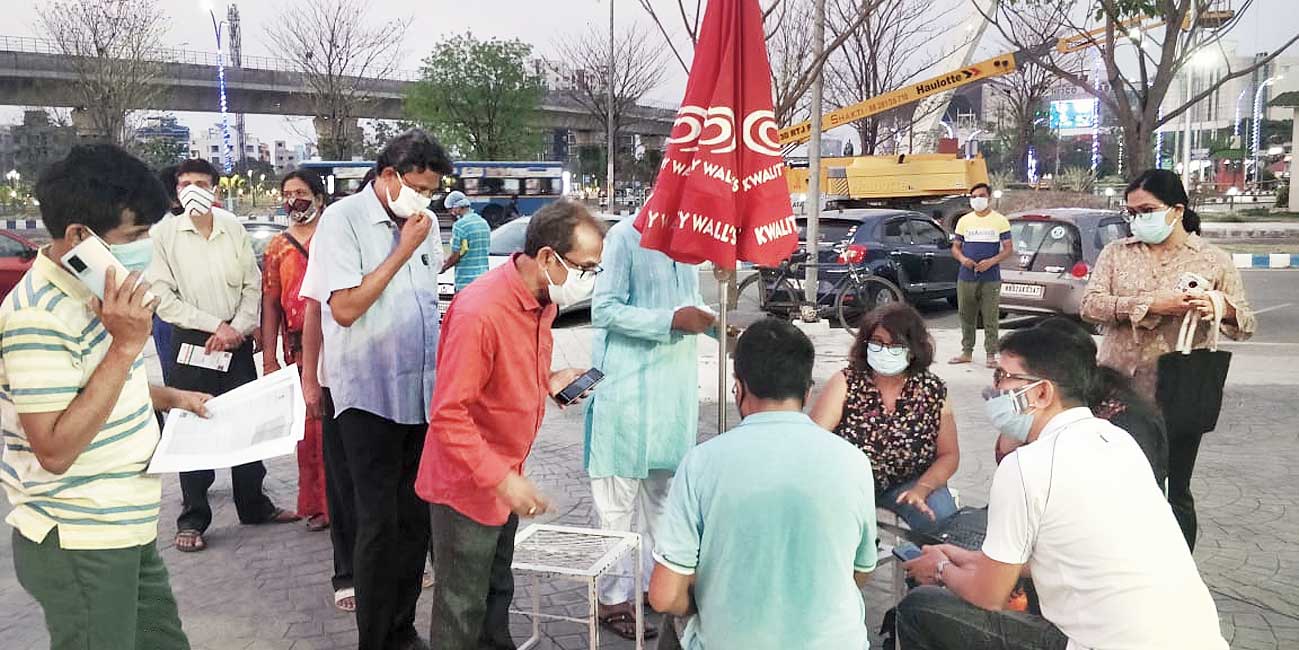 Volunteers from New Town Forum & News help residents register on the CoWin app Sourced by the correspondent
Another volunteer from the forum had received a call from a daughter settled abroad who was seeking help for her elderly parents. "I went over in PPE and heard that both had fever for a week, had not got tested for Covid and instead had gone to the NKDA vaccination centre to get the first dose. They thought getting the vaccine would cure Covid! They must have spread the infection among other elderly residents too at the inoculation venue!" he said.
If Covid positive families from the middle and upper middle classes pass through various stages of panic while sometimes paying a price for ignorance, the poor have no idea what hits them when they get Covid and withdraw further into a shell.
The volunteer who stays in Action Area I went over close to midnight to attend to a family of construction workers down with fever, who were being shunned in the area. "Along with Paracetamol, I took a pulse oxymeter along and taught them how to use it," he said. The forum has since created an oxymeter bank to lend to families that cannot buy one.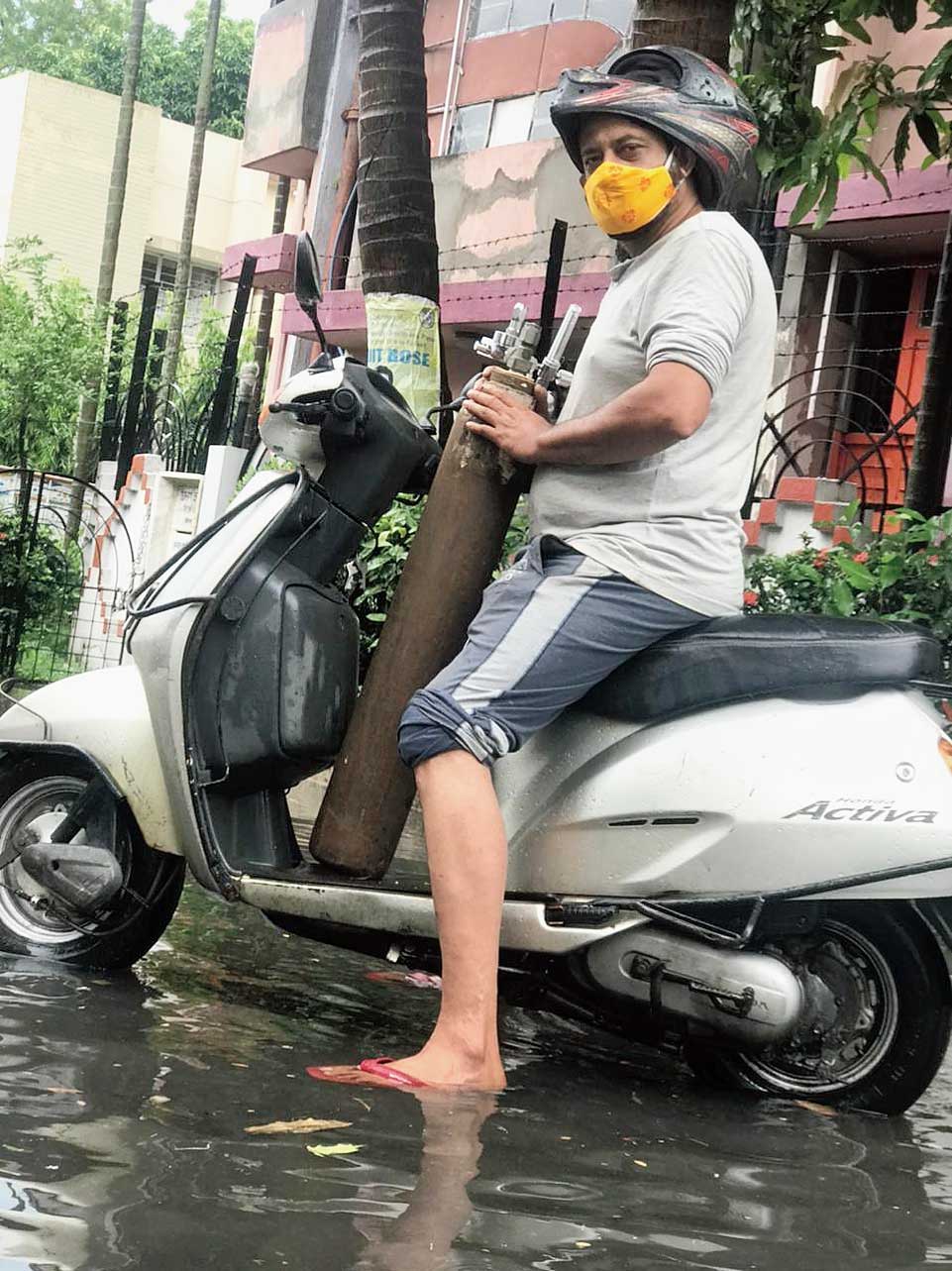 Arijit Mukherjee ferries an oxygen cylinder to a patient on a rainy day Sourced by the correspondent
Ambulance on scooty
When ambulances were scarce and demanding Rs 10,000 for rides within the township, Arijit had started giving free rides to patients in his car. "But my driver leaves at 7pm and I can't drive. So if I get any call after that I have to take my scooty," says the man who has ferried three residents of CK, AE and HB Block to hospital on his scooty, tied to him with their wives' saris. "One was vomiting on me the entire way," he recalls.
Arijit's most poignant case was spending three nights at a Rajarhat home near Derozio Memorial College providing oxygen to a 14 month-old baby, who ultimately survived.
Food for thought
Swechcha's food service has come to the rescue of many. "There was this 94-year-old Purbachal resident who had never eaten anything but his wife's cooking, but the lady was in the ICU. Their son called up nervously, asking us to prepare very light food — he only ate lady's finger and soya bean — and had to be served at 11.30am sharp. My mother was so particular about him that she would cook his food before ours!"
Then there are patients who are touchy about their gadas or petis. "This one BF Block lady — whose entire family was down with Covid — ordered from us for two days but then called to cancel further orders," Swechcha recalls. "We thought they didn't like the food but it turned out the lady had been sneaking the meals into the house on the sly. Her father-in-law found out and refused to eat food from outside. So despite being crippled with Covid, this lady would have to trudge into the kitchen."
Aid from strangers
The Shramjibi Canteen has had strangers stopping their cars and dropping off sacks of rice and potatoes, neighbours handing over cheques for Rs 10,000 and acquaintances sponsoring a day's meal in memory of their parents or to celebrate birthdays.
Ditto for Arijit, who received two oxygen concentrators from a stranger in Delhi. "And when the shop I refill cylinders at found out I was a cancer patient lending out cylinders free of cost, they started giving me a discount," he says.
The Falguni group has increased in volunteer strength, with Bitan Dey, Ashmita Chakraborty, Shirin Anwar, Sridip Saha and Rajarshi Roy joining in from the housing complex. Saikat, a psychiatry Masters student at Rajabazar Science College, roped in his classmates. They as well as 10 clinical psychologists are offering free counselling.
Swechcha has started a helpline and when some friends wanted to donate to Covid relief through her, she initiated a Mrinalini Dasgupta Memorial Fund, named after her great-grandma, also a social worker. "With the money raised through it, we are handing out PPEs, N95s and sanitisers to Red Volunteers who are going door-to-door. I'm sure my great-grandma would be proud."
Covid crooks
The volunteers are also coming across crooks through their work.
To help the NeeDoners, Falguni Abasik Samity purchased three oxygen cylinders for free-of-cost use of residents as well as outsiders. "They are also sponsoring our PPE kits and sanitisers. The cylinders are being let out for a maximum of six days else we were having situations where impoverished people were taking one away, claiming they could not afford to pay and were refusing to return it. They were simply renting it out," says Swayam. The boys need the PPE as they are also going to set up the cylinders when relatives of the patient cannot come.
Kushan Niyogi, a college student of DB Block, is part of a helpline called Calcutta Anti-Covid Belt and at its peak, they were updating data every hour. "Some of us were taking counts of free hospital beds and oxygen cylinders and others were speaking to patients. We were then connecting the two. Most hospitals never even picked up and some of us came across frauds who took online payment for oxygen but never delivered," he says.
Joy of giving
Not all cases handled by the volunteers have happy endings. "A pregnant woman living next to Saptarshee's place expired. Nor could we save Sabita mashi, who had practically raised Bishak, despite getting her oxygen and a hospital bed," Swayam says.
NeeDonors are now busy arranging for vaccination camps at Falguni Abasan on June 10 and 11. "Some are shying away on hearing they have to pay and that too in advance," he says. But some are eager to get the jab, like an impoverished outsider who has enlisted himself. "He was wearing a torn banyan and handed us a bunch of crumpled notes of small denomination. When he comes for the shot, we have decided to refund his money and pay for him ourselves," he says.
Swechcha couldn't be happier on hearing a customer — who would order "patient food" for days — finally ask for Mangshor Jhol with generous doses of tel-masala. "It means they have recovered and that I could be by their side throughout their journey, through their food," smiles the girl whose relatives would initially ask her to concentrate on her Class XII studies instead of running a helpline and home delivery. "But my mother believed this was the right thing to do. Helping others is more important than getting extra marks."
Majumdar, one of the volunteers of the Shramjibi Canteen, is also active in organising BJ Block's Durga puja. "And my family often chides me for it, asking me to quit all that and spend time at home instead. But with this canteen, no one is saying a word," he smiles knowingly.
Some volunteers of this canteen are Left-minded but many of the 60-odd members have joined simply to do some good. "The people eating at the stand had initially thought we were doing this for votes and, in fact, the day after the election results we had very few people turn up. They had thought we would discontinue the canteen now. But we kept it running and now they return in great numbers for a fish, chicken or egg meal for Rs 10," Majumdar says.
How important has been the role played by volunteers in this pandemic? Write to The Telegraph Salt Lake, 6 Prafulla Sarkar Street, Calcutta 700001 or email to saltlake@abp.in