Guardrails for Kalighat bridge
An engineer of the CMDA said 2 metres of the carriageway on both sides had been barricaded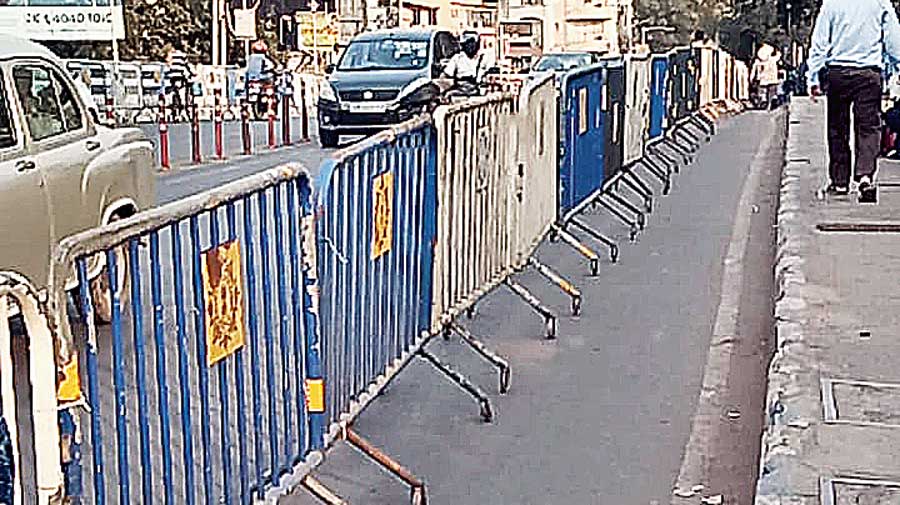 Guardrails on Kalighat bridge on Friday
Telegraph picture
---
Calcutta
|
Published 13.02.21, 01:40 AM
|
---
The width of the Kalighat bridge shrank by 4 metres on Friday after guardrails were installed along the two sides, as recommended by a committee of bridge engineers, after weeks of delay.
The committee had recommended in September that the sides of the bridge be barricaded. The recommendation followed a health assessment of the bridge that revealed that its sides had weakened and continuous load could lead to a collapse.
On Friday afternoon, police installed the barricades along the two sides of the carriageway of the bridge, which runs above Tolly's Nullah.
An engineer of the CMDA, the custodian of the bridge, said 2 metres of the carriageway on both sides had been barricaded.
"The actual width of the carriageway is 15.5 metres. After installing the barricades, it has shrunk to 11.5 metres," said the engineer. "The Behala-bound and Hazra-bound flanks are now 5.5-metre wide each. If dividers are placed, the width will come down further," the engineer said.
A bus and a two-wheeler can pass side by side through each flank, the engineer said.
Amitabha Ghosal, who heads the committee of engineers that had recommended that the sides of the bridge be barricaded, said on Friday the concrete in the belly of the bridge had come off in several places and the iron wire reinforcements had been exposed.
"The bridge has to be pulled down but as an immediate measure we have recommended that the sides be blocked. The sides are more vulnerable. We have also recommended some strengthening work as a temporary measure," said Ghosal.
Engineers of CMDA said the sides were blocked immediately after the recommendation had been made last year but the barricades were subsequently withdrawn without their knowledge. Metro had visited the bridge at least thrice in the past month but did not find any barricade.
The CMDA has floated a tender for the strengthening work, which will extend the bridge's life by another 18 to 24 months.