Green dream spread over 12 cottahs
New Town elderly duo's plantation drive on empty plot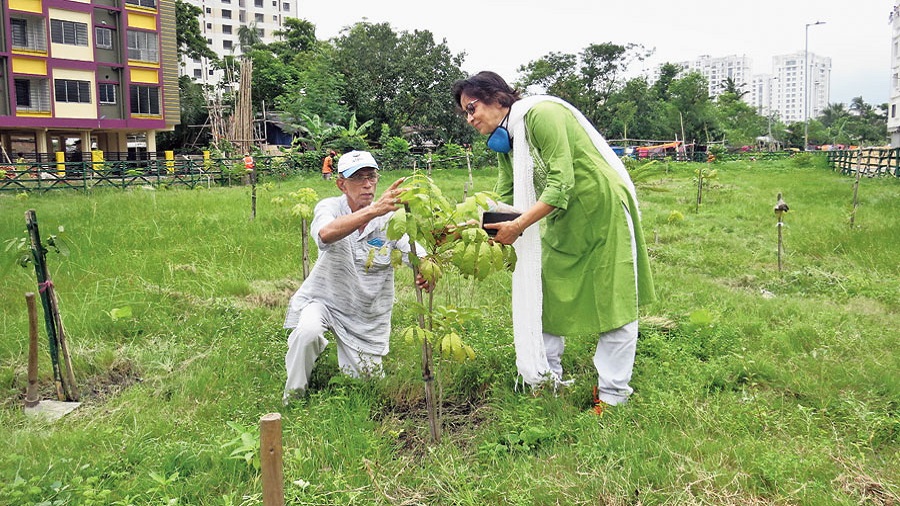 Barun and Purabi Bose tend to the saplings planted by them on the empty plot on AB Block
Sudeshna Banerjee
---
Published 04.09.20, 03:40 PM
|
---
A dumpyard for construction materials with a store of bamboo poles. Ever since they shifted to New Town in 2017, this is the view that would greet Barun and Purabi Basu whenever they would step out of their apartment in AB Block. But thanks to their endeavour, the plot is now a green verge.
Their inspiration was a stretch of Gobi Desert where billions of trees are being planted across 13 provinces since 1978 in China's fight against expanding deserts. "When we were flying back from the US, I kept an eye on the flight path displayed on the screen in front of me. When it showed that we were over Gobi Desert, I looked down. I could surely spot greenery," said Purabi. The thought inspired the 65-year-old lady. "If they could plant trees in a desert, why can't we do so on this stretch, I wondered."
Earlier, the Basus used to stay in a garden villa in Baguiati. Then they went to Connecticut, US to visit their daughter. "On our return, we settled in New Town. So this view just across the street used to be an eyesore for us, more so as encroachments were coming up right along the empty stretch," said Purabi.
So she went off to the NKDA office one day to check the map of Street 93. "I put in a request to protect it from shanties. NKDA heeded my request and fenced off one-third of the stretch that was still empty. But the encroachers started drying their clothes and heavy blankets on the fence. Soon the fence broke."
Purabi would send pictures of the stretch regularly to NKDA and keep in touch with the officials. That is how the bamboo fencing got barbed iron wire on the top. "Even then, grass was growing wild inside. And a narrow canal adjoining the stretch, which is the northern boundary of New Town, had turned into a den for mosquito larvae." At her entreaty, NKDA covered that with concrete slabs.
Seeds of ambition
The first tree was planted on July 12, 2019 in presence of a monk from Ramakrishna Saradashram and neighbours. The Basus bought 80 trees from the Tall Tree Nursery. "I wanted tall trees instead of saplings as they would help in cloud formation," Purabi said. The couple footed the Rs 3,500 bill from their own pocket.
The first lot of plantation fired their ambition. Some time later, they invested Rs 1,500 in 50 slightly more expensive trees.
"The nursery gave us a hefty discount this time though the trees they gave us in the second lot are refusing to grow."
Barun may be 77 years old but he is sprightly. "I still go on treks and avoid taking the lift in my building," grins the man who can hardly stay seated at one place for long. Till recently, he used to run a free coaching centre on Sundays in the garage space of the apartment where children from underprivileged families, aged three to 14 years, came to study. The Sunday school ran from 9am to noon. In between classes, the children watered the trees.
By then, their venture had become locally known and hands were extended in help. A local Rotary club sponsored some trees. A gardener brought 15 mahogany saplings. Volunteers of a residents' forum gave five guava trees. Some neighbours too planted a couple of betel nut and sal trees.
At one side of the 12 cottah stretch, there is a garage for NKDA germicide spraying vehicles. The garage had a water connection. The Basus requested for water to be drawn from there for the trees which was allowed.
Even now, they walk into the stretch and inspect each twig for fungal infections and ant attacks.  "I want an orchard to grow here so that birds flock to peck on fruits and nest. Flowering trees would be a nuisance as people would try to climb over the fencing to steal flowers," Purabi says. The stretch now houses about 120 trees of varied species — neem, banyan, ashwattha, mango, betel nut, chhatim, mahogany and krishnachura.
"Somehow, spinach has also started growing here. Women from the shanties enter to pluck the leaves with our permission," Purabi says.
Though classes are suspended, Barun continues to work for the kids. "A neighbour from Utsa Luxury once celebrated his grandson's birthday with them. Even after the lockdown, we have distributed milk and biscuits thrice among 300 children. We also collected old clothes from the neighbourhood and distributed among them," he says.
His next goal is Sunday breakfast meets for 20 kids. "We can accommodate that many, maintaining social distancing. We will explain to them how coronavirus is spreading and discuss lives of icons. That way they can stay in touch when their regular classes have stopped," says Barun.
Even as he nourishes the minds of young human saplings, his wife keeps an eye on the plot in front. "It feels nice to watch the greenery from the window on waking up. Wish more people offer to plant trees here," Purabi smiles.