Govt creche for kids of needy working folk
The working parents, whose needs are being targeted, belong to the lower income group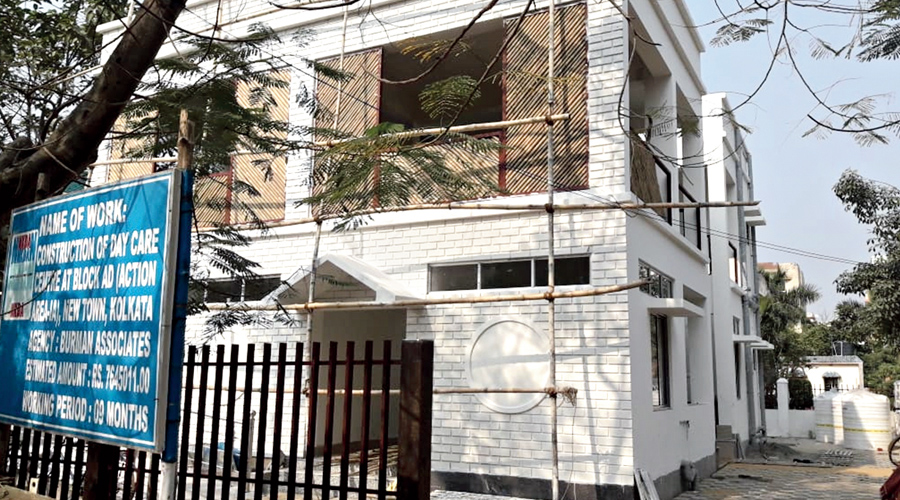 ---
|
Calcutta
|
Published 15.01.21, 12:16 AM
---
A daycare centre is coming up in AD Block, New Town. It promises to be one of a kind not because of the facilities being offered but because of who it is being offered to.
The working parents, whose needs are being targeted, belong to the lower-income group.
"There are a lot of people coming to New Town to work who have no proper place to leave their children in. They might be security or housekeeping staff. Or the husband might be a rickshaw-puller and the wife a domestic help. Their situation is the same as that of couples who are say, IT professionals. They leave their child in a creche and take him or her back when they return home," pointed out Debashis Sen, chairman of New Town Kolkata Development Corporation (NKDA), which is building the facility.
While there are many baby care options in office or at private facilities for well-to-do professionals, he pointed out that there were no creches for working parents from the economically backward segments.
NKDA, he said, was starting the facility on an experimental level. "It will not be very large. We intend to build the structure and give it to a self-help group to run," he added.
Pegged at a project cost of Rs 76 lakh, work on the three-storeyed building started in February 2020. It was supposed to be completed by December but got delayed by the lockdown. "We will surely get it operational this year. The building is almost ready," Sen said.
No decision has been taken yet as to where the day care facility will be free for the parents who keep their children here. "The SHG women will have to be paid. Whether we do it or we charge the parents a moderate amount has not been worked out as yet. But the operation and maintenance cost has to be recovered for the project to sustain," he signed off.
Service in Salt Lake
The New Town authorities would do well to take a leaf out of the experiences of AIWC Salt Lake Constituent Branch which has been running a creche for the needy for over 30 years now.
Although currently closed due to the pandemic, the AD Block unit in Salt Lake cared for about 30 children at a time in the one-to-five year age group.
"One of the objectives of our organisation is to empower women but in slums even grandparents go to work. How do mothers become financially independent if they have to stay home and look after their children?" secretary Bubu Basu told The Telegraph Salt Lake.
The kids at the creche would eat, play, study and draw. "From the nearby slums, kids would come together in rickshaws or in app cabs that one of their parents drove. We have even had a domestic help coming from near Bongaon who would drop her child and go to work in Salt Lake homes," says Basu.
But AIWC members would always conduct a need analysis before admitting the kids. "Many women, especially those who live in garages of Salt Lake, do not work anywhere and would send their kids over only at meal time to avail of the nutritious food we served or to avail of the clothes and other freebies we gave out round the year. We would filter out such children in favour of those in real need."
They would get an undertaking signed by the parents before admitting the kids. "Otherwise we have seen the mothers accusing us if their child ever got hurt in a scuffle with another student," says Basu.
Welcome move
Anjana Biswas, from Nibedita Palli in Gouranganagar, works in three apartments in Action Area 1, about 15 minutes away on cycle. She leaves at 6.30am and her husband deposits their five-year-old with the tutor on way to his salon at 8am. "After the tuition, she walks home alone and is left with our 12-year-old all day. It would be a big help if such a facility comes up. We don't mind paying a small fee if the child is kept safe," she said.
Additional reporting by Brinda Sarkar