Give no space to hatred, economist Kaushik Basu tells students
He was speaking virtually on the occasion of the concluding programme of the diamond jubilee celebration of the Ramakrishna Mission Residential College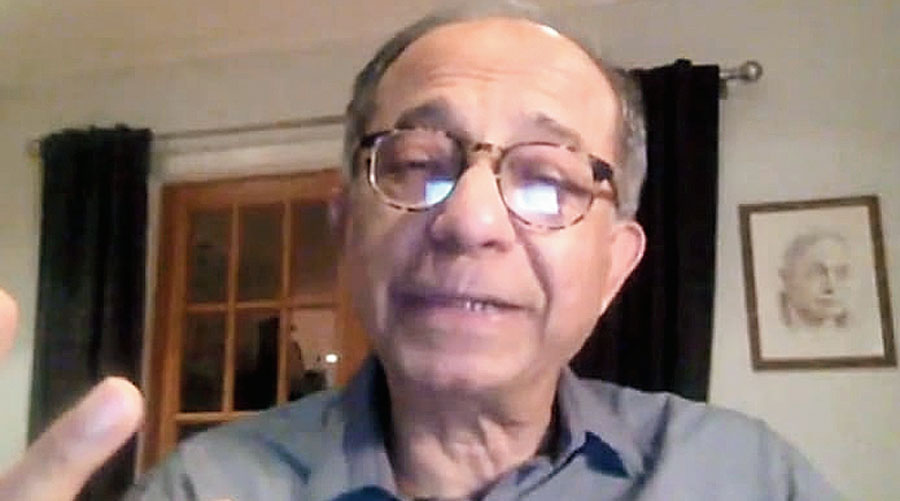 Kaushik Basu speaks at the virtual programme.
The Telegraph
---
Calcutta
|
Published 04.08.21, 02:55 AM
|
---
Economist Kaushik Basu spoke about India's tradition of "openness, tolerance and compassion" that Swami Vivekananda and Sri Ramakrishna embodied and stressed the need to say no to hatred, while addressing students and teachers of Ramakrishna Mission Residential College (Autonomous), Narendrapur.
Basu, Carl Marks Professor of International Studies in the department of economics and SC Johnson Graduate School of Management, Cornell University, New York, was speaking virtually on the occasion of the concluding programme of the diamond jubilee celebration of the college on Tuesday.
Swami Suvirananda, the general secretary of Ramakrishna Math and Mission, said the inaugural function a year ago was held online and everyone then hoped the concluding ceremony would be conducted in a conventional manner.
"We have gone online once again due to the persistence of the Covid pandemic. Nonetheless, I am delighted to note that this pandemic has not dampened the spirit of the college in organising various programmes…" he said.
Swami Sarvalokananda, the secretary of Ramakrishna Mission Ashrama, Narendrapur, said: "During this period (60 years since inception) the college has produced not only thousands of good professionals but good human beings…."
Principal Swami Shastrajnananda and Bimal Kumar Roy, the chairperson of National Statistical Commission, also spoke on the occasion.
Excerpts from Basu's speech:
Unemployment
I just want to remind you that India is going through a very very difficult phase. All nations in the world have slowed down because of the pandemic but India has slowed down more than other nations….
Inequality is astronomically high.... At one level India is rich, there are very very rich people but youth unemployment is one of the highest in the world with 24 per cent of people — youngsters — unemployed in India, which is really intolerable. Poor people, the middle classes are suffering. We pay too little attention to that.
Hatred
There is a lot of hatred and division in society and I urge you as students going out into the world, teachers who are providing service, we must not give any space to hatred.
Remember India's great heritage of openness, tolerance and compassion that comes to us from Swami Vivekananda, from Ramakrishna. Great ideas of progress and science. The tradition that comes to us from Vidyasagar, Jagadis Chandra Bose, Ramanujan, Har Gobind Khorana. This is our tradition in India.
We have to have a questioning mind, an open mind and once again I have to give a tribute to Narendrapur because I know from the students who have come out, some of whom were my students, some of whom have become my friends, that the tradition that they carry forward is extremely important. I will urge you at a time like this to keep that tradition in mind, take this further forward.
Hard and soft power
Power plays a role. The military plays a role. Unfortunately we are in a world where those things matter. But more important than hard power is what is called soft power. The power of the mind. The power of education.
I am sitting in the United States today. Lots of people point out the United States' hard power. But I feel one reason why the United States of America has been successful is not something that people always talk about but people realise, America's soft power. The importance given to the education sector in the United States is huge.
Higher education is respected, valued. People put effort into that and that has given the United States the soft power…. And India was on that path. We were nurturing our space for soft power, for democracy, for ideas, for opinions and we must continue with that great tradition. And as students, I would urge you to try to keep it up.