Gariahat tram depot to be converted to set up a 'Tram World'
Decision taken to commemorate 140 years of the tramways by the Calcutta Tramways Company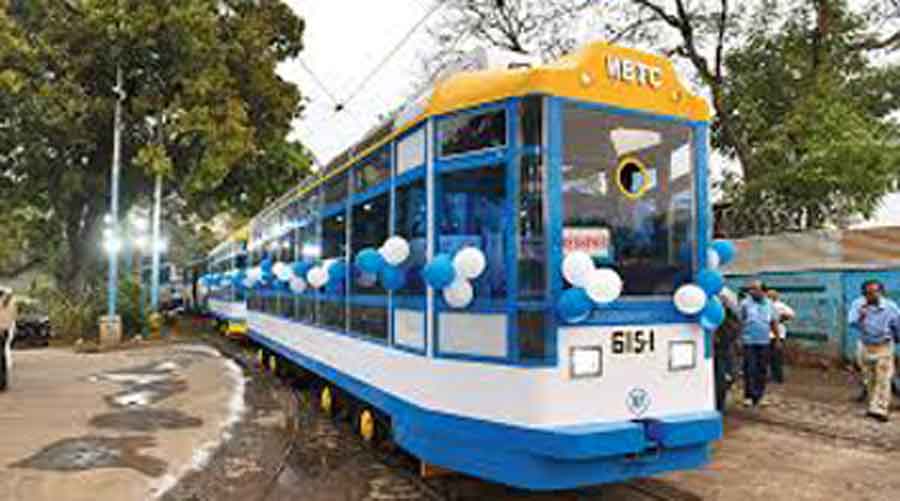 ---
|
Calcutta
|
Published 22.12.20, 02:55 AM
---
A part of the Gariahat tram depot near Ballygunge Phari has been converted to set up a "Tram World" to commemorate 140 years of the tramways by the Calcutta Tramways Company, which was registered in London on December 22, 1880.
The Tram World will have old tram bogeys, some of them built as early as 1938, displaying old pictures and replicas of tram cars, including a few from other countries like the US and Australia.
It will also have a special section for vintage cars, curated by the Classic Drivers Club of Calcutta.
The Tram World will house a concert area, lounges, waiting room, food court apart from a photo gallery capturing history of the tram movement over the ages in Calcutta.
The museum will be thrown open on December 23 for eight hours from 10am against an entry ticket of Rs 30.
"The idea is to capture the glory of the tramcars from the bygone eras and present them to the youths of this generation in a mix of art, music and love for heritage," said Rajanvir Singh Kapur, managing director of the West Bengal Transport Corporation (WBTC).
Trams started their journey in Calcutta in 1873 with horses drawing them.
In 1902, the first electric tram car began its service between Esplanade and Khidderpore. As more and more tram tracks got laid across the city, the number of tramcars grew, helping the service survive several political and social turmoils including the two world wars and India's battle for independence.
In 2014, the transport department had inaugurated "Smaranika" a tram museum by refurbishing a vintage 1938 tram car and showcasing tram memorabilia.
Over the years, the number of visitors to this car has dwindled prompting a section of tram conservationists to wonder if the state government was really keen on preserving one of the cleanest modes of transportation in Calcutta.
"The seating arrangement in Swaranika doesn't reflect the tramcar of the 1930s. It has been converted into a restaurant. So, it is anything but a museum," said Debasish Bhattacharya of the Calcutta Tram Users Association.
"The rolling stock of several models of the early years, the eight-wheel cars, have not been preserved so what will be on show inside the museum? Some of the trams inside this so-called museum have been apparently painted in red, blue, green which is a pity."
Experts, who have been advocating for a clean and green transportation system, have often cited how governments around the world have been investing on streetcars, trams and light rails to make commuting more accessible. Berlin, for instance, has improved upon its ageing tram systems.
Over the last few years, service of trams in Calcutta has taken a severe beating. From 37 routes covering 70km in the 1960s, only six routes covering about 20km were left operational till Amphan happened.
Now five routes have been restored.