Garbage makes Salt Lake Dhapa's twin
Civic official points to staff shortage and defunct collection trucks for the state of affairs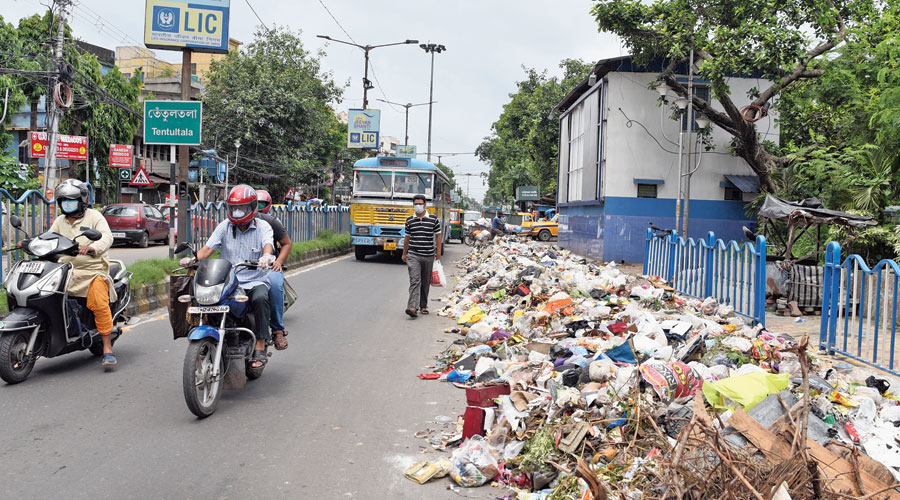 ---
---
Garbage-lined streets and overflowing drains across Salt Lake have sparked fear of an outbreak of enteric diseases and are forcing residents to keep the windows and doors of their houses firmly shut.
Residents said most of the 150 tonnes of the garbage Salt Lake generates every day is accumulating across the 33.5sq km township.
"At this rate, Salt Lake will soon become Dhapa. This is happening at a time the authorities as well as residents need to focus on hygiene to combat Covid and dengue," said a resident, hand firmly on his nose.
"It is true that garbage has accumulated in some places but I don't think it is a big problem. We will clear it within seven days," said Debasish Jana, the mayoral council member in charge of solid waste management at the Bidhannagar Municipal Corporation.
Asked why the civic body has not yet been able to solve a "simple problem", Jana said: "Several of our trucks are out of order, but our sweepers are at work all day. It's just that accumulated garbage isn't being removed regularly from a few areas."
For five days a week, Buddhadeb Basu, a resident of DB block, near City Centre, is having to dump household waste at the neighbourhood compactor station overflowing with garbage. He doesn't have a choice. His neighbours, too, are doing the same.
"Civic workers would previously collect garbage from our doorstep every day. Now they come hardly twice a week. They are not even taking away garbage from near the compactor station. The entire area stinks," the 62-year-old told The Telegraph.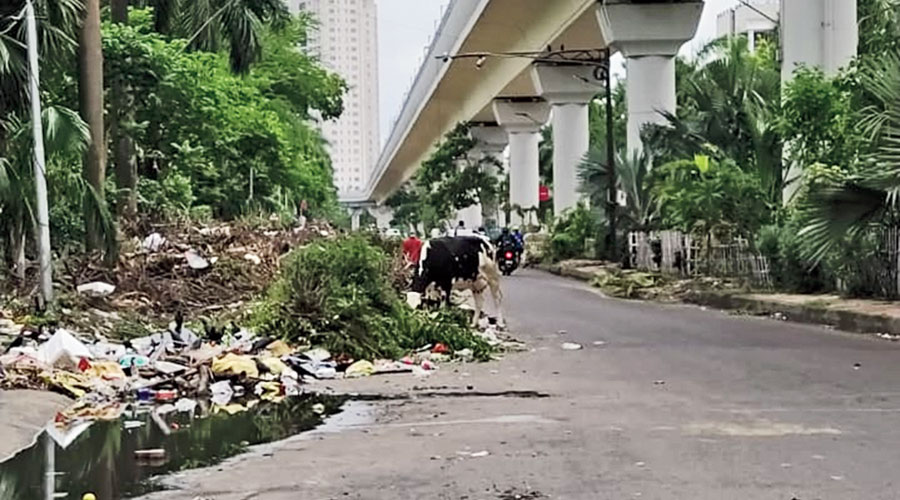 This newspaper drove around the township on Monday and found scarcely any block or compactor station that did not have a heap of garbage lying around.
The areas near City Centre and the CGO Complex looked the dirtiest. The situation was similar in the AE, AB, BC, BB, and IC blocks.
A 20-metre stretch from the City Centre Metro station till Bidhannagar College had almost half the carriageway swallowed by garbage. The entire area had flies swarming around, while several dogs and cows were seen rummaging through the garbage for food.
Passers-by were seen holding handkerchiefs on their noses despite wearing masks.
"The stench from the garbage in front of our house is so overpowering that we keep the windows of our house shut," said Prakash Agarwal, a resident of EC Block.
A civic official blamed the combination of staff shortage and defunct garbage collection trucks for the sorry state of affairs. "Many men are not reporting for work out of fear of contracting the coronavirus and also because local trains are not running," the official said. "There used to be 250 sweepers. Now, there are only half that number."
Mayoral council member Jana said many workers who were involved in collection of garbage were now selling vegetables or involved in other activities. "We are trying to hire personnel but the pandemic is coming in the way," he said.
To add to the problem, sources said, many handcarts and vans have broken down.