Future Hope's role model says help and hard work made a difference
Bijay Das came from a slum in the city but the teenager worked his way up and is now a lecturer at Azim Premji University, Bangalore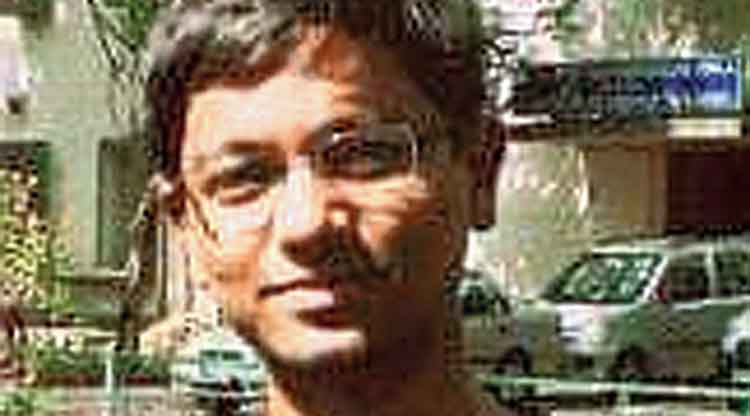 Bijay Das in 2011, when he was a student at JU
Sourced by The Telegraph
---
Calcutta
|
Published 16.03.21, 02:10 AM
|
---
A 19-year-old knocked on the doors of a charitable organisation because his father, a washerman (dhobi), had told him that he would either have to leave his studies or make his own arrangements.
This was over a decade back.
Bijay Das came from a slum in the city, where his father still lives, but the teenager worked his way up and is now a lecturer at Azim Premji University, Bangalore.
"The designation is important to my father. Because he thinks it is a respectable profession. He felt that the work that he did never earned him respect," Das said over the phone from Bangalore. He vividly remembers the summer day in May 2007 when he went to the charitable organisation Future Hope, after scoring  92.3 per cent in Class XII.
"I was told that economics is a tough subject and I will have to put in a lot of effort. I was ready to do that. I came from a community where there was not much scope for education but Future Hope provided me with that and I was ready for hard work," said Das, 32.
Das went on to study economics at St Xavier's University and did his masters at Jadavpur University.
"But it was not funding alone that I received for my education, I was mentored and motivated by teachers at Future Hope... at some very critical junctures in my life," said Das, who grew up in a less than 100 sq ft house with two siblings.
It was not easy to set aside money from his meagre income but this father did that till Das was in Class XII. "My parents invested in my education despite constraints," he said.
It eventually became difficult for his father to sustain the family.
"I do feel proud of my son today. Also of my daughters who earn their own living by working in a hospital. I had to give up education in Class VI because my mother fell sick and I started doing the work of a washerman, which my mother did. But I did not want to push my children into it," said father Biswanath Das.
But senior Das still prefers to stay in his humble home.
"My children go out to work and I am ageing. In a new place, I would not be knowing many people and I am fine here," said the 62-year-old.
After completing his masters, Das moved to do the Gandhi Fellowship programme in Rajasthan and post that, he started working for a foundation in Jaipur. "I was working with government schools to build quality assessments for students," he said.
In March this year, he moved to Bangalore to work at  Azim Premji University's School of Continuing Education.
"He (Das) is a role model for our children and he has proved how hard work, sincerity, commitment can take you anywhere. He is still very grounded, with no airs," said Sujata Sen, CEO, Future Hope.