Fresh rain forecast for Calcutta after day of thunder
Celsius likely to drop a few notches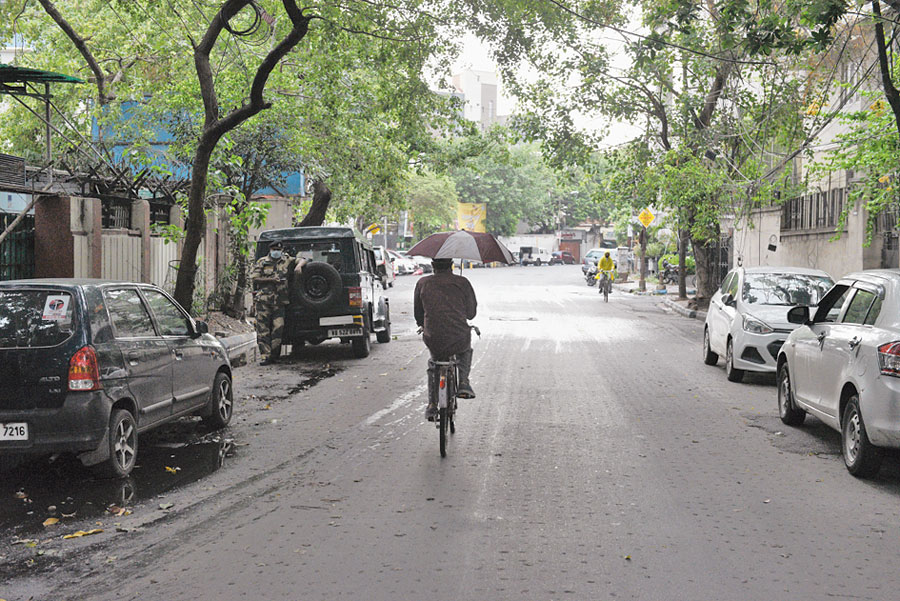 A man cycles down a road in Ballygunge in the rain on Tuesday.
Picture by Bishwarup Dutta
---
Calcutta
|
Published 21.04.20, 08:54 PM
|
---
Streaks of lightning coursed through a dark early morning sky, accompanied by deafening drum rolls of thunder, on Monday.
The lightning was part of a squall, the second to have swept the city after the one on Monday night. Gusts of winds and light rain came before and after the series of lightnings, respectively. The Met office in Alipore recorded a maximum wind speed of 56kmph around 5.25am.
Rain and winds are likely to continue over the next couple of days. "The system will remain active till Thursday night," said a Met official. The Celsius is likely to drop a few notches.
The maximum and minimum temperatures on Monday were 34.5 degrees and 27.2 degrees. On Tuesday, they were 26.6 degrees and 20.5 degrees.
"The curtains were drawn and the lights turned off. But the lightning was so powerful that it lit up the whole room," said Amulya Bagchi, who lives near Gariahat. He had got up around 5am on Tuesday.
A cyclonic circulation over large parts of central and eastern India — from Madhya Pradesh to eastern Assam — brought about the change in the weather, the Met office has said.
"Jharkhand and Gangetic Bengal are also under its influence," said G.K. Das, director, India Meteorological Department, Calcutta.
A high-pressure area over the Bay of Bengal is playing second fiddle to the circulation, boosting the flow of moisture into land.
Before Monday, another squall had hit the city on Saturday. It had generated wind speeds of around 30-35kmph.
A trough of low pressure, which led to winds and rain on Saturday, had intensified into a cyclonic circulation. On Monday, the thunderclouds kept moving eastwards towards Bengal and reached Calcutta in the evening.
The sky had been cloudy all day on Monday. But few people had expected the powerful lightnings at such regular intervals after 9pm.
A squall, generating wind speeds of over 40kmph, swept the city before a brief but sharp spell of rain.