Fishing cat 'poisoned and killed' in Howrah
The June 11 incident, from Udang village in Amta Block I, was reported to the forest department by a schoolteacher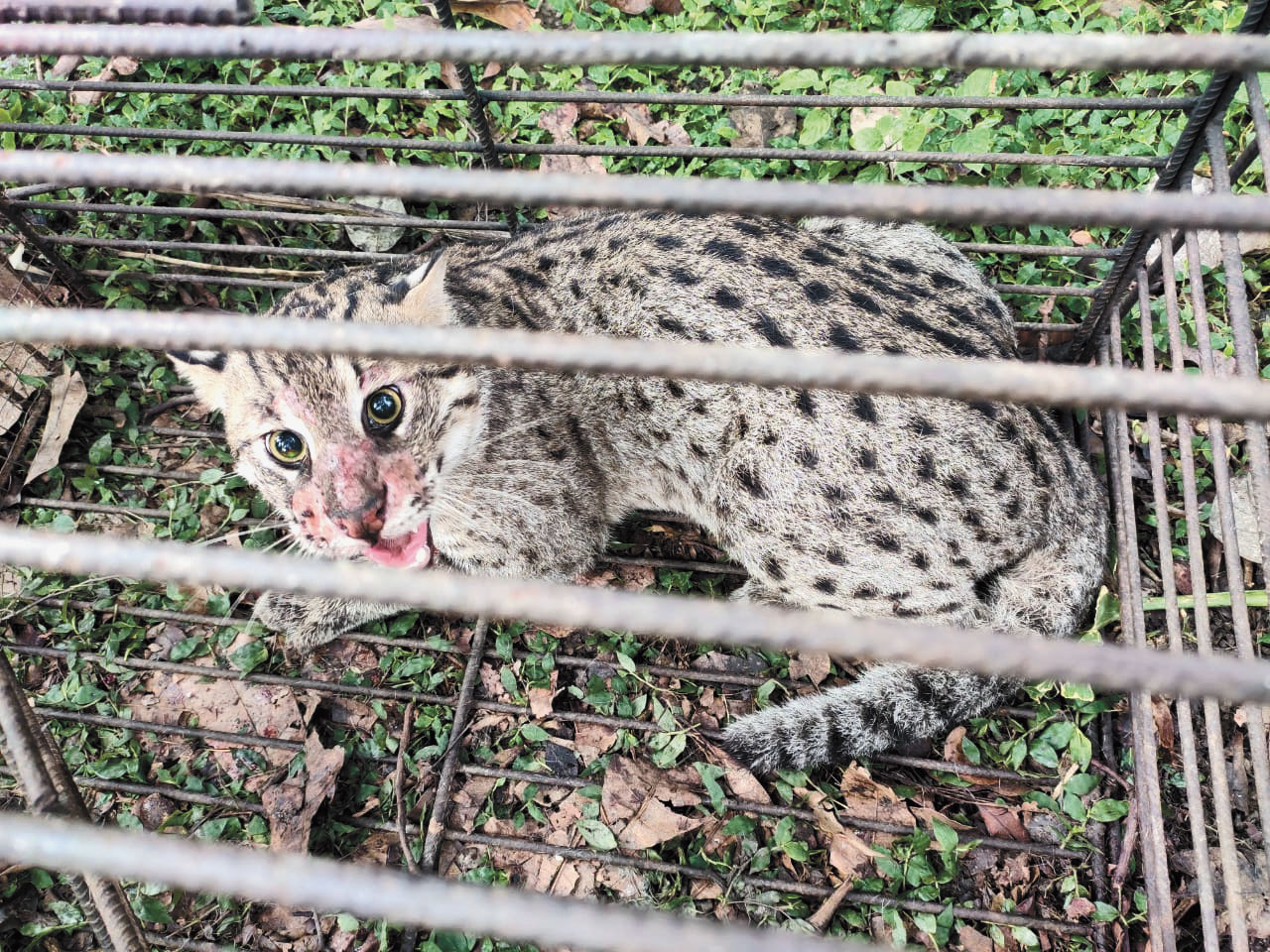 A fishing cat that was trapped and later killed by residents of a village in West Midnapore on June 10
Telegraph picture
---
Calcutta
|
Published 27.06.20, 03:00 AM
|
---
A fishing cat, Bengal's state animal, was poisoned and killed in a village in Howrah on June 11, animal lovers and some villagers have alleged.

They said the fishing cat was pregnant and that it had been poisoned. A forest official said there was no conclusive evidence of either.
More than a fortnight has passed since the carcass was found near a water body in a village in Amta Block I, around 40km from the heart of Calcutta. The forest department has so far registered a case of an "undetected offence".
Fishing cat, baghrol in Bengali, is listed as endangered by the International Union for Conservation of Nature and included in Schedule I of the Indian Wildlife (Protection) Act, 1972. Killing the animal can lead to five years in jail.
The June 11 incident, from Udang village in Amta Block I, was reported to the forest department by a schoolteacher. The fishing cat was found by a group of residents near a water body.
Raju Sarkar, the divisional forest officer of Howrah, said the post-mortem report showed the cat had died of head injuries. "The official reason of death was trauma from cardio-respiratory failure."
Sarkar said tests did not find any "conclusive evidence" that the animal had been poisoned. Asked if it was pregnant, Sarkar said he had no such information.
There has been no arrest so far, he said. "We have drawn up a case of an undetected offence."
"Some residents said the cat was pregnant and that it had been poisoned because it was feeding on fish from the water body. If the cat was pregnant then at least three more cats were killed, along with the mother," Tiasa Adhya, a member of Human and Environment Alliance League, said.
The body had injury marks on the head, indicating the animal was first poisoned and then hit on the head, Adhya said.
Adhya has been researching on fishing cats in Bengal for close to a decade.
A day before the Amta incident another fishing cat was trapped, killed and skinned — apparently for its meat — by some residents of a village in West Midnapore. Metro had reported that killing. Of the two suspects in the West Midnapore case, one has been arrested, a forest official said.
The nocturnal animal thrives in wetlands and feeds mostly on fish. Their numbers have dwindled because of shrinking wetlands forcing them to stray into human settlements and prey on fish in ponds and livestock.
The forest department has launched multiple initiatives to spread awareness about fishing cats and promote their conservation.