Fish fingerlings to save Sunderbans from net effect
20-odd families to switch to fishing in ponds and help protect mangrove saplings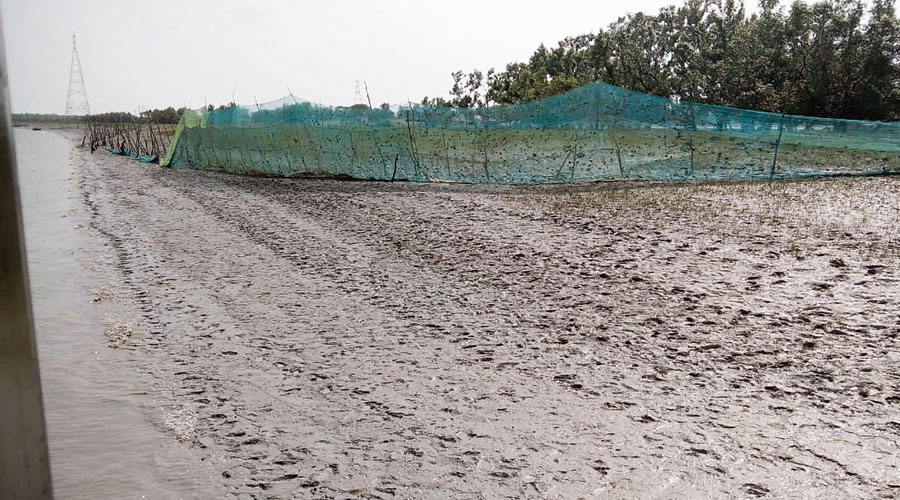 A fishing net erected on a riverbed in the Sunderbans
Telegraph picture
---
Calcutta
|
Published 08.09.20, 04:12 AM
|
---
Around 20 families in a Sunderbans village will get fish fingerlings to be reared in five ponds.
The conservationists and foresters behind the project are hoping that the scope of an alternative livelihood will prevent the families from carrying on an old fishing practice that makes the riverbeds more prone to erosion and also increases the risk of man-wild conflict.
During low tide, large fishing nets are cast along exposed or shallow river bed (chor) and across creeks (khal) inside forests. The water incursion during high tide leads to a haul of fish — big and small — trapped in the nets.
When the water recedes, the nets are taken away by fishermen. When dragged manually, these nets — many of them spanning over a kilometre — destroy numerous mangrove saplings swept onto the river bed by tidal waters.
Mangroves are known for viviparous germination where seeds germinate and develop into saplings while still attached to the parent tree. Sapling-bearing fruits shed by mangroves are washed away during low tide and brought to the land during high tide. Back on land, they form mangrove colonies over a period of time.
"People are dependent on these practises to earn livelihood. But in the process, they are damaging the delicate ecosystem of the Sunderbans. Storms have depleted a sizable chunk of the mangroves. The destruction of saplings is making river beds more barren and prone to erosion. The nets across the creeks inside the forest make people more vulnerable to tiger attacks," said Suvrajyoti Chatterjee of Human and Environment Alliance League (HEAL), the NGO that is providing the alternate livelihood to the families.
At least 17 fishermen have been killed by tigers in the Sunderbans this year. The pandemic has robbed people of livelihoods and more people are turning to fishing, said foresters and activists.
The families getting the fingerlings are from Purba Gurguria village in Kultali block of South 24-Parganas. Indigenous catfish fingerlings will be released into five ponds in the village, each to be looked after by four families.
"We are releasing 60,000 fingerlings, 12,000 for each pond," said a HEAL volunteer.
A forest official who had helped in the project said the project could be implemented on a larger scale across the mangrove delta.
"This should have been done much before. But the challenge is to keep the fishermen away from river beds and creeks for the next six months — the time taken for the fish to grow in the ponds," said the official.
"We go fishing, risking our lives, to run our families, not because we love going there. If there is another way of earning, I will not go fishing," said Amalesh Bhunia, a beneficiary of the project.