Final journey in a Covid world
With no crematory in either Salt Lake or New Town and a high toll, both the bereaved and the authorities are facing a stiff challenge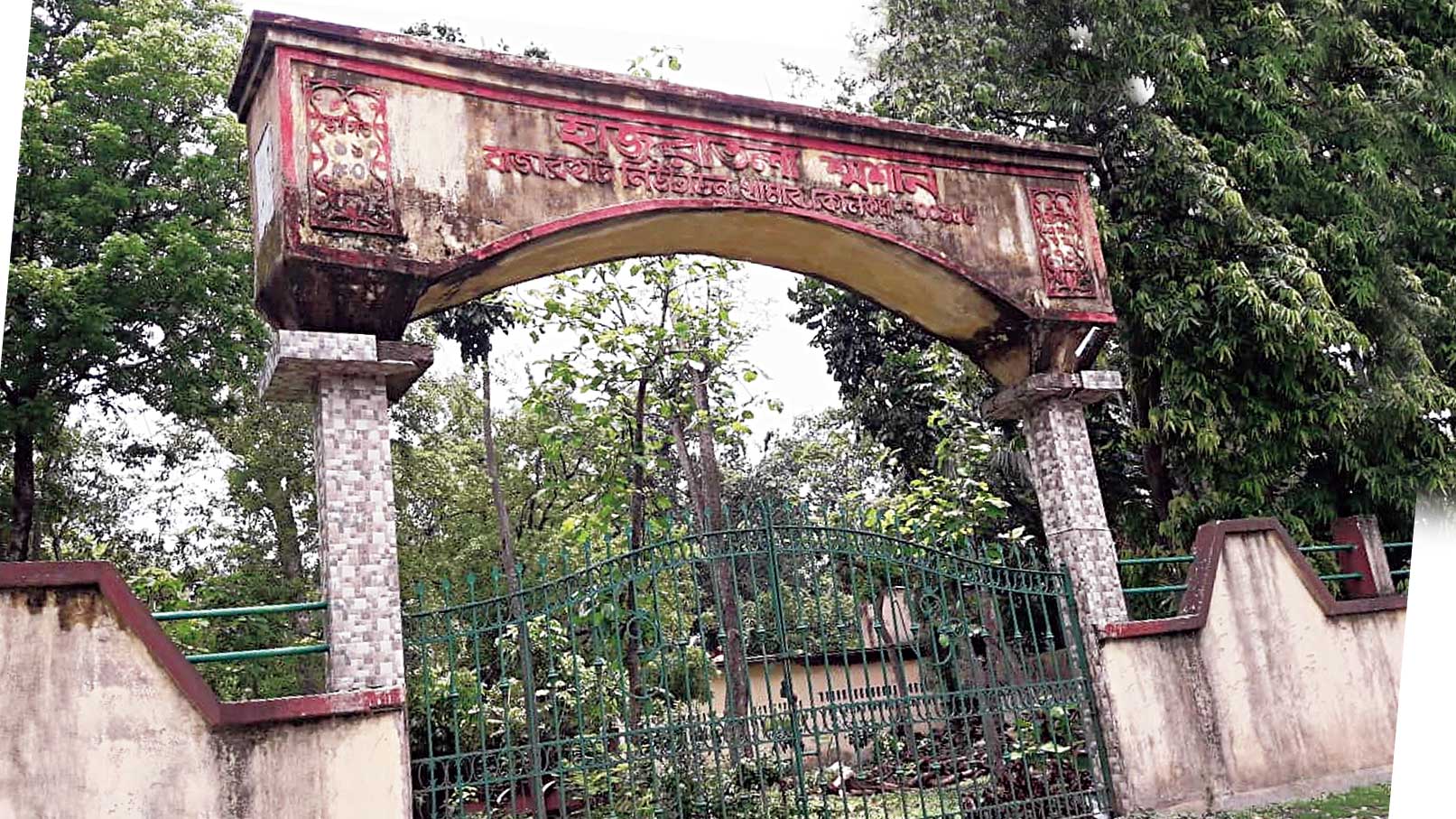 Coming up: The only crematory in the Salt Lake-New Town vicinity is Hazratala Burning Ghat in Rajarhat. But it is an archaic one, using wooden pyres. MLA Tapash Chatterjee wants to build an electric furnace on the four-bigha private land. Work has not started yet.
Sourced by the correspondent
---
Salt Lake
|
Published 04.06.21, 04:42 AM
|
---
Death is hard on the families of the deceased in the best of times. Amid a pandemic, it is proving to be an ordeal. The passing of their loved one sets them off on a trail beginning with countless calls to the corporation, crematorium, morgue or burial ground and continues with search for a priest, more so if the family members are quarantined and are unable to perform last rites in person.
With a spike in fatalities brought about by the second wave of Covid-19, it is a challenge even for the administration, what with long queues at the crematories under neighbouring municipal areas and burial grounds filling up fast.
Hapless families
Last week, the family members of an AC Block resident, who passed away late at night, had to run from pillar to post to perform the last rites. The family called up the corporation helpline numbers but nobody responded, even as the body remained in their house for several hours.
They then got in touch with a family friend who in turn contacted a resident of EE Block, Partha Chakraborty. "Since no doctor was sent by the civic body, I requested a doctor from our block to come along and issue a death certificate," said Chakraborty.
They kept calling the corporation numbers for the hearse but there was no response. "I then called the Sreebhumi Sporting Club for their hearse and finally the family members could set out for the last rites well after 3.30am," said Chakraborty.
There is also the extreme case of an 85-year-old Covid patient's body that remained in her flat at Karunamoyee Housing Estate for at least 19 hours before the Corporation removed it for cremation.
Other problems also crop up. A software professional working in New Town, who was down with Covid when his father expired at CNCI on May 6, is being asked to collect the cremation certificate from Baduria Municipality. "My office is a stone's throw away from NKDA which will finally issue the death certificate but I have to drive 60km from home with only Google map to guide me as I have no idea where Baduria is," said the man, requesting anonymity.
He is one of many paying the price of far-away cremation. "Another person, whose relative too had died at CNCI was directed to Basirhat Municipality in my presence," he said. Queue at burning ghat
The last journey of residents who succumb to Covid-19 is being handled by the Bidhannagar Municipal Corporation (BMC) in Salt Lake and parts of Rajarhat, and by the New Town Kolkata Development Authority (NKDA) in New Town, in co-ordination with the state health department. But mounting pressure at different burning ghats over the last several weeks is leading to hearses having to wait for hours in queue.
Around early May, the BMC had to deal with about 24-25 deaths daily in its area, including those in hospitals. An official recalled that the casualty count had touched 30 on a day just before stricter state-wide curbs were introduced.
Kusum Adhikary, a senior official of the Bidhannagar Municipal Corporation's health department, said that bodies of people, especially those who pass away at home, are being removed by the civic body upon intimation by the family members. "We are using two hearses of the civic body and have also roped in private operators to do the same," he said.
With neither BMC nor NKDA having a cremation facility, the bodies are being taken to different burning ghats across the city as well as its fringes, including Nimtala, Dhapa, Khardah, Gobardanga and Naihati.
"There are huge delays as most of these crematories are getting bodies from all across the city as well as the fringes. On most days, hearses are forced to queue up in front of these facilities and family members get stuck for hours before they can perform the last rites," Adhikary said.
"Barring Nimtala and Dhapa, most of the burning ghats are quite far off and it takes at least an hour to just get there for the hearses. Once there, most crematories have waiting lists and despite our best efforts in finding slots it is sometimes taking nearly eight hours for a hearse to get back," said Adhikary.
Burial space filling up
The Bagmari Muslim Burial Ground, a stone's throw from Salt Lake, is working overtime to give a final resting place to the deceased. "A portion of the ground has been set aside and cordoned off for Covid bodies," said Fazlur Kabir, the person in charge who has only gone home once since March last year.
The earmarked space, he says, can accommodate about 1,500 but about 1,350 have already been buried here — some 850 last year and 500 this year. "If this space is used up, new arrangements have to be made. Burial space is usually reused after some years but the rules for Covid cases is unclear. The bodies need to be buried at a depth of 10ft, a few feet deeper than normal deaths, to reduce the chance of infection.
In the pre-Covid era, Kabir says they would get 150 to 200 bodies a month, which boils down to an average of about six bodies a day. "Now we are getting seven or eight daily Covid bodies alone. This is still less than the nightmare of March-April, when we were getting about 22 Covid bodies a day," said Kabir.
Furnaces are being run round the clock due to the spike in death toll. A month ago, the sole furnace at Shibtala Ghat malfunctioned. It takes three to four days for a furnace to cool down to normal temperature after being shut. Repairs can take place only after that. So a broken furnace means at least a week's stoppage of service.
- Tushar Chatterjee, member, Board of Administrators, Kamarhati Municipality
Drivers in despair
Shyamal Jana, a Covid-hearse driver said he starts his day at around 8am and on most days reaches his Duttabad home after 11pm.
"Once the corporation officials get a call, they scramble to find a slot in a burning ghat. If they find one, we drive over to the house and pick up the body. In Dhapa and Nimtala, the wait time is comparatively lower but if we are sent to the other burning ghats we never know when we'll be back," said Jana.
Apart from the wait at the crematories, wrapping up the body in plastic also takes time and the fact that the hearse drivers cannot take off their PPE suits makes the wait stifling. "It feels like sitting in a pressure cooker. We sweat profusely but can't take the suits off. On most days, I have oral rehydration salts (ORS) once I'm back home," said Jana, who packed off his wife and family to his in-laws' place since last year itself.
An NKDA official recalled how hearse drivers had been up in arms in the recent past, having to wait for hours or travel from one burning ghat to the other while getting paid a fixed amount for one trip, irrespective of the distance covered or time taken.
Morgues full
Another civic official cited instances when bodies could not be picked up from their houses for more than 12 hours. "Several cases have taken place in Salt Lake, Rajarhat, Kaikhali and Baguiati. We try our best but can do little as we have a limited number of hearses that on most days are being able to complete only a couple of trips," he said.
In the event a body cannot be cremated, it is again a mad scramble to find a morgue. "We then try to find the nearest morgue in government hospitals but they are usually full too so we have to send the hearse to a morgue anywhere in the city where there is space." It is turning into a logistical nightmare, the official added. Long drive to Kamarhati
With Calcutta Municipal Corporation crematories unable to take extra load from areas outside its premises, two burning ghats were officially assigned by the government at the start of the second wave to handle the cremation of the deceased in Bidhannagar and New Town — Ariadaha Shibtala Smashan Ghat, under Kamarhati Municipality, and Nathupal Smashan Ghat in Khardah.
Of the two, the Kamarhati one is closer. But the ghat has just one electric furnace. "There are 17-18 Covid bodies coming daily. On top of that, there is an equal number or more of non-Covid deaths in our area. We have to accommodate the dead from Sagar Dutta Hospital and ESI Hospital, which are treating Covid patients. Often we are tagged to hospitals under North Dum Dum Municipality and in New Town and Bidhannagar as well. We try to split the time between Covid and non-Covid cremations as Covid bodies, being infectious, come wrapped in plastic and need to be handled carefully," Tushar Chatterjee, member of the Board of Administrators and former vice-chairman of Kamarhati Municipality told The Telegraph Salt Lake.
Sanitisation has to take place for half an hour before the cremation of the non-Covid bodies can start, which have relatives accompanying them. "Usually the night hours are reserved for the Covid dead," he added. A maximum of five are allowed at Covid cremations but few or none come when the family is under quarantine.
When the queue gets too long at Shibtala Ghat, the authorities offer the relatives of the deceased the option of wooden pyres at Pituri Ghat, about 4-5km away. "We have taken permission from the government to run two pyres and can also add a third if needed. This way, six-seven bodies can be cremated here in a day," Tushar said.
Once the number of Covid deaths increased in recent months, the district nodal officer started collecting the information from hospitals and municipal nodal officers, and allocated the bodies among the available crematories, including Baranagar, Halisahar and Panihati. The system is continuing even now.
In case of non-Covid deaths, a BMC official pointed out, the families are free to take them to any non-Covid crematorium across the city. "For the Covid deaths at home, we try to allocate them to Dhapa and Nimtala as these handle Covid bodies round the clock. Otherwise, the families would have to wait till evening which is when the other burning ghats allow Covid cremations. A hospital can preserve a body for five or six hours, not a family at home," the official pointed out.
More deaths, more furnaces
The number of new infections has gradually dipped after stricter restrictions were imposed on May 15, so has the number of deaths. The BMC area is reporting 15-16 Covid deaths on an average now every day, which is about half of what it was having to tackle earlier. The start of the week saw zero fatalities on two consecutive days. But the authorities are gearing up, what with a third wave of Covid-19 being predicted.
A proposal to build three electric furnaces at Pituri Ghat has been accepted. "KMDA officials have completed the inspection and a DPR (Detailed Project Report) has been drawn up. We plan to run two furnaces and keep one on stand by," the former Kamarhati Municipality vice-chairman said.
The plan of the standby furnace is a lesson learnt from experience. Furnaces are being run round the clock due to the spike in death toll. A month ago, the sole furnace at Shibtala Ghat malfunctioned while two months ago, one of the two furnaces broke down at neighbouring Panihati. "It takes three to four days for a furnace to cool down to normal temperature after being shut. Repairs can take place only after that. So a broken furnace means at least a week's stoppage of service," Tushar explained.
Other factors can also impede the process like an agitation in Panihati where residents were unhappy with the rise in Covid bodies reaching the local crematory from distant areas.
The recently elected Rajarhat New Town MLA Tapash Chatterjee had pledged to build a crematorium in his constituency. "It will be a Rs 2.5crore project. I will build it from my own resources," he said.
The Hajratola burning ghat in Golashia, on four bighas of land by a canal donated by a private donor, does exist but it is a primitive one, using wooden logs.
Before the pandemic, therefore, most locals preferred to go to the Nimtala burning ghat in north Calcutta. The ghat has ample space to accommodate electric furnaces, the legislator said.
Now Nimtala is overwhelmed with Calcutta's Covid deaths. "It took a lot of persuasion for KMC to agree to take a maximum of four bodies from us after we pointed out that hospitals in our area also have casualties from Calcutta whose family would prefer cremation closer home rather than in North 24-Parganas," said an NKDA official. Now the NKDA's four-tiered hearse makes a single trip to a KMC burning ghat in the evening. NKDA has been trying to build a crematorium in New Town. "We had earmarked a plot near the Hanuman Temple behind Eco Park about four months ago but local villagers got wind from the placard put up on the plot and protested. We had to back out," recalled an official.
Now with the rise in deaths and residents facing harassment in the absence of a local crematorium, the plan is being fast tracked, with a plot identified behind the New Town campus of Chittaranjan National Cancer Institute, which is functioning as a Covid hospital. It is supposed to have four electric furnaces. "It will be a state-of-the-art facility with zero pollution. The 7.5acre land, close to a Muslim burial ground, is not part of the township but is connected to it. It was acquired years ago for the Asian Highway project which did not materialise. It will also have a mortuary in case the number of bodies in queue exceeds the number of furnaces," the official said.
But some residents of Action Area 1D are upset even with that location and have met NKDA officials protesting the move.
Online funeral
Families are also struggling to give the deceased a decent farewell. Not only are priests finding it difficult to travel in the lockdown but they are also scared to visit homes of the Covid dead since the rest of the family is usually still positive.
"I'm not going over anymore," says Samsundar Chakraborty, a priest who used to frequent the township before the pandemic. "I'm asking families to head to maths or the ghats where priests usually linger around. They are doing a bare minimum puja and then I'm performing an elaborate one 45 days later or for the batsorik a year. By then, the family has tested negative and it is safe to go over."
Joydeb Bhattacharjee used to perform lots of pujas in AA Block, Karunamoyee, Kwality More and Kestopur but ever since the pandemic peaked he has left his local accommodation and returned to his hometown near Kolaghat. "I had fixed a car rental from here to take me for my work but now that Calcutta is a hotbed of Covid, they have refused to go over," he says.
The priest can only visit homes now if the families send a car and if they assure him they are Covid-negative. "I had conducted a virtual funeral a while back but it wasn't easy. They couldn't hear or see me properly, we were getting logged out halfway through mantras... It was no way to conduct last rites but there was no option," Bhattacharjee sighs.
Rabindranath Bhattacharya has become a master of online funerals now, having conducted about 10 of them. "It's difficult to explain every step to the families and it takes much longer than usual — about five hours. But it's better than not having a funeral at all. The families are finding some sort of closure, even if with the bare minimum rituals," says the priest who is still going over to conduct in-person funerals for non-Covid deaths.
Write in to saltlake@abp.in