Covid-19 has triggered hoarding of oxygen cylinders
As an increasing number of patients resort to home quarantine, demand is shooting through the roof
An attendant sits next to oxygen cylinders at Prasanthi Enterprises in DL Block.
Saradindu Chaudhury
---
Published 25.09.20, 02:10 AM
|
---
Soumadeep Mondal got a call in the dead of the night one of these days. It was from the CBI. "I got alarmed until I heard the reason," says the director of PharmaCo, a medical equipment company. "They needed oxygen. They had been searching all day but every other centre had run out of it."
TriMedicare, another such company, has on its rolls 20 oxygen concentrator machines that they rent out but not a single piece is in stock now. "People are just not returning them," says director Somnath Maity. "Those who hired the machines back in December decided to keep them once the pandemic started, just in case. Now I have nothing to rent out to new customers. "Politicians to pulmonologists are all enquiring if oxygen can be managed somehow in case they get Covid."
As an increasing number of Covid patients resort to home quarantine, demand for domestic oxygen is shooting through the roof. Some are prescribed the gas, others want to keep a cylinder handy just in case their condition worsens. This is, of course, over and above the regular demand for oxygen by non-Covid patients who may have chronic obstructive pulmonary disease and other respiratory problems.
"Oxygen is an essential that I'm asking Covid patients to keep," says HB Block-based geriatric physician Rajesh Kumar Chel. "If they receive oxygen supply at home, 60 per cent patients can be spared hospitalisation."
Chel recommends an oxygen cylinder as it provides oxygen of up to 90 per cent purity. "But it needs to be refilled from time to time. Also available in the market is the concentrator, that is a plug-and-play machine providing 60 to 70 per cent purity. Demand for both has risen during the pandemic," says the doctor who is still making house calls and has, in fact, developed antibodies against Covid. Most wanted
On Mahalaya, Rotary Club of Calcutta Labanhrad launched a slew of health services for residents, including oxygen cylinders and concentrators. "We can judge how grave the oxygen scarcity is from the fact that we got an enquiry on the very first day. A 93-year-old Covid patient is to be discharged from hospital and his family wants oxygen at home," said Anindya Chatterjee, president of the club.
One needs to register first with the club by paying Rs 100 to avail of their services.
At most places, a 1,500l cylinder (called B type) can be rented at upwards of Rs 10 a day plus Rs 250 for refill. How long it lasts depends on the dosage prescribed by the doctor. Some agencies charge a security deposit along with rent.
Rent for a concentrator could cost upwards of Rs 3,000 a month.
Despite the rush, Samar Kar Chaudhury says demand is more reasonable now than what it had become in June-July. "I live in Dakshineshwar and it was very difficult coming to my workplace in Salt Lake's DL Block. So customers would pick me up so I could refill their cylinders," says Kar Chaudhury of Prasanthi Enterprises.
Mondal of PharmaCo says he has been getting calls from far-flung neighbourhoods. "I've ferried cylinders to Howrah on my scooty at midnight; police jeeps have come and picked up cylinders at unearthly hours too," says the man who keeps his service open 24 hours a day.
PharmaCo not only rents out but also sells cylinders. "Pre-corona, I would sell 10 cylinders a month. Now I'm selling 200. Wholesalers cannot sustain such supply and I've paid advance for more that I'm waiting for," says Mondal, adding that the state relies heavily on oxygen supplied from places like Gujarat and Maharashtra.
"The crisis had deepened some time ago when Maharashtra had banned the export of oxygen to other states but thankfully the ban was revoked by the central government. The situation is better now," Mondal adds.
The social work wing of Tarun Sangha Club is also falling over backwards renting out oxygen. "Asymptomatic patients are hiring cylinders, those without any trace of Covid are hoarding cylinders... We are requesting customers to return those that they aren't using but they say they are playing safe. They tell us to take the cylinder back if we find someone in greater need but who are we to judge?" asks Barun Saha of the club.
Annapurna Medical Hall in Kestopur adds another reason for the spike in demand. "Customers are anticipating shortage of supply and ordering a refill the moment they start using a cylinder. There is a meter on the cylinder to check just how much is left and these days I'm asking customers to show me that meter over video call so I can be sure of their emergency," said Ujjwal Kumar Biswas.
Some medicine shops are selling — not a cylinder but — a can of oxygen. "We have sold four or five of these in August and are out of stock now but this is a waste of money," says Jishu Saha of Nandan Medical Stores, next to the sub-divisional hospital.
"These cans are used by mountaineers when they run out of breath at high altitudes. It provides one or two puffs of oxygen and cannot correct a Covid patient's oxygen saturation level. Anyone marketing these as a Covid-care product is cheating customers," he says.
When Greenwood Sonata complex in New Town became the first housing complex in the state to build its own safe house, it had to buy oxygen.
"The vendor we contacted asked us to submit a letter on our housing society letterhead, stating our purpose, and later furnish the approval letter from the government for starting the safe house. He said this would serve as proof that we had a genuine medical reason for buying the cylinders," said Sudipta Mukherjee, president of the apartment owners' association.
Mukherjee added that the vendor had mentioned how oxygen cylinders were being sold in the black.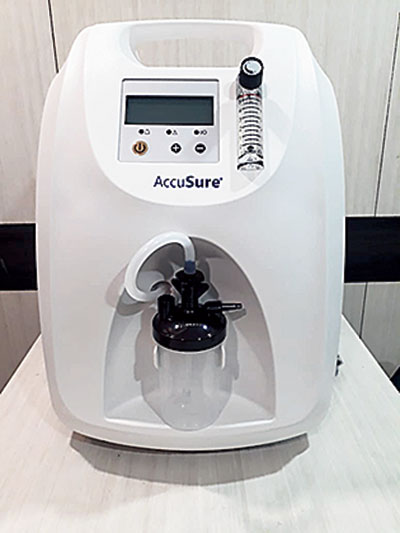 Renting out
Prasanthi Enterprises at DL Block would rent out cylinders once upon a time. "We stopped — much before the pandemic — as it's a thankless job. People neither return the cylinders nor settle their debts. Now we only refill empty cylinders and if they want to buy one, source it from our head office," says Kar Chaudhury.
Nandan Medical Stores has stopped renting out cylinders during the pandemic as it is deemed risky to be visiting homes to deliver them. "We are only renting out concentrators, provided customers pick them up from the outlet. We are explaining the usage here itself," says Jishu, who runs the shop.
They have four or five concentrators and using them are chronic respiratory patients. "We are only renting the machines out after seeing prescriptions and besides, Covid patients would require much more than concentrators," adds Saha.
Bidhannagar Medical Hall in CA Market has also stopped renting out oxygen. "Our dealer can't supply anymore as demand from hospitals has increased manifold," said a salesman.
Maity of TriMedicare says he used to rent out concentrators at Rs 3,000 a month. "Now the market rate has shot up to Rs 5,000 but I cannot cash in as I don't have a single machine left at hand. Each of my 20 machines is out from before the pandemic and it would be unethical to raise the rental fee now mid-way," says Maity, for whom it's a lose-lose situation. "Customers say I shouldn't complain as long as I'm getting my rent but blocking the machine in one house without using it means depriving others in need."
Price hike
The requirement for oxygen has gone up by 10 times, but Maity says many people cannot afford the service any more. "Concentrators used to cost about Rs 45,000 before the pandemic but a major player has increased its price to about Rs 75,000. This company has minted their entire annual revenue in a single month and are still exploiting customers as they know none of their other products will sell this year," he says. "Shame on them!"
Mondal says that while cylinders are priced at about Rs 8,000, the shortage has given it a black market value of Rs 15,000.
Barun of Tarun Sangha says that while the rent for their cylinders is between Rs 250 and 300 they are being forced to charge Rs 500 now. The reasons are many. "Firstly, the oxygen shortage is making us look for new suppliers based far away so the transportation cost is rising. New customers are calling up from the farthest corners of town so again delivery charges rise."
Finally, they are charging a higher rate from those who can afford it so they can use it to subsidise those who cannot, explains Barun. "Often we reach a home and see people living in abject poverty. We let them have it for free and bear the cost ourselves. Since oxygen is a matter of life and death we don't charge security deposit either."
Future tense
Mondal is now worried about the winter, a season when respiratory patients, as it is, suffer a lot. "Ideally I would like to stock up on oxygen before winter but there is neither a guarantee of supply nor certainty of price," he shakes his head.
Maity predicts the day is not far when oxygen devices will be as common as phones. "Every home will have one," he says. "But the government should cap their prices to protect consumers."