Father Francois Laborde passes away
People can pay their respects to the priest at Mata Maria Girja — at 192/2 Andul Road, Shalimar — from 8am to 10.30am and again from noon to 1pm on Monday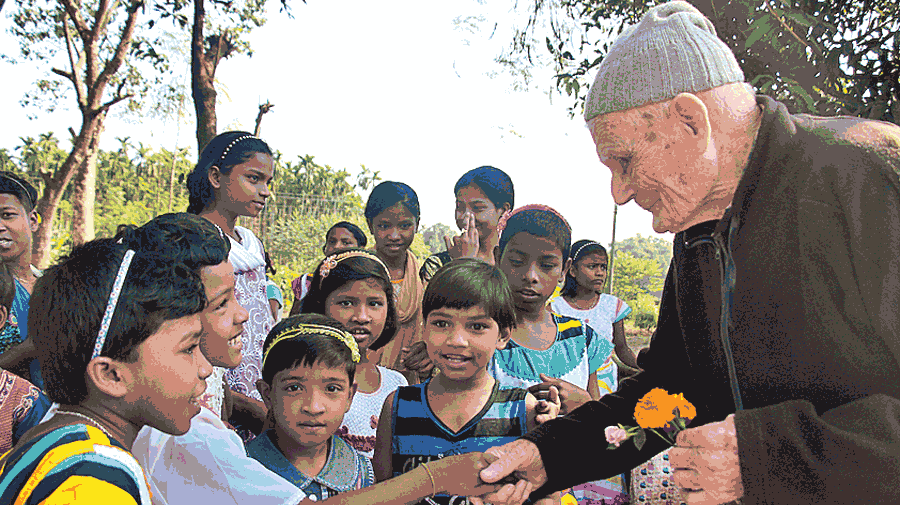 ---
|
Calcutta
|
Published 28.12.20, 01:33 AM
---
Father Francois Laborde, a priest of the Roman Catholic archdiocese of Calcutta who spent over five decades building schools for the poorest and working for the physically challenged in Bengal, passed away on December 25. He was 93.
Father Laborde, who for the past year was staying at the residence of St Joseph's Hospital in Midnapore, had come to India from France in January 1965 and got involved in projects to improve the living conditions of residents of slums in Howrah, according to a statement issued by the Roman Catholic archdiocese of Calcutta and Howrah South Point.
He developed centres in Howrah and the association is now known as Howrah South Point.
The statement said Father Laborde was a recipient of Legion d' Honneur.
People can pay their respects to the priest at Mata Maria Girja — at 192/2 Andul Road, Shalimar — from 8am to 10.30am and again from noon to 1pm on Monday. Two Holy Masses will be held the same day — one at 11 am at Mata Maria Girja and the other (funeral mass) at Saint John's Church in Sealdah at 3pm.
Both masses will be presided over by Archbishop Thomas D'Souza.
"Archbishop of Calcutta, Thomas D'Souza, and the whole family of Howrah South Point have the deep sorrow to inform you about the passing away of Father Francois Laborde. At the same time they are grateful for the life of this noble and energetic soul that has built an inspiring social enterprise in more than 50 years — rehabilitation homes, schools for the poorest, the handicapped or the marginalised children, medical facilities and health programmes for the most underprivileged people in Bengal..." the statement said.
In Howrah, Asansol and Jalpaiguri, there are nine rehabilitation homes, four formal primary schools and five non-formal schools.
The statement said Father Laborde would often say: "A great joy is to work together-Muslims, Hindus, Christians- for the service of the most deprived without any distinction of creed or caste or language. The only way for us, human beings, to become really human is by taking care of the marginalised. Because these broken persons are our brothers and sisters and we live in solidarity with them. For that, we have first to accept our own brokenness,otherwise we are not so fit to cure the brokenness of others."