Priest who worked for slum children passes on
Father Jose educated poorest of the poor for 37 years: Salesian provincial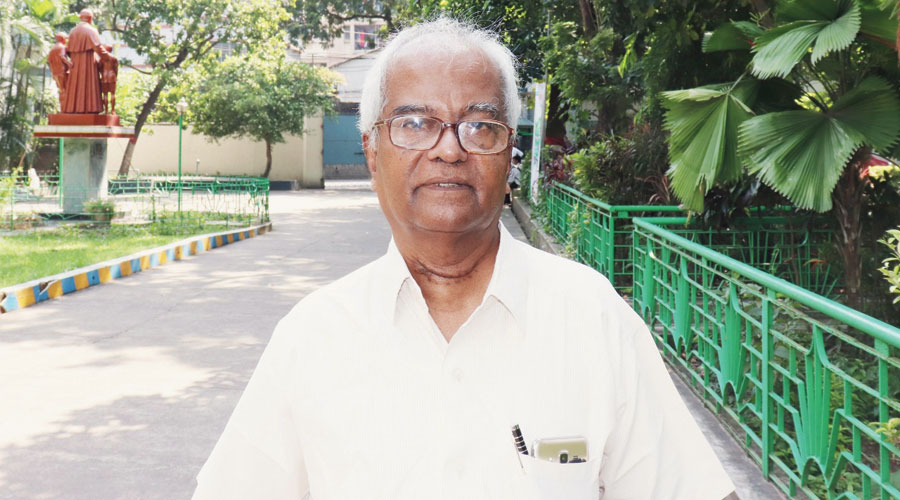 ---
|
Calcutta
|
Published 21.07.20, 02:27 AM
---
A Salesian priest who provided the city's underprivileged children with free education for close to four decades passed away on Sunday.
Father Aymanathil Joseph, popularly known as Father A.C. Jose, was a member of the Salesian Society of Don Bosco, headquartered in Tangra where he had been living for close to 20 years.
He had been admitted to a city hospital on July 17 and he breathed his last at 9.45pm on July 19.
"Father Jose was admitted for prostate-related problems and he was diagnosed with Covid-19. He passed away while undergoing treatment. Kindly pray for the repose of his soul," Father Joseph Pauria, Salesian Provincial of Calcutta, wrote in a message to the confreres.
Father Aymanathil was born on July 30, 1947.
He had been involved with the social uplift of slum children and providing them with free education, food and clothing.
Father Aymanathil lived in the Don Bosco Provincial House, Tangra. Not far from there was the centre that cares for 300 children from slums in Tangra and adjoining areas. It is called Nitika Don Bosco, a centre founded in the mid-80s for the social development of children with little means.
"For 37 years he had been working for the poorest of the poor children by educating them. Some of these children have no light at home or no place to study… so, he would arrange for tuition, books and also nutrition for them," Father Joseph Pauria told The Telegraph.
He said Father Aymanathil had been arranging ration and meal for the children and their families from the first day of the lockdown.
"Father A.C. Jose had a heart for the poor and the needy and wherever he went his mission was to help and reach out to the poor," Father Bikash Mondal, principal, Don Bosco School, Park Circus, said.
Father Aymanathil secured a doctoral degree in Canon Law from Salesian University, Rome, in 1989.
He was a 1973 alumnus of Salesian College Sonada and had completed his theological studies from Kristu Jyoti College Bangalore. He was ordained a priest on December 19, 1977, at Pannimattam, Pala diocese, Kerala.
After serving as assistant parish priest in Murshidabad and Nadia he went to Rome in 1984 for doctoral studies in Church law.
For those who know him, like Brother Jose Puthenpurackel, the vice-principal of Salesian College, Sonada, Darjeeling, he was a "soft-spoken, quiet man known for his organisational skills".
"He was a hands-on person who would be with children and teachers working and not someone sitting in his office. He would arrange for funds for these children and classes were held for them every evening. He would organise singing and dancing classes, too, for them," he said.
Father Aymanathil would organise a fun day for children once a week when he would give them gifts and books and daily essentials like umbrellas for their families.
CMC office
An office of the Calcutta Municipal Corporation in ward 46 that issues old birth and death certificates will remain shut till Monday for sanitisation.
An employee of the office, which shares a building with the ward health clinic and is located near Khadya Bhavan on Free School Street, had contracted Covid-19 and passed away on Friday. The clinic will stay open.