Farmer sells land to help son fulfil Isro ambition
19-year-old takes JEE (Main) to improve score of 93 percentile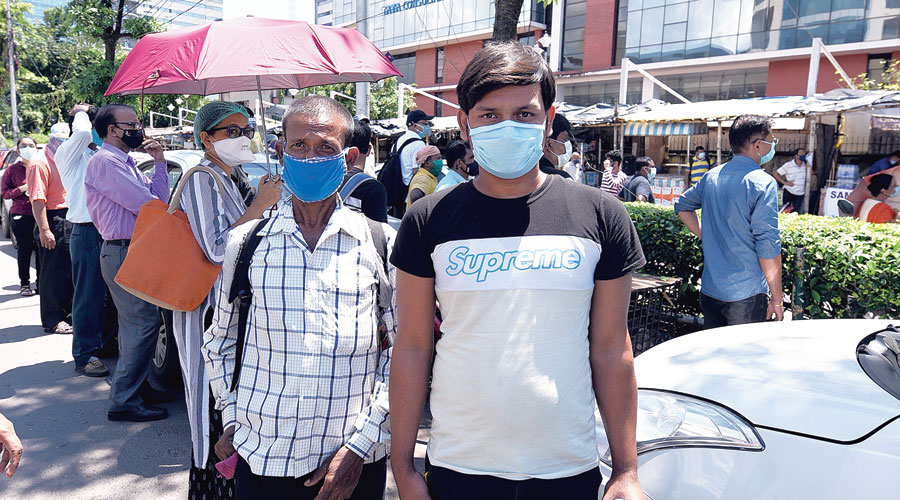 Manirul Islam with son Azad Mosarof outside TCS Gitobitan, Salt Lake, for JEE (Main) on Thursday.
Picture by Gautam Bose
---
Calcutta
|
Published 04.09.20, 01:57 AM
|
---
An unlettered farmer in Murshidabad sold off 10 cottahs of his two-bigha plot last year to pay for his son's coaching classes.
Skipping the JEE (Main) exam was not an option for his son because "a lot depends on this" for the family.
Azad Mosarof, 19, and his father Manirul Islam risked the infection of Covid in an overnight journey on a bus, covering more than 200km to reach the city for an exam they hope will ensure a new life for them.
Azad is the first in the family to clear the Higher Secondary exams. All his relatives — cousins, uncles and aunts — have either never been to school or dropped out of school.
Azad scored appeared for HS from Chhabghati KD Vidyalaya and scored 87 per cent in the exams.
His father is a farmer while his mother rolls bidis to supplement the family income.
"One day he told me he wants to study in an IIT and that he would need coaching for the exams… Rs 40,000 was required and I had no money; so, I sold off a portion of my land," Islam said. "Before that day I had never heard of IIT… I had no idea who all study there."
Azad appeared for the JEE (Main) in January and scored a 93 percentile.
Many students who are eligible for JEE Advanced based on their scores in the January exam take the JEE (Main) again in September to improve their scores.
"There is pressure on me because I know my parents have stretched their limits so that I can study," he said.
"I knew we were exposing ourselves to the possibility of infection by travelling in a bus… but there is no other option," he said after leaving the exam centre at TCS Gitabitan in Salt Lake.
They took a rickshaw from Hasanpur village in the Suti police station area to Chander more bus stop on Wednesday night.
The 9pm bus reached Sealdah at 6am on Thursday and they were left with "enough time to reach the centre at Salt Lake". The exam started at 9am.
Exam over, they took a bus to Esplanade and then to Murshidabad.
"If he gets through a good engineering college I intend to take a loan. If he wants to study I will do whatever is possible for me to make it work for him," Islam whose family income is about Rs 5,000 said.
"It was not this bad always but my health deteriorated and a lot of money had to be spent on me... before that I would go to Assam and sell shawls and I would earn more than what I do now… but that stopped about two years ago because of my health."
Back in his village it is when he looks at the open sky, Azad is transported to his dreams and that is what pushes him to stretch his limits. "I have always been fascinated by the universe and I want to explore space. I want to go to Isro one day… that is my ambition."